Pies and Tarts by Annie Rigg
December 14, 2018 by Jenny
As soon as I turned the cover of Pies and Tarts: For All Seasons by Annie Rigg, I saw the spread of vintage pie tins and my heart skipped a beat. I knew I was going to fall in love with this book and it only got better from there. Not only is there an array of sweet and savory pies and tarts but other delightful morsels are shared such as Sfogliatelle, Eccles cakes, and empanadas. This book deservingly shares a spot on my Gift Guide this year and my best books of 2018.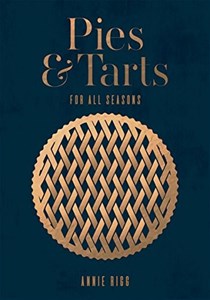 The photography in Pies & Tarts will lure even the most enthusiastic self-proclaimed worst baker into the sweet world of sugar plum tarts (or at least Apricot and almond crostata). For those of us who claim to be bakers (raising my hand slowly), I find myself inspired by the flavor combinations and rustic perfection of Annie's treats. International desserts such as M'hanncha, a Moroccan pastry, that marries citrus, nuts and butter with phyllo dough and mash ups such as Eton mess tartlets make baking exciting and fresh.
Ingredient measurements are provided in weight and volume so everyone can attempt these recipes. Annie admits that sometimes pastry can be unforgiving however her detailed instructions are sure to provide successful results. Wrap this book up with a beautiful tart tin or pie plate and make a baker happy this holiday!
I reviewed Annie's Summer Berries & Autumn Fruits: 120 Sensational, Sweet & Savory Recipes in 2016 and made several dishes. That review can be found here. Her recipes work.

Special thanks to Quadrille for providing us with the materials needed for our preview and offering copies of this book to our members in our giveaway below.
The publisher is offering three copies of this book to EYB Members in the US, UK, AU and NZ. One of the entry options is to answer the following question in the comments section of this blog post.
Which recipe in the index would you try first?
Please note that you must be logged into the Rafflecopter contest before posting or your entry won't be counted. For more information on this process, please see our step-by-step help post. Be sure to check your spam filters to receive our email notifications. Prizes can take up to 6 weeks to arrive from the publishers. If you are not already a Member, you can join at no cost. The contest ends at midnight on February 12th, 2019.