Set for the Holidays – Mauviel Roaster
November 29, 2018 by Jenny
Yesterday, I said I would be back with more fantastic holiday cookbooks and this post shares book number two. Set for the Holidays with Anna Olson: Recipes to Bring Comfort and Joy by Anna Olson shares the dishes the author loves to make during the holiday season and beyond.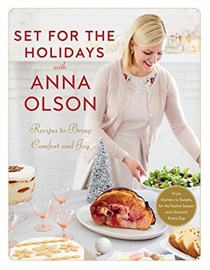 For Anna Olson, the holidays begin when she bakes her first pumpkin pie of the year. Pumpkin pie isn't something she bakes on any old Tuesday evening, so it signifies something very special: the start of her favorite time of year, the holidays. A time for spending with family and friends, for coming together, celebrating traditions and, of course, cooking delicious food!
Part one of
Set for the Holidays
delivers menus and recipes for many festive events from Thanksgiving through New Year's evening. There are also recipes for cozy nights at home, lighter meals for the times in between, and ideas for reinventing leftovers. With recipes for both traditional favorites (the perfect roast turkey), and inventive and inspiring alternatives ("turketta," turkey breast done porchetta-style that's perfect for smaller gatherings), there is something for everyone here.
The second section of the book has more than 60 recipes for centerpiece cakes, delectable pies, tarts, classic cookies, confections and more that happens to be my favorite portion of the book. Besides delectable desserts, Anna offers advice on creating the perfect dessert table or hosting a cookie exchange, and shares recipes for edible gifts.
And, because the holidays can also be stressful, Anna includes a healthy dose of practical advice for navigating the season with strategies for planning menus, advice on what to make ahead for every recipe, step-by-step methods and photography, and hundreds of hints and tips.
My
Gift Guide for 2018
included suggestions of Mauviel cookware for you or someone special. And to celebrate the holidays in style, Mauviel is offering one winner a
Mauviel Copper Roasting Pan with Rack
in our giveaway below.
I've been using this roasting pan for everything from roasting two chickens before Thanksgiving, my turkey for the big day itself, and I even used this beauty on the stove top to make a huge batch of salisbury steak for my son who requested it before he left for home. I didn't have a pan large enough to sear all the salisbury steak (he wanted to take some back with him) so I grabbed my roasting pan. It's not only beautiful but a workhorse in the kitchen and cleans up wonderfully.
Special thanks to Appetite by Random House for sharing the following recipe with our members and providing three copies of
Set for the Holidays
in our giveaway below.
Whole roasted turkey and gravy
Add this recipe to your Bookshelf (click the blue +Bookshelf button).
If your Thanksgiving or Christmas dinner tradition involves the classics, here is a traditional stuffed holiday turkey for you. Pick your preferred potatoes (mashed, roasted, au gratin or sweet potato), ready the cranberry sauce, root vegetables and Brussels sprouts and you're set.
SERVES 12 • PREP: 30 MINUTES • COOK: 3 HOURS AND 20 MINUTES
MAKE AHEAD
Leftover turkey can be wrapped well and refrigerated for up to 3 days, or diced or left in larger pieces and frozen in airtight containers for up to 3 months. Thaw it overnight in the fridge before using.
1/2 cup (115 g) unsalted butter, at room temperature
1 Tbsp (15 mL) finely chopped fresh thyme
Salt and black pepper
1 leek, white and light green parts only, washed and sliced
16 lb (6.75 kg) fresh whole turkey
GRAVY
2 oz (60 mL) dry white vermouth
1⁄3 cup (50 g) all-purpose flour
3 cups (750 mL) chicken or turkey stock (including strained pan juices)
1. Preheat the oven to 325°F (160°C).
2. Stir the butter with the thyme and a generous pinch of salt and pepper. Set aside. Arrange the sliced leeks in the centre of a large roasting pan and place the turkey on top. Spoon the dressing into the cavity of the turkey. Pat the skin dry with a paper towel and rub the thyme butter over the entire surface of the bird, finishing with a sprinkle of salt and pepper.
3. Cook the turkey, uncovered and basting it every 20 minutes or so (more often as the turkey gets closer to being done), for 2 1/2 to 3 hours. Use a meat thermometer to check whether it is done: the recommended temperatures are 170°F (77°C) in the breast, 180°F (82°C) in the thigh and 165°F (74°C) in the centre of the stuffing.
4. Transfer the turkey to a cutting board or platter to rest uncovered for 20 minutes while you prepare the gravy and bring your other dishes to the table.
5. To make the gravy, strain the drippings from the roasting pan through a fine-mesh sieve into a bowl. Separate the fat from the pan juices using a gravy-separating pitcher or by skimming off the fat that floats to the top with a baster or a spoon. Reserve both the fat and the pan juices (add the pan juices to your stock measurement).
6. Discard the leeks if they are scorched; if they are not, reserve them to add back to the gravy at the end, if you wish.
7. Place the roasting pan on the stove over medium heat and add the vermouth, using a wooden spoon to loosen the caramelized bits at the bottom of the pan. Add 1/4 cup (60 mL) of the pan drippings and the flour, continuing to stir over medium heat until a nutty aroma develops, about 4 minutes (for a darker gravy, let the flour turn light brown, an extra 2 minutes).
8. Switch to a whisk and slowly pour in 1 cup (250 mL) of the stock while whisking continuously. As soon as the gravy thickens, whisk in another 1 cup (250 mL). Once the gravy thickens again and begins to bubble, whisk in the remaining 1 cup (250 mL) of stock in a slow steady stream and let it reach a full simmer before adding the reserved leeks (if using) and seasoning to taste.
9. To serve, carve the turkey into slices, and serve.
HELPFUL HINTS
If you have the choice, carve the turkey in the kitchen rather than at the table. This way you can carve the whole breasts off the bone and slice them nicely on a cutting board, and then take off the thighs and legs, pull away the meat and arrange it on a large platter. This platter can be covered and kept warm in a 300°F (150°C) oven while you organize everything else.
I do find it true that, generally, whole turkey takes 20 minutes per pound (450 g) to cook at 325°F (160°C), but it takes longer once you add the stuffing (and depends on how tightly it is packed into the turkey), so always use a thermometer to be sure.

The publisher is offering three copies of this book to EYB Members in the US and Canada and Mauviel is offering one of their copper roaster pans to one winner in the US. Two of the entry options are to answer the following questions in the comments section of this blog post.
Which recipe in the index would you try first?
Which piece of Mauviel would you like to find under your tree?
Please note that you must be logged into the Rafflecopter contest before posting or your entry won't be counted. For more information on this process, please see our step-by-step help post. Be sure to check your spam filters to receive our email notifications. Prizes can take up to 6 weeks to arrive from the publishers. If you are not already a Member, you can join at no cost. The contest ends at midnight on January 27th, 2019.