Home Made Christmas and Le Creuset
November 28, 2018 by Jenny
We're just a few days away from December and for some reason this year feels as if the holidays have passed me by. I feel like I've missed something. Perhaps it has to do with the halls being decked right after Halloween, sales happening earlier than ever or being so very busy, but whatever the reason, I am determined to immerse myself in holiday cheer if it kills me.

One sure-fire way to ignite my holiday spirit is to take some time and sit by the fireplace to look through holiday baking magazines and cookbooks. This year there are several special holiday cookbooks. Today, I will tell you about one and in the next few days, I'll be back with promotions on the others.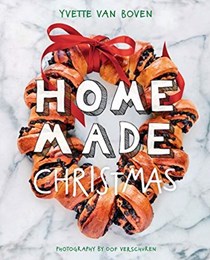 Home Made Christmas is the latest in the Home Made series of books by Yvette van Boven, Amsterdam's answer to Nigella Lawson. These titles are photographed beautifully by Yvette's husband, Oof Vershuren, and are filled with inspiration that will draw all levels of cooks into the kitchen.
Home Made Christmas feels like a hug and made its way onto my Best Books of 2018. The warmth from the tray of Brioche and red fruit swirls with ricotta glaze or the Squash, feta and sage pull-apart bread is comforting. Yvette transforms carrots and a few other ingredients into a gorgeous Carrot tatin with goat cheese that leaves me wallowing in shame for ever serving simple roasted carrots. Time spent in this book has Scrooge exorcised from my system especially after one glance at the Cream puff tree with white chocolate. I am eagerly anticipating free time to get into the kitchen to begin holiday baking – hopefully before December 25th.
I chose to make the Leek and potato soup in my new Dutch oven from Le Creuset. I left out the scallops from this recipe and they were not missed. The soup is hearty, flavorful, and dare I use the word "comforting" again. I was left with a quart of this soup in the fridge and ended up using it to enhance my gravy when I made salisbury steak for my older son who was visiting.
If you read my Gift Guide for 2018, you will note that I am hoping Santa brings me the red tartan from Le Creuset. I didn't have to wait, Santa came early and delivered the white plaid version and better yet – Le Creuset wants to give one of our members one of these gorgeous pots for their kitchen.
Le Creuset has some wonderful specials on their website some of which qualify for free shipping. I love the deep Dutch oven for frying and this beautiful set (in many colors) is packaged with a trivet as well.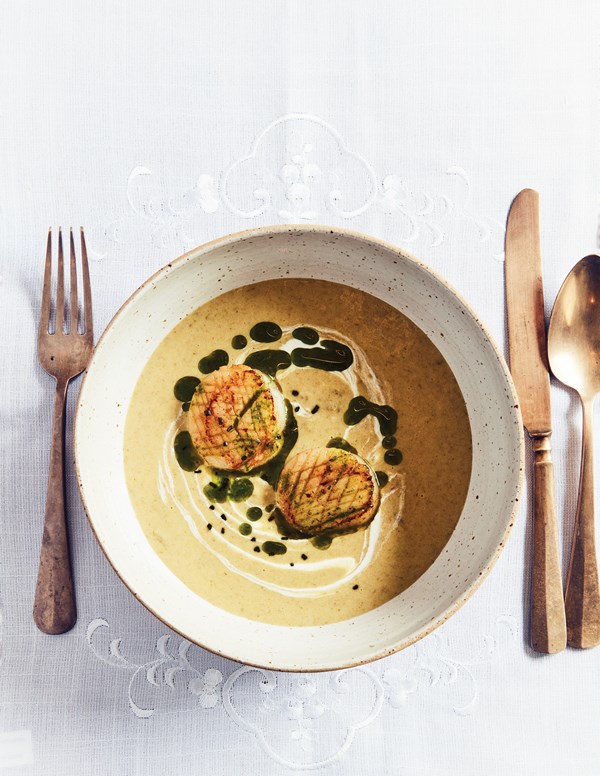 Leek & Potato Crème Soup with Fried Scallops & Parsley Oil
Add this recipe to your Bookshelf (click the blue +Bookshelf button).
Serves 4
For the soup
3 leeks, rinsed and sliced
¼ cup (60 ml) olive oil
1 small clove garlic, minced
1 onion, sliced
4 potatoes, peeled and diced
1 tablespoon curry powder
1 teaspoon freshly grated nutmeg
Sea salt and freshly ground black pepper
1 cup (250 ml) white wine
2 cups (500 ml) vegetable stock
¾ cup plus 1 tablespoon (200 ml) crème fraîche
For the parsley oil
7 tablespoons (100 ml) mild olive oil
1 small bunch parsley, chopped
Sea salt and freshly ground black pepper
For the scallops
8 large sea scallops
¼ cup (60 ml) clarified butter
For serving
3 tablespoons crème fraîche
Prepare
Sauté the leeks in the oil until they're soft, then add the garlic, onion, pota­toes, curry powder, and nutmeg and sauté everything briefly. Season with salt and pepper and douse with the wine. Cook over high heat until the wine is reduced, then pour in the stock.
Allow the soup to simmer for 30 minutes. Puree until smooth in a blender or with a hand blender. Stir in the crème fraîche. Set aside.
Make the parsley oil: Put the oil and parsley in the cleaned blender and process for 1 minute, or until smooth. Strain through a fine sieve and season with salt and pepper.
Make
Score the scallops lightly in a diagonal crosshatch pattern.
Heat the clarified butter in a skillet, add the scallops, and cook on both sides until golden brown and just about cooked through.
Meanwhile, reheat the soup in another pan and season with salt and/or pepper, if you wish.
Pour a shallow layer of soup into four deep plates. Make a swirl with a small spoonful of crème fraîche. Place two scallops on top and drizzle with some parsley oil.
Recipe excerpt used with permission of Abrams Books and Yvette van Boven. Photograph by Oof Verschuren.
The publisher is offering three copies of this book to EYB Members in the US with one grand prize winner receiving a Le Creuset Dutch oven from Le Creuset. Two of the entry options are to answer the following questions in the comments section of this blog post.
Which recipe in the index would you try first?
Which product at Le Creuset would you like to find under the tree?
Please note that you must be logged into the Rafflecopter contest before posting or your entry won't be counted. For more information on this process, please see our step-by-step help post. Be sure to check your spam filters to receive our email notifications. Prizes can take up to 6 weeks to arrive from the publishers. If you are not already a Member, you can join at no cost. The contest ends at midnight on January 11th, 2019.