The Japanese Larder – EYBD Book
November 4, 2018 by Jenny
Now with EYBDigital, if you buy a print book within the promotional period, for the first time you will have access to the full EYBD cookbook wherever you can access EYB – on vacation, at work, in the grocery store, etc. In addition to the digital book, all the features of EYB will be included in the access, at no cost to the book purchaser. For more information on EYBDigital see our EYBD Page.
• Recipe search
• Bookmarks
• Recipe ratings and reviews
• Photo upload (personal photos of dishes cooked)
• Shopping lists
We are pleased to share a promotion for our next EYBD Book The Japanese Larder: Bringing Japanese Ingredients into Your Everyday Cooking by Luiz Hara.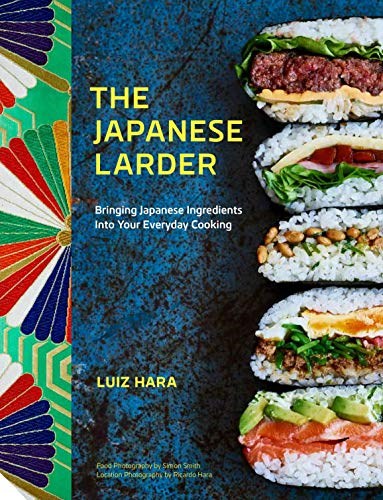 A follow-up to Luiz's first book, Nikkei Cuisine, The Japanese Larder is a stunning book that demystifies Japanese cooking by introducing the home cook to a number of key Japanese ingredients and techniques that will transform their everyday cooking.
Most of us have heard of ingredients such as miso, mirin, tofu and matcha, but how many of us feel confident using these ingredients in our everyday cooking, or beyond the one or two recipes for which we may bought such ingredients in the first place? This title will make those aging ingredients wasting away in your fridge a thing of the past.
Categorized by main ingredient, grab that packet of miso paste from your fridge, buy some ponzu or yuzu from your local grocery store or the ethnic section of your local supermarket, and discover a new world of taste and flavour thanks to the author's delicious recipes.
Want to make your own ramen or udon noodles? Covered. Soy millk or tofu? Covered. This title is brilliantly done with information to create your own larder of ingredients but also use those that you have purchased. For instance, Mochi pizza with gruyere, wild mushrooms and truffle, Buttermilk and sansho pepper crispy fried chicken, and Banana and kinako doughnuts are just a few examples.
Our
takes you inside this book and features the following dishes
If you have pre-ordered or order before December 31st, 2018, register here (be sure you have a photo of your receipt or screenshot from your online order ready to upload). Once your purchase has been verified, this button
will appear on the book on your Bookshelf next to the title and will take you to the digital access for this gorgeous book.
Below are screenshots showing how these features will appear.


Special thanks to the publisher, Jacqui Small/Quarto Cooks for working with us to bring this exclusive incentive to our members as well as for providing three copies of The Japanese Larder in our giveaway below.
The publisher is offering three copies of this book to EYB Members in the US,UK and Canada. One of the entry options is to answer the following question in the comments section of this blog post.
Which recipe in the index would you try first?
Please note that you must be logged into the Rafflecopter contest before posting or your entry won't be counted. For more information on this process, please see our step-by-step help post. Be sure to check your spam filters to receive our email notifications. Prizes can take up to 6 weeks to arrive from the publishers. If you are not already a Member, you can join at no cost. The contest ends at midnight on January 12th, 2019.