The Christmas Chronicles by Nigel Slater
October 31, 2018 by Jenny
The Christmas Chronicles: Notes, Stories and 100 Essential Recipes for Winter by Nigel Slater tells the story of the author's love for winter. With recipes, decorations, fables and quick fireside suppers, Nigel guides you through the essential preparations for Christmas and the New Year, with everything you need to enjoy the winter months.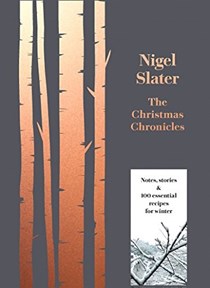 I live for winter, well actually fall and winter. Winter's gray skies, cool temperatures, falling leaves, flames dancing in the fireplace and blowing whirlpools of snowflakes filling the sky – winter rocks. Winter is cozy and that is what Nigel Slater's The Christmas Chronicles feels like. Nigel brilliantly comforts us with the warmth of food, stories and a sense of belonging to something much bigger than ourselves giving us hope that all will be right in the world.
Taking you from the first of November all the way to the end of January, this book covers everything from Bonfire Night, Christmas and New Year to Epiphany. Nigel offers over 100 recipes to see us through the build-up, the celebrations and the aftermath. Here are much-loved classics as well as new dishes that will become classics. Packed with feasts, folktales, myths and memoir, The Christmas Chronicles is a book you definitely need this season.
Our
takes you inside this book with the following
The publisher is offering three copies of this book to EYB Members in the US and UK. One of the entry options is to answer the following question in the comments section of this blog post.
Which recipe in the index would you try first?
Please note that you must be logged into the Rafflecopter contest before posting or your entry won't be counted. For more information on this process, please see our step-by-step help post. Be sure to check your spam filters to receive our email notifications. Prizes can take up to 6 weeks to arrive from the publishers. If you are not already a Member, you can join at no cost. The contest ends at midnight on December 19th, 2018.