Leftover Halloween candy recipes
October 31, 2018 by Darcie
Over 500 kids trick-or-treated through my neighborhood this evening, so my stash of leftover Halloween candy is mightly slim this year. If you have any remaining from tonight's festivities, or if your kid has too much to eat by him- or herself, you might be wondering what you're going to do with it all. Midnight snacking aside, there are ways to use those leftovers in baking and other recipes. The Washington Post serves up six different recipes for using leftover Halloween candy.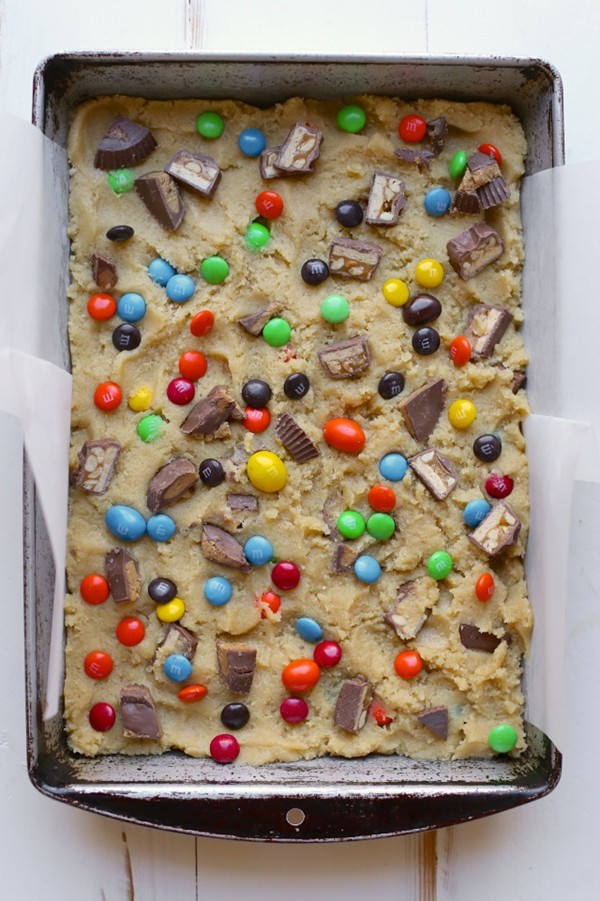 One of the easiest uses is as mix-ins for cookie recipes such as monster cookies. M&Ms work great here, but you can chop up almost any chocolate-y or nutty bar to add to cookie, brownie, or slice recipes. For gummy or chewy candies, you can make your own (very trendy) unicorn bark. The article also contains a recipe for a Milky Way malt, for those who like their excess in excess.
The EYB Library contains another dozen or so ideas to make the most out of the extra candy. Halloween candy bark is a popular theme, and s'mores made with a variety of different types of candy bars is another great idea. The Sweet chocolate Halloween Chex mix is one that is really calling my name right now – I love the combination of salty and sweet.
Photo of Candy bar cookie bars from indexed blog Joy the Baker by Joy Wilson