Everyday Dorie
October 26, 2018 by Jenny
The latest gift from the incomparable Dorie Greenspan is Everyday Dorie: The Way I Cook which shares 175 recipes that are her favorites and will undoubtedly become ours as well. Dorie is touring in support of this title and her schedule is shared on our calendar and is one of our upcoming Eat Your Book Cookbook Club titles.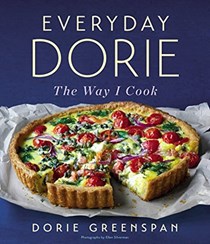 Dorie is classified by many, including myself, as a cookbook author that can be trusted for their expertise and knowledge. Buying one of her cookbooks is a given as her recipes are tested, they work and her books are beautiful. She could sell a book on 100 ways to boil water and I would have to have it.
About Everyday Dorie, she states that "the recipes, most of which are simple, none of which needs skills beyond basic, turn out food that's comforting, satisfying and inviting". I would add impressive to that statement. These dishes are "Dorie recipes" which translates that each contains a simple surprise that transforms a dish to extraordinary status. The humble chicken thigh is ready for entertaining with the addition of Thai sweet chili sauce or a coffee cake is leveled up with coffee and five-spice powder.
As soon as I hit publish on this promotion, I'm headed to the store for chicken thighs to make her Sweet chili chicken thighs for tomorrow's dinner or maybe I'll make the Lightning-fast tahni pork – I can't decide both photos and recipes look so tempting and jump off the page. Updated photo to right.
Dorie's books are those cookbooks that will be handed down generation to generation. They appeal to old-school and modern cooks alike as they offer something new and exciting without the need for new gadgets or exotic ingredients.
Our
shares a look inside of this title that highlights the following
for
The preview also shares pages that reflect how beautiful the content is. Special thanks to Houghton Mifflin Harcourt for allowing us to share these pages in our preview and for providing copies in our giveaway below.
The publisher is offering three copies of this book to EYB Members in the US and Canada. One of the entry options is to answer the following question in the comments section of this blog post.
Which recipe in the index would you try first?
Please note that you must be logged into the Rafflecopter contest before posting or your entry won't be counted. For more information on this process, please see our step-by-step help post. Be sure to check your spam filters to receive our email notifications. Prizes can take up to 6 weeks to arrive from the publishers. If you are not already a Member, you can join at no cost. The contest ends at midnight on December 15th, 2018.
Excerpt used with permission of Houghton Mifflin Harcourt from Everyday Dorie, 2018. Photography by Ellen Silverman