The Great Minnesota Cookie Book
October 20, 2018 by Jenny
Last weekend, I wrote that there were two cookie books that bakers needed this year. Today, I'm here to tell you about the second: The Great Minnesota Cookie Book: Award-Winning Recipes from the Star Tribune's Holiday Cookie Contest by Lee Svitak Dean and Rick Nelson. This book is one of our Eat Your Book Cookbook Club titles later this year.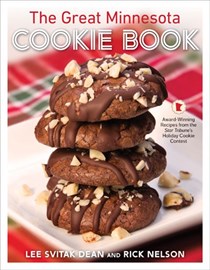 There is something magical about the holiday season when even the baking challenged feel the call to don aprons and pull out cookie sheets. Personally, I scour newspaper sites for their annual cookie contests looking for the one. You know, the one cookie that no one else will have on their cookie trays. That unique cookie will make me the star of the cookie exchange. Folks share some incredible recipes that they have perfected or that were handed down for ages for these contests. Thankfully, bakers sell out their family secret recipes for the chance to win a contest!

The Star Tribune has been running a cookie contest every year for the last fifteen and have compiled eighty of the best of the best cookies chosen by the contest's judges. (Note to self, apply to be a cookie judge). One can never have too many cookie recipes and particularly contest winning recipes. Thankfully, The Great Minnesota Cookie Book is filled with unique, one-of-a-kind recipes as well as twists on the classics that everyone needs in their arsenal. The book's index provides a listing of the variety of these tasty morsels. I recommend starting with the Ricotta cheese cookies, my favorite.
Our
takes you inside this book and shares the following
The publisher is offering three copies of this book to EYB Members in the US and EYB is supplying one copy worldwide, outside the US. One of the entry options is to answer the following question in the comments section of this blog post.
Which recipe in the index would you try first?
Please note that you must be logged into the Rafflecopter contest before posting or your entry won't be counted. For more information on this process, please see our step-by-step help post. Be sure to check your spam filters to receive our email notifications. Prizes can take up to 6 weeks to arrive from the publishers. If you are not already a Member, you can join at no cost. The contest ends at midnight on November 29th, 2018.