April Bloomfield tells her side of the story
October 18, 2018 by Darcie
Since news broke about the sexual assault and rape allegations against Ken Friedman and others at the Spotted Pig in New York, the restaurant's chef and co-owner, April Bloomfield, has not said much about the matter. She says her silence, save from a few lackluster apologies, was held under the advice of her attorneys, who are still negotiating the terms of her separation from the partnership with Friedman. Bloomfield grew tired of waiting to tell her side of the story, and recently sat down with The New York Times to discuss the controversy.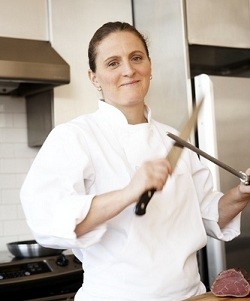 The chef is speaking out now in an attempt to repair the damage the scandal has caused to her reputation and her career. Bloomfield acknowledges that she made missteps, but says that while she knew about some of Friedman's bad behavior, she was not aware of the more serious allegations. For instance, she denies knowing that the upstairs room of the restaurant was known as "the rape room".
Bloomfield says that once she became aware of Friedman's volatile temper and poor treatment of employees, she attempted to counsel him about his anger and inappropriate behavior. She says that he would be contrite and promise to change, but never followed through on those promises. Bloomfield didn't push back harder because she felt intimidated by Friedman, who she says once threatened to have her work visa revoked, which would have ended her ability to work in the US. (Friedman denies this story and says that he will also be commenting soon).
Employees who were contacted about the story seem to be split as to whether they believe Bloomfield's account of the goings on at the Spotted Pig and other restaurants that she ran with Friedman. Some agree that she was intimidated by Friedman and that her actions (or lack thereof) were a survival mechanism. Others think that she knew more about the goings on than she admits, and that she deliberately ignored reports of abuse and harassment.
Bloomfield says she had been working on a way to extricate herself from her partnership with Friedman for over a year before the scandal broke. Now that the separation is nearing completion, Bloomfield is focusing on running her restaurants with a new partner (a management company), and the harder work of rebuilding relationships with former employees and co-workers. "These women have been hurting and I feel horrified that I've done wrong by them," she told the NYT. "I know I need to hear what happened to them."