EYBD Previews for Hardie Grant & Quadrille Titles
October 6, 2018 by Jenny
In April, I shared a post featuring Hardie Grant & Quadrille titles and today I'll share all the
and blurbs for all the additional titles that have been added since that date.
Beside each blurb, I will include a link to my previous or current review, events and other details such as if a giveaway is open (US/UK/NZ/AU.)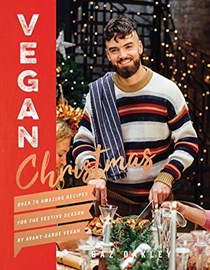 Vegan Christmas: Over 70 Amazing Recipes for the Festive Season by Gaz Oakley delivers fantastic alternatives to the traditional turkey and trimmings. Gaz is an expert in bold flavors and textures, so everyone, including vegans, can enjoy a spectacular centerpiece and amazing food throughout the festive season. Vegan Christmas follows his successful debut cookbook Vegan 100 (find out more on this earlier title here). Gaz is touring here in the US in support of his new book and find out more in our promotion and giveaway post.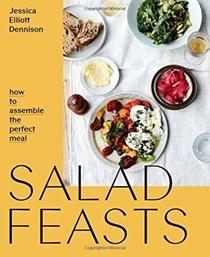 Salad Feasts: How to Assemble the Perfect Meal by Jess Dennison transforms salads into masterpiece meals. This title contains a gorgeous selection of recipes that marry flavors and textures to make salad meals crave-worthy. A perfect title for any season but particularly when fresh produce is abundant. This book that will keep the hum-drum out of salad making.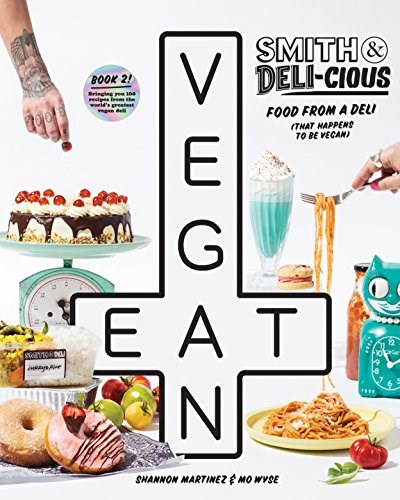 Smith & DELI-cious: Food from a Deli (That Happens to Be Vegan) by Shannon Martinez and Mo Wyse have delivered another collection of recipes that celebrates delicious plant-based food the way it should be: big, bold and flavorful. This title follows their successful, Smith & Daughters: A Cookbook (That Happens to Be Vegan) (review and preview). Don't be alarmed as you go through the book and see "bacon" without the "vegan" modifying it. The authors write vegan cookbooks and having to identify each ingredient as vegan seems redundant.
From the Earth: World's Great, Rare and Almost Forgotten Vegetables by Peter Gilmore is a celebration of approximately 50 unique and exotic heirloom vegetables and plants through the seasons. Some the author grows himself in his experimental home garden, while others come from suppliers he has developed close and lasting relationships with over his 15 years as executive chef at Quay (cookbook by the same name: Quay) restaurant in Sydney, Australia. Peter has several other beautiful titles under his belt.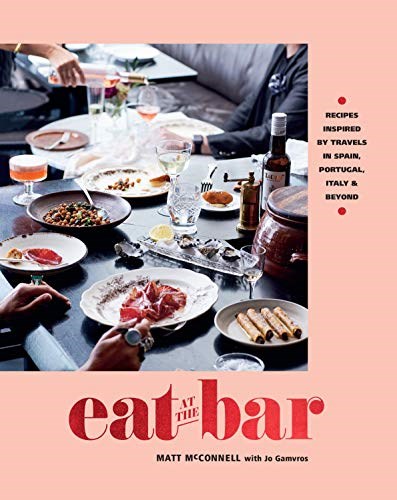 Eat at the Bar: Recipes Inspired by Travels in Spain, Portugal, Italy and Beyond by Matt McConnell and Jo Gamvros is first a cookbook, sharing 55 recipes inspired by local farmers, providores, fishmongers and suppliers, and underpinned by the flavors Melbourne author Matt McConnell continues to cook with today: garlic, pimento, salt and the best olive oil. The line-up is a best of the best from more than 10 years of Matt's respected repertoire of tapas and raciones at his Melbourne bar and restaurant The Bar Lourinha Project. The book, like the bar, makes readers feel at once at home and familiar – even if they have not ever ventured to the city spot beloved for its food, booze, collectors' feel and old-fashioned hospitality.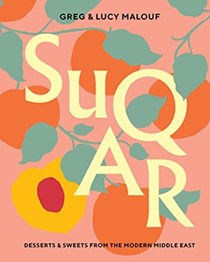 SUQAR: Desserts & Sweets from the Modern Middle East by Greg Malouf and Lucy Malouf shares the secrets to a more than 100 sweet treats from the Modern Middle East – ranging from puddings and pastries, to ice creams, cookies and cakes, candied fruit, and nuts and will be released next month. It is absolutely stunning and one of our upcoming main selections in the Eat Your Books Cookbook Club. The Maloufs' titles are very special and their stunning books will always have a place in my collection.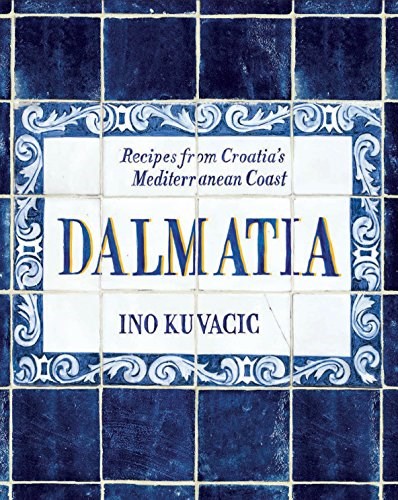 Dalmatia: Recipes from Croatia's Mediterranean Coast by Ino Kuvačić celebrates traditional recipes that capture the fresh, simple cuisine of the Dalmatian region. The title page has a stunning aerial view of the coast line that captured my heart immediately – any place this mesmerizing surely must be home to beautiful cuisine as well. For more information on this title see my previous review.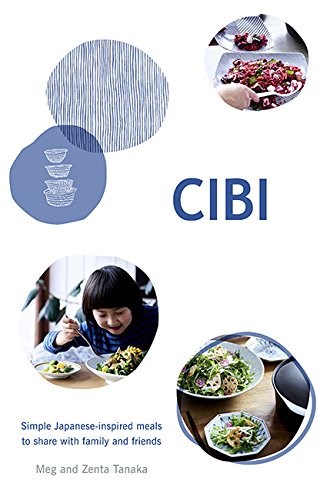 Cibi: Simple Japanese-Inspired Meals to Share With Family and Friends by Meg Tanaka and Zenta Tanaka is a book on home-style Japanese cooking inspired by the eponymous Melbourne café and design space created by the authors. It contains 80 seasonally relevant recipes across vegetables, fish and seafood, meat, grains and noodles, and sweets, plus small features on elements of Japanese cooking and food culture, accompanied by beautiful photography and illustrations. This title will be released next month.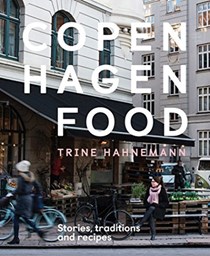 Copenhagen Food: Stories, Traditions and Recipes by Trine Hahnemann is one of our EYBD titles published this month. This offering is more than a beautiful cookbook, it is a trip to the cosmopolitan city where the author has lived for nearly 50 years that brilliantly details her favorite places to walk, bike, and meet friends to drink coffee and enjoy lunch, pastries, and dinner. For more information on this book and EYBDigital, please see our full promotion and giveaway.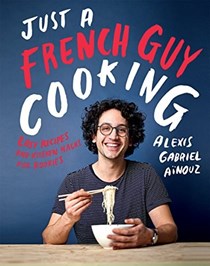 Just a French Guy Cooking: Easy Recipes and Kitchen Hacks for Rookies by Alexis Gabriel Ainouz is one of our EYBD titles which journals the cooking exploits of the author who just wants us to have fun cooking. His wildly popular You Tube channel has nearly 800,000 subscribers mainly due to his endearing style and his passion for food. There are 90 of his favorite recipes in his wonderfully photographed debut book that will appeal to those wanting to learn how to cook and those, like myself, that appreciate another (youthful) approach to the classics. Find out more about this title and EYBDigital in our promotion and giveaway post.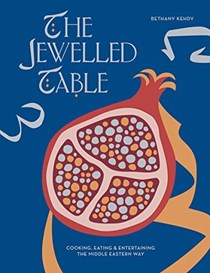 The Jewelled Table: Cooking, Eating and Entertaining the Middle Eastern Way by Bethany Kehdy explores the way Middle Easterners cook, eat, and entertain. Over 80 ancient and everyday recipes from the Middle East are reinterpreted and made accessible for cooking in a Western kitchen without losing integrity for the classics. The author's first title, Pomegranates & Pinenuts, is one of my favorite books on Middle Eastern cuisine. Promotion coming soon.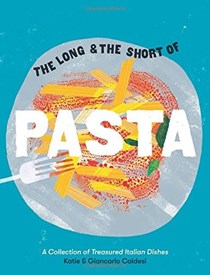 The Long and the Short of Pasta: A Collection of Treasured Italian Dishes by Giancarlo Caldesi and Katie Caldesi shares the couple's favorite pasta recipes culled from their myriad titles. If you are unfamiliar with the husband and wife duo's work this is a perfect book to introduce you to their world. A promotion will be coming soon.
Kricket: An Indian-inspired Cookbook by Will Bowlby shares over 80 recipes that reinvent the classic and historic cuisine of India, creating accessible and elegant meals that are perfect for sharing at our tables. With stunning photography and recipes such as Samphire pakoras with tamarind & date chutney or Duck leg kathi roll with peanut chutney & pickled cucumber that combined flavors and textures brilliantly, this is every Indian food lover's dream book. Promotion coming soon.
15 Minute Vegan Comfort Food: Simple & Satisfying Vegan Recipes by Katy Beskow is a follow up to her debut title, 15 Minute Vegan. Here she explores how a mindful cooking process is as comforting as the final dish, even when you have just 15 minutes to spare, and offers 100 recipes across five chapters: comfort classics (chocolate chilli, moussaka bowls); sides & bites (corn fritters, speedy samosas); social sharing (mushroom bourguignon, garden biryani); solo recipes (spicy falafel burger, cashew chow mein); and sweet comforts (cherry pot pies, jam sponge pudding).
Cauliflower: Over 70 Exciting Ways to Roast, Rice, and Fry One of the World's Healthiest Vegetables by Oz Telem shows readers how this amazing ingredient can be prepared and cooked with over 70 delicious and easy recipes. From a quick 5-minute Cauliflower Tabbouleh to an elegant Linguine with Cauliflower Ragu, this book showcases recipes fit for every occasion.
Chefs Eat Melts Too: A Pro's Guide to Reinventing Your Sandwich Game by Darren Purchese is devoted to melty, ooey gooey sandwiches. I love everything that Darren writes. Darren has been busy, Chefs Host Christmas Too is being released in AU and the UK this month and Chefs Eat Breakfast Too will released in 2019.
Happy Food: Fast, Fresh, Simple Vegan by Bettina Campolucci Bordi shares a collection of easy and delicious plant-based recipes that anyone can incorporate into their busy life. Whether you're looking to eat more veggies or have decided to turn vegan but don't want to compromise on taste, this is the book for you.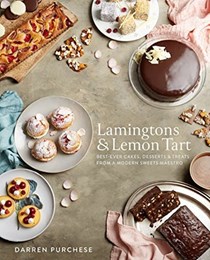 Lamingtons & Lemon Tart: Best-Ever Cakes, Desserts and Treats from a Modern Sweets Maestro by Darren Purchese delivers dessert classics only recasted with the author's trademark flair. These recipes are for the home cook who might be ambitious, but also wants to feel that the recipes are within their grasp. I absolutely adore Darren's books. For more information see my review post.
Gather by Gill Meller is a favorite in my collection. Please see my review and interview with the author from 2017. Meller's books are elevated comfort. His latest title, Time: A Year and a Day in the Kitchen is the highly anticipated follow-up his award winning debut title, Gather. Here, Gill distills the essence of his approach to food and cooking – time spent in the kitchen, with good ingredients, makes for the best possible way of life. Time is stunning and is being released in the UK this month.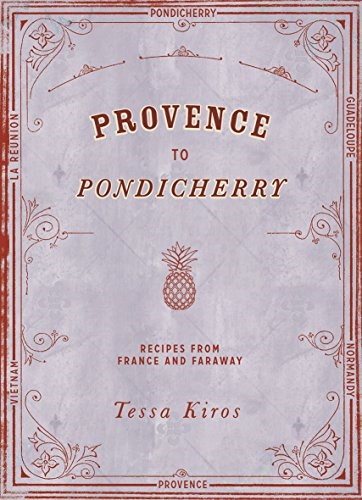 Provence to Pondicherry: Recipes from France and Faraway from the incomparable Tessa Kiros is pleasure wrapped in words and photographs. Tessa's books are journeys to glorious locales filled with beautiful people and food. For more information on this title see my earlier review.
Spanish Made Simple: Foolproof Spanish Recipes for Every Day by Omar Allibhoy, the chef behind the Tapas Revolution chain of restaurants in the UK and cookbook by the same name, guides you through the basics of 100 key Spanish dishes. For more information on this title, please see my earlier review .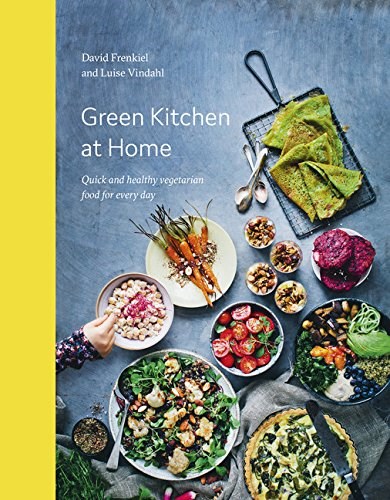 Green Kitchen at Home: Quick and Healthy Vegetarian Food for Everyday by David Frenkiel and Luise Vindahl is filled with over 100 delicious vegetarian recipes straight from their Stockholm kitchen. For more details on this title, please see my earlier review.
Citrus: Recipes That Celebrate the Sour and the Sweet by Catherine Phipps explores the myriad uses of oranges and lemons, and all things in between. Using citrus in cooking and baking is one of my favorite tricks to ramp up flavor. For more information on this title, please see my previous review .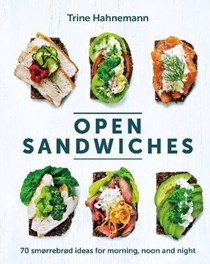 Open Sandwiches: 70 Smørrebrød Ideas for Morning, Noon and Night by Trine Hahnemann covers everyone's favorite Danish food: smørrebrød. There are so many variations on the classic open sandwich, with ideas for every season and every taste. We all know about pickled herring and smoked salmon on a slice of dark, dense rye bread, but Trine introduces us to lots more fresh, seasonal creations, as well as ideas for making use of leftovers like roast chicken, and refreshing sweet recipes such as simple sliced fruit on homemade seeded bread.