It only takes one recipe
September 24, 2018 by Darcie
Everyone has a food that he or she just doesn't like. Many times the dislike reaches all the way back into the person's childhood. However, these preferences are not carved into stone, and you can turn from someone who despises a certain food into a person who really enjoys eating it. Sometimes all it takes is one recipe to bridge that gap.
For me, this has happened with a couple of foods. The recipe that turned me from a cooked carrot hater to a lover just like a light switch was simple. It didn't involve any special ingredients or exotic spices, just the proper amount of cooking. Prior to this revelation, my limited experience with cooked carrots involved the vegetable being boiled into a pale, nearly brown, and decidedly mushy state. As a result, I thought that all cooked carrots were terrible.
The transformation began when I assisted a friend in cooking a large catered dinner. She explained that one of the side dishes was glazed carrots, and I wrinkled my nose in distates. I was thinking that the guests would be offended by being served something that resembled low quality baby food. My friend said nothing, but after I assisted her in preparing the carrots I was amazed at the results.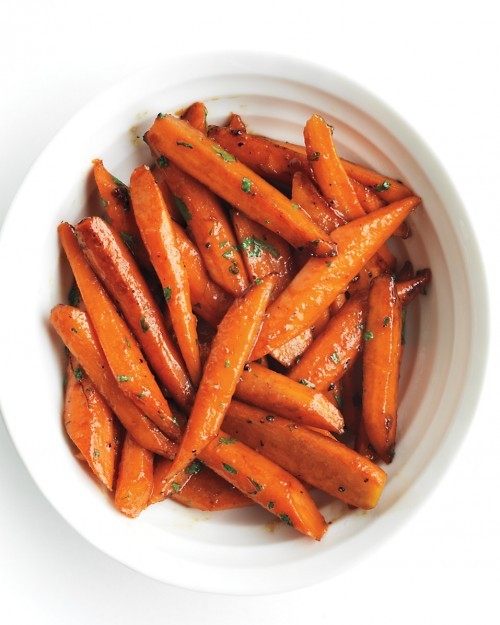 These carrots were brightly colored, and much to my astonishment, delicious. They perfectly balanced the divide between savory and sweet, but the texture wowed me even more than the flavor. It was such a simple step that I was angry at myself for thinking that to 'properly' cook carrots they had to be boiled until you could smash them onto the roof of one's mouth.
The recipe that converted me into a cooked-carrot advocate was Glazed carrots from Cook's Illustrated Magazine. After I discovered that recipe I found many others in the same vein, with a multitude of flavoring variations. None of these recipes would have been on my radar without that first discovery, brought to me by a friend. Have you had similar 'aha' recipes that changed your mind about an ingredient?
Photo of Honey-glazed carrots with cilantro from Everyday Food Magazine