Cooking in Color – EYBD Promotion
September 18, 2018 by Jenny
Now with EYBDigital, if you buy a print book within the promotional period, for the first time you will have access to the full EYBD cookbook wherever you can access EYB – on vacation, at work, in the grocery store, etc. In addition to the digital book, all the features of EYB will be included in the access, at no cost to the book purchaser. For more information see our EYBD Page.
• Recipe search
• Bookmarks
• Recipe ratings and reviews
• Photo upload (personal photos of dishes cooked)
• Shopping lists
We are pleased to share a promotion for our next EYBD Book, Cooking in Color: Vibrant Plant-Forward Recipes from the Food Gays by Adrian Harris and Jeremy Inglett, today on its publication day.
Fresh, plant-forward recipes, plus colorful photography with camera and styling tips for enviable food photos are shared in this book. The authors have found growing popularity on social media by sharing not only wholesome, delicious recipes, but also rich, colorful food styling and photography.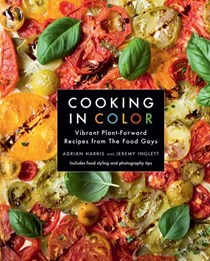 The authors don't strictly focus on vegetarian, but they appreciate the versatility and beauty of fresh produce and incorporate the brilliance of its color into all their dishes with garden-fresh herbs, crisp vegetables, and vivid fruits. Speaking as someone who deals with food photographs and Instagram, the most popular photos are always those bursting with seasonal produce. Brown food might taste good, but it isn't very photogenic.

Adrian and Jeremy's recipes and photography tips inspire the reader to cherish the cooking process and treat mealtime as a moment to reflect and connect with the world around them. Even if you don't photograph your food, you still want to present it beautifully and The Food Gays have that covered.
Our
takes you inside this book and features the following
If you have already bought Cooking in Color: Vibrant Plant-Forward Recipes from the Food Gays or do so before December 31st, 2018, register here (be sure you have a photo of your receipt or screenshot from your online order ready to upload). Once your purchase has been verified, this button
will appear on the book on your Bookshelf next to the title and will take you to the digital access for this gorgeous book. Below are screenshots showing how these features will appear.
The publisher is offering three copies of this book to EYB Members worldwide. One of the entry options is to answer the following question in the comments section of this blog post.
Which recipe in the index would you try first?
Please note that you must be logged into the Rafflecopter contest before posting or your entry won't be counted. For more information on this process, please see our step-by-step help post. Be sure to check your spam filters to receive our email notifications. Prizes can take up to 6 weeks to arrive from the publishers. If you are not already a Member, you can join at no cost. The contest ends at midnight on November 11th, 2018.