The Karachi Kitchen
August 31, 2018 by Jenny
The Karachi Kitchen: Classic and Contemporary Flavors of Pakistan by Kausar Ahmed brings the diverse cuisine of this area of the world to our kitchen. Drawing influences from across South, Central, and West Asia, the food of Karachi is as varied as its people.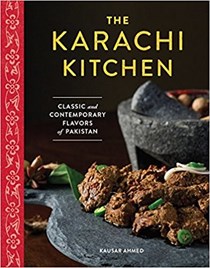 Acclaimed Pakistani chef, food and prop stylist, and educator Kausar Ahmed has curated and created unique, mouthwatering recipes in this gorgeous one-of-a-kind cookbook. As you savor Masala fish or devour Khao suey, discover a whole new world of flavor through the culinary arts of a multi-cultural region that sits at the intersection of South Asia.
The author has a number of events including classes which we have outlined on our calendar see if she is in your area to attend a class like no other.
For a glance inside this book our
features the following dishes in our
:
The author is offering three copies of this book to EYB Members worldwide. One of the entry options is to answer the following question in the comments section of this blog post.
Which recipe in the index would you try first?
Please note that you must be logged into the Rafflecopter contest before posting or your entry won't be counted. For more information on this process, please see our step-by-step help post. Be sure to check your spam filters to receive our email notifications. Prizes can take up to 6 weeks to arrive from the publishers. If you are not already a Member, you can join at no cost. The contest ends at midnight on October 16th, 2018.