How to Taste by Becky Selengut
July 30, 2018 by Jenny
I love cookbooks and I find myself making some hard choices as I go about the arduous task of what stays and what goes in my latest purge. We've moved to our new home and I am trying to house all my cookbooks in my office as well as two book cases in our family room area. Some cookbooks are going to the donation pile but books that focus on the art of cooking whether it be seasoning, using acid and heat or knife skills are finding a place on a shelf. We need more books that teach us how to cook instead of how to follow a recipe.

Today's promotion is about one such book, How to Taste: The Curious Cook's Handbook to Seasoning and Balance, from Umami to Acid and Beyond with Recipes! by Becky Selengut.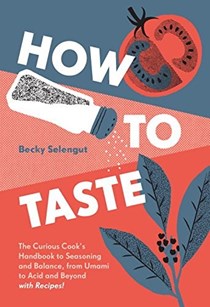 Becky is a Seattle chef who has written several cookbooks including Good Fish (recently updated and expanded) and Shroom: Mind-Bendingly Good Recipes for Cultivated and Wild Mushrooms. I tested a recipe for the latter title and as well as one for How to Taste. Becky's recipes never disappoint, but even better than her recipes, her knowledge shared is invaluable.
Here, she outlines the underlying principles of taste, and then takes a deep dive into salt, acid, bitter, sweet, fat, umami, bite (heat), aromatics, and texture. You'll find out how temperature impacts your enjoyment of the dishes you make as does color, alcohol, and more. This goes beyond telling home cooks what ingredients go well together or explaining cooking ratios. You'll learn how to adjust a dish that's too salty or too acidic and how to determine when something might be lacking. It also includes two dozen recipes and simple kitchen experiments to prove her theories.

Each recipe and experiment highlights the chapter's main lesson. How to Taste will ultimately help you feel confident about why and how various components of a dish are used to create balance, harmony, and deliciousness. This is why I love this book – it will teach us to be more intuitive cooks so we can use cookbooks not as strict recipe outlines but as inspiration to grow our own creativity.
Special thanks to Sasquatch for providing three copies of How to Taste in our giveaway below.
The publisher is offering three copies of this book to EYB Members in the US. One of the entry options is to answer the following question in the comments section of this blog post.
Which recipe in the index would you try first?
Please note that you must be logged into the Rafflecopter contest before posting or your entry won't be counted. For more information on this process, please see our step-by-step help post. Be sure to check your spam filters to receive our email notifications. Prizes can take up to 6 weeks to arrive from the publishers. If you are not already a Member, you can join at no cost. The contest ends at midnight on September 10th, 2018.