French Grill – Cookbook GIveaway
July 18, 2018 by Jenny
Susan Herrmann Loomis states that barbecue was invented in France. When the Gauls were racing through lush forests in what is now Brittany, Normandy, and the Loire Valley, hunting game, they would return to the village, build a fire, and split their prize from
barbe a queue
(head to tail) for roasting. While we'll never know for sure who sparked this tasty method of preparing food, we can all agree it's delicious.
Today, the French are still great barbecuers, though over the centuries they've refined their skills and borrowed methods from other cuisines: the grill from the US, the plancha from Spain, the mechoui from North Africa. Susan's latest book
French Grill: 150 Refined & Rustic Recipes
delivers 120 recipes (plus variations) to encourage us to put a twist of France into our weekend grill fest.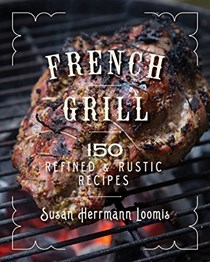 From appetizers to desserts and everything in between, this book has something for everyone. Spiced melon salad, Honey grilled pork chops and Garlic polenta with olives are a few examples of the recipes. Fifty stunning photographs accompany the recipes that are both approachable and tempting dishes. Any level of cook can simply master these elegant but homey dishes.
Our
features three recipes with
access to give you a clear vision of just how beautiful this title is:
Special thanks to Countryman Press for sharing the materials for our preview as well as providing three copies of this book in our contest below.
The publisher is offering three copies of this book to EYB Members in the US and Canada. One of the entry options is to answer the following question in the comments section of this blog post.
Which recipe in the index would you try first?
Please note that you must be logged into the Rafflecopter contest before posting or your entry won't be counted. For more information on this process, please see our step-by-step help post. Be sure to check your spam filters to receive our email notifications. Prizes can take up to 6 weeks to arrive from the publishers. If you are not already a Member, you can join at no cost. The contest ends at midnight on August 31st, 2018.