The Cook's Atelier and Mauviel Copper Pot Promotion
May 18, 2018 by Jenny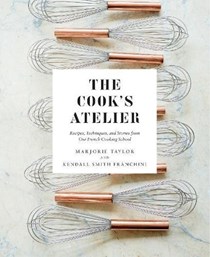 Mother and daughter American expats Marjorie Taylor and Kendall Smith Franchini always dreamt of living in France. In 2008, after a mixture of hard work and fate, they founded The Cook's Atelier, a celebrated French cooking school in the heart of Burgundy.

Combining their professional backgrounds in food and wine, they created an international culinary destination. Their debut cookbook, The Cook's Atelier: Recipes, Techniques, and Stories from Our French Cooking School, chronicles their life in Beaune, their charming French village, and their relationships with the region's artisan food producers and winemakers.
Just two and a half hours from Paris via high-speed train, lies the medieval city of Beaune. Blanketed by vineyards, it is sought out by tourists mainly due to the Côte d'Or vineyards and their yearly auction. And in the heart of this idllyic place is The Cook's Atelier adorned in copper pots with a handwritten quote on the window greeting guests that reads: "People who love to eat are always the best people." (Julia Child).




Inside this stunning book are more than 100 market-inspired recipes, the book – like their school – teaches classic French techniques in a beautiful, approachable way. With more than 200 enchanting photographs, this title is a lovely reflection of the family's delicious world, and an invitation to adopt elements of the French lifestyle at home, no matter where that home may be.
I, being a dreamer, fell in love with the authors' story, their school and their cookbook. The Cook's Atelier is an escape from the madness and mundane filled days to a place where the reader can stroll down the cobbled streets, wicker bags filled with produce from the market to end the journey in a haven of copper cookware and French perfection.
After the introduction and tutorials on cook tools, we are given guidance in preparing and stocking a French larder with recipes for Herb oil, Flavored sea salts and more. Marjorie and Kendall escort the reader to meet the winemakers, bread bakers, shepherds, gardeners and other charming artisans of their corner of France. The photographs are spectacular, the recipes are cooking lessons in and of themselves, and the book will become one that cooks will turn to time and again.
The photograph of Marjorie and Kendall above, taken from their website, is the catalyst that tempted me to reach out to Mauviel. A beautiful book such as this needs to be paired with a stunning piece of cookware and Mauviel agreed.
In 1830, in a Normandy village called Villedieu-les-Poêles, which is located near the Mont-Saint-Michel, Mr. Ernest Mauviel established the Mauviel manufacturing company. Villedieu-les-Poêles, "the city of copper", has an 800 year heritage of copper manufacturing.
Today, Mauviel continues to offer the professional chef, products that are unsurpassed in quality and design. These same products are now also available to household markets. All ranges of Mauviel cookware products bring performance and pleasure to successful chefs and to all those who aspire to become chefs.
For this promotion, we are featuring the
Mauviel M'150, Oval 6.9- Quart Copper Cocotte
which Mauviel graciously sent to me to review. Just out of the box, I thought to myself, that it was far too pretty to cook with – it needs a pedestal to sit upon and be admired.
But that feeling was fleeting as the very next day, I made chicken stock from
The Cook's Atelier
to be used as a base for soup. For a moment using that gorgeous pot, with the cookbook guiding me along, I felt like a French cook.
Mauviel offers a lifetime warranty for manufacturer's defects and will replace any item with the same or similar product, if the product fails during use another true sign of quality.
Special thanks to Mauviel for providing me with the
Mauviel M'150, Oval 6.9- Quart Copper Cocotte
as well as offering a cocotte in our giveaway. Likewise, we thank Abrams for providing me with a copy of
The Cook's Atelier
for review and three copies for our giveaway. Be sure to scroll to the end of this post to enter.
For now, these lovely galettes can be on your table this weekend to bring a little taste of France to your kitchen.
Baby Leek Galettes with Goat Cheese and Wild Garlic
Add this recipe to your Bookshelf (click the blue +Bookshelf button).
Serves 6
Rustic and beautiful, these galettes are a wonderful beginning to a spring lunch. You can also make this as one large galette and serve it alongside a leafy green salad. Search your farmers' market for wild garlic leaves or fresh ramp leaves, as they complement the freshness of the goat cheese. If you can't find wild garlic or fresh ramps, garlic chives and garlic scapes are good alternatives.
12 to 14 baby leeks, white and light green parts only
3 tablespoons unsalted butter
Leaves from 6 sprigs thyme
½ cup (120 ml) dry white wine, such as Burgundy Chardonnay
½ cup (120 ml) crème fraîche
Fleur de sel and freshly ground black pepper
1 large egg, beaten
2 tablespoons finely chopped fresh flat-leaf parsley
½ recipe Pâte Brisée (recipe follows)
Unbleached all-purpose flour, for dusting
1 cup (115 g) crumbled fresh goat cheese
Handful of wild garlic leaves or ramp leaves, coarsely chopped
1 large egg yolk
3 tablespoons heavy cream
Preheat the oven to 400°F (205°C). Line a baking sheet with parchment paper.
Halve each leek lengthwise, then cut them crosswise into thin slices. Rinse the leeks in a large bowl of cold water, swishing to remove any sand. Using your hands, transfer the leeks to a colander to drain, leaving the sand in the bottom of the bowl.
In a large sauté pan, melt the butter over medium heat. Add the leeks, thyme, and ½ cup (120 ml) water and sauté until the leeks are tender, 10 to 12 minutes. Add the wine and cook until the liquid has reduced, 10 to 15 minutes more. Add the crème fraîche and stir to coat the leeks. Season with salt and pepper. Remove from the heat and let cool for 10 minutes. Add the beaten egg and parsley and stir to incorporate. Set aside.
Divide the pâte brisée into six equal pieces. On a lightly floured surface with a floured rolling pin, roll each piece into a round about 6 inches (15 cm) in diameter and ¼ inch (6 mm) thick. Brush off any excess flour with a pastry brush. Arrange the galette rounds on the parchment-lined baking sheet. Divide the leek mixture among the galettes, spreading it in the center and leaving a 1½-inch (4-cm) border. Sprinkle with the goat cheese and wild garlic leaves. Gently fold the border over the leek mixture, overlapping it as you go. In a small bowl, whisk
together the egg yolk and heavy cream. Use a pastry brush to lightly brush the egg wash over the dough. Bake until the pastry is golden and the cheese is just starting to brown, 25 to 30 minutes. Serve warm.
Pâte Brisée
Add this recipe to your Bookshelf (click the blue +Bookshelf button).
Makes enough for 2 (9 inch 23 cm) tarts or 16 ( 4 – inch/ 10 cm) tartlets
3 cups (375 g) unbleached all-purpose flour
1 teaspoon fleur de sel
1½ cups (3 sticks/340 g) cold unsalted butter, cut into small pieces
¼ cup (60 ml) ice water, strained
1 teaspoon distilled white vinegar
In a large bowl, whisk together the flour and salt. Add the butter. Using your hands, gently toss to coat the butter in the flour mixture. Scoop the mixture in your hands and gently press the flour and butter between your fingertips until the mixture looks grainy, with some small pieces of butter still visible. Work quickly to ensure the butter stays cold.
In a small bowl, whisk together the cold water and vinegar. Drizzle over the dough and use a fork to gently toss until incorporated. Continue working the dough, gently squeezing it between your fingertips until it comes together and there is no dry flour visible. Be careful not to overwork the dough. It's ready as soon as you can squish the dough in one hand and it stays together.
Divide the dough in half and shape each half into a disk. Wrap them in plastic wrap and refrigerate for at least 1 hour, or preferably overnight. Pâte brisée can be wrapped in a double layer of plastic wrap and refrigerated for up to 2 days or frozen for up to 2 months.
The publisher of The Cook's Atelier, Abrams, is offering three copies of this book and Mauviel is provding one grand prize winner a Mauviel M'150, Oval 6.9- Quart Copper Cocotte. This contest is open to members in the US. Two of the entry options are to answer the following question in the comments section of this blog post.
Which recipe in the index would you try first?
Which piece of Mauviel cookware would you most like to try?
Please note that you must be logged into the Rafflecopter contest before posting or your entry won't be counted. For more information on this process, please see our step-by-step help post. Be sure to check your spam filters to receive our email notifications. Prizes can take up to 6 weeks to arrive from the publishers. If you are not already a Member, you can join at no cost. The contest ends at midnight on July 7th, 2018.