Shaya by Alon Shaya
March 22, 2018 by Jenny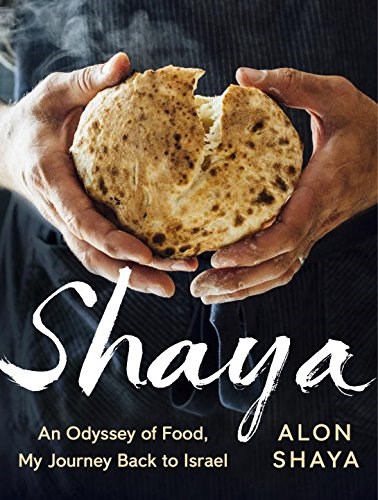 The moment I received Shaya: An Odyssey of Food, My Journey Back to Israel by Alon Shaya I posted on social media that our beloved, member favorite Ottolenghi might have some strong competition for best book of 2018. In the cookbook reviewing world, I struggle every day with adequate descriptions in my writing – beautiful, stunning, gorgeous, inspiring – are overused (not to mention the word delicious) but what am I left with? This book embodies all those descriptors and more.

Alon has put his heart into the creation of this odyssey of food and delivers a soulful, touching book that is as much a joy to read as it is to cook and learn from. Just from his writing, I feel he is a gentle, caring soul that is deeply connected to his vocation – feeding people. His passion for food flows through his words both in his personal narrative and in his recipe writing.

HIs dedication "To my mother, Aliza. You have spent your entire life living for mine, and have always loved, believed, and trusted in me, even when I gave you reason not to," cut me to the core. As most of you know, I have a young son with bipolar and autism issues who has a 130 IQ and can be very sweet. Most days we deal with abusive language, physical threats (with punches landing) and more. I needed to read that dedication today to remind me to continue to have hope for him and for life in general. It is easy to become buried in negative thoughts but when we take a step back and breathe – our lives are wonderful – it is the bumps that make us appreciate the smooth sailing, and sometimes a capsize can put it all into focus.

Even sans the personal narrative, the photographs and recipes in this book are worth the cost of the book – but we are gifted with both a moving story and incredible dishes. There are more than one hundred recipes that range from Roasted chicken with harissa, Marinated soft cheese with herbs and spices (the recipe we are sharing today); Buttermilk biscuits; to Whole roasted cauliflower with whipped feta. Alon's pita and slow-cooked lamb recipes are both shared here. I have a friend in New Orleans who said, "I'd pay $80.00 for the book for those two recipes alone." The measurements are Americanized for those outside the US, don't let that deter you from the greatness of this book.
Alon is on tour and his schedule is shared on our calendar. He took time to answer a few questions for us and for that we are grateful. I wrote him to thank him for writing such an amazing book and for sharing it with us – I hope you find as much joy in this title as I have. Special thanks to Knopf for providing a recipe for our members to try now and for providing three copies of Shaya in our contest below.
Q: Being a chef is a calling – your love of food is obvious – when did you first know that cooking was going to be your life. Was it also one of your dreams to write a cookbook – how did the book come to be?
A: I always realized from the age of 7 that I really loved food. Probably even earlier but at 7 years old I knew I had a special connection with my grandmother's cooking. I wouldn't say writing a cookbook was always a dream, but I knew that it was the right time in 2015 when I began to finally embrace my heritage through food.
Q: Someone once said that writing a book was like having a child – or giving birth. What was the hardest aspect and what was the most gratifying?
A: It was a very intense process that was very emotional and personal. I'd say the hardest part was opening up so much of my history to the world. It's something I've always kept private. The most gratifying part was getting to become closer friends with everyone involved in the production of the book. Vicky Wilson with Knopf helped us see our vision through, Tina Antolini co-authored the book with me, Rémy Robert developed the recipes and cooked every dish in the book multiple times, Rush Jagoe took beautiful photography and Francis Rodriguez drew powerful illustrations.
Q: What is one thing that you want your readers to take away from Shaya?
A: I'd like the recipes to mean more than just a meal after they read the stories leading up to it.
Q: If you could use one sentence to describe your food what would it be?
A: Simple and tied to a story that is meaningful and genuine.
Q: Who are some of your food/chef heroes?
A: Chris Bianco, Faith Willinger and Ashley Christensen.
Q: We are cookbook lovers and collectors. Are you? If so, how many cookbooks do you have, which are your favorites?
A: I have probably 50 or so. Jerusalem by Ottolengi is a favorite as is Eating in Italy by Faith Willinger. Also love The Art of Simple Food by Alice Waters.
Q: How do you keep the inevitable headaches of the business side from diminishing the obvious joy you find in cooking?
A: You can't seperate the two and they work hand in hand. Business has never diminished my joy of cooking and cooking has never taken away from the importance of running a solid business.
Q: New Orleans is a cliche for people who don't know the city. What is your favorite "secret" of New Orleans?
A: Pho Tau Bay Vietnamese Restaurant. Their pho is incredible and they are a New Orleans Restaurant through and through.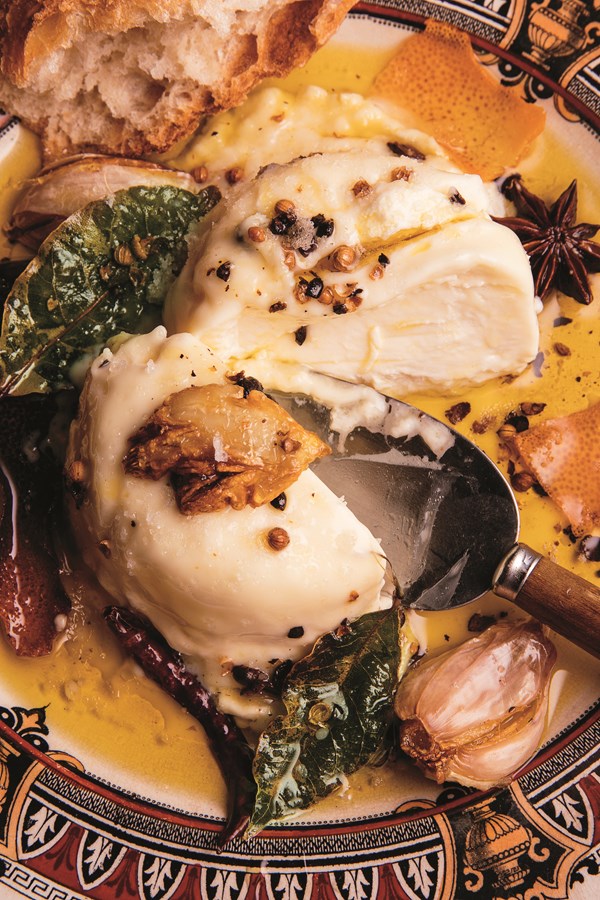 Marinated soft cheese with herbs and spices
Add this recipe to your Bookshelf (click the blue +Bookshelf button).
Yield 6 to 8 servings
8-ounce wheel of soft goat or mixed-milk cheese, such as La Tur
3 cloves garlic, unpeeled
1 teaspoon whole allspice berries
1⁄2 teaspoon whole coriander seeds 

1⁄2 cup extra-virgin olive oil 

2 dried bay leaves

1 dried árbol chili pepper, or 1⁄4 teaspoon red-pepper flakes

1 star anise pod
Two 2-inch strips of orange peel, orange part only, divided
A crusty baguette
Maldon or other flaky sea salt, to finish
This dish was a revelation when Emily and I ate it in Milan: when you start with great ingredients, you're wise not to mess with them. It's a moment of perfect simplicity; at the right temperature, olive oil and cheese can be as flawless as any- thing that costs you far more time, money, or energy. Any brand of soft aged cheese will do-I like La Tur, a mixed-milk cheese that's as creamy as goat, with just a little sheepy funk, softened by the cow's milk. Mt Tam, a domestic triple-cream cheese, is a great alternative. Have fun with the spices: throw in a couple cloves instead of the star anise, add a sprig of rosemary instead of the bay, or use lemon instead of orange.
1. Heat the oven to 325 ̊F. Put the cheese in the bowl or rimmed plate from which it'll be served, to let it soften.
2. Use the side of a knife or a rolling pin to crush the garlic lightly, just so it starts to open up in its skin. Lightly crush or roughly chop the allspice and coriander, and add them, with the garlic, to a small ovenproof saucepan, along with the olive oil, bay leaves, árbol chili, star anise, and one strip of orange peel. Cover with a lid, and bake for 40 to 45 minutes; the garlic will be very golden and the orange rind will have darkened quite a bit.
3. Once the sauce has come together, remove the saucepan from the oven and increase the heat to 425 ̊F. Take the second strip of orange peel and give it a little twist over the pan to release the oil, then drop it into the pan and let the oil cool down.
4. Cut the baguette on a bias into 1⁄2-inch slices, and arrange them on a baking sheet. Toast at 425 ̊F for 6 to 8 minutes, until they've built some nice color along the edges.
5. Pour the seasoned oil over and around the softened cheese, letting the spices run free, and sprinkle on the salt just before serving. Slather the toasts with the cheese, and encourage your friends to dab up every last drop of the infused oil.
Recipe used with permission of Knopf from Shaya by Alon Shaya ©2018. Photograph credit: Rush Jagoe
The publisher is 3 offering copies of this book to EYB Members in the US. One of the entry options is to answer the following question in the comments section of this blog post.
Which recipe in the index would you try first?
Please note that you must be logged into the Rafflecopter contest before posting or your entry won't be counted. For more information on this process, please see our step-by-step help post. Be sure to check your spam filters to receive our email notifications. Prizes can take up to 6 weeks to arrive from the publishers. If you are not already a Member, you can join at no cost. The contest ends at midnight on May 8th, 2018.