The Italian Regional Cookbook – Valentina Harris
March 14, 2018 by Jenny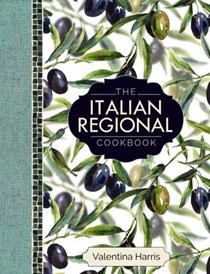 When your father is an English army officer and your mother, an Italian countess, naturally you grow up in a Tuscan castle with all the accruements of same. Such was Valentina Harris' fate to while away the days wandering through vineyards, olive groves, vegetable gardens, and slaughtering chickens. Yes, slaughtering chickens – she could slaughter a chicken by 8 years of age. Beppino, the family chef, was her mentor in the kitchen and was the start of her path to a career in the culinary arts.
Valentina Harris has taught cooking in both Italy and London for forty years and authored over thirty award-winning cookery books. Her latest The Italian Regional Cookbook is a compilation of her Food and Cooking series and shares the recipes from these titles: Tuscany & Umbria; Milan & North-East; Rome & Central; Venice & North-East; Sicily and the South. It is a beautiful addition to anyone's library especially those enamored with this cuisine. Filled with stunning photographs (including step-by-step process photos on some techniques), historic narrative regarding the recipes and area, and dishes from all corners of Italy, this massive tome of over 600 pages of approachable classic recipes is sure to please any level cook.
Special thanks to the publisher for sharing two recipes with our members today. Be sure to add those to your bookshelf. Scroll down to our contest to enter a chance to win one of three copies of this title open to US, CA and UK members.
Roman cheese and ham fritters
Panzerotti alla Romana
Add this recipe to your Bookshelf (click the blue +Bookshelf button).
Probably one of the earliest recipes from the culinary history of the great city of Rome, these rich and savoury dough fritters would traditionally be served as an antipasto or a snack; at some time in their history they were probably cooked as street food and sold from sizzling cauldrons of boiling oil to hungry passers-by. You can vary the contents of the filling according to personal taste; for example, mozzarella or scamorza can be used instead of the Gruyère, and salami or cooked ham could be used instead of the prosciutto crudo.
Serves 4
115g/4oz/1 cup finely cubed Gruyère cheese
75g/3oz/3 /4 cup chopped prosciutto crudo
25ml/1 1 /2 tbsp freshly grated Parmesan cheese
1 egg, beaten
300g/1 1oz/2 2 /3 cups plain (all-purpose) flour
50g/2oz/1 /4 cup unsalted butter, cubed
2 egg yolks
1 egg white, lightly beaten until frothy
sunflower oil, for deep-frying
sea salt and ground black pepper
1 Mix the cubed cheese with the prosciutto, Parmesan cheese and the beaten whole egg. Season with a little salt and ground black pepper, and set aside until required.
2 Put the flour in a mound on the work surface. Plunge your fist into the centre to make a hollow. Put a pinch of salt, the butter and the egg yolks into the hollow. Blend together with your fingertips, adding 30-45ml/2-3 tbsp cold water, if necessary.
3 When you have achieved a smooth ball of dough, roll it out as thinly as possible.
4 Use a 5cm/2in pastry (cookie) cutter or inverted tumbler to cut out circles of dough.
5 Put a spoonful of the cheese mixture on to each circle and fold in half. Brush the edges with a little beaten egg white, and seal the panzerotti closed.
6 Heat the oil for deep-frying in a deep pan until a small piece of the pastry, dropped into the oil, sizzles instantly. Fry the panzerotti for 5 minutes, or until golden brown and puffy.
7 Drain on kitchen paper and serve hot.
Sicilian fig pastries
Cuccidati
Add this recipe to your Bookshelf (click the blue +Bookshelf button).
The sticky, nutty, Sicilian sweetmeat that forms the centre of these pastries is also wonderful on its own or with salty Pecorino cheese. About one-tenth of the sweetmeat will be used to fill the pastries in this recipe, but there is no point making it in small batches as it keeps extremely well for up to a year, so store the rest in your refrigerator. The flavour develops and changes over the months, as the mixture ferments gently with the monthly addition of the dessert wine.
Makes about 24
200g/7oz/scant 1 cup unsalted butter, softened
400g/14oz/2 cups caster (superfine) sugar, plus extra for sprinkling
2 eggs or 4 egg yolks, well beaten
30ml/2 tbsp milk
5ml/1 tsp vanilla extract
500g/1 1⁄4lb/4 1⁄2 cups plain (all-purpose) white flour
10ml/2 tsp baking powder
3ml/1⁄2 tsp salt
For the sweetmeat
450g/1lb/2 2⁄3 cups hard dried figs
450g/1lb/2 2⁄3 cups sultanas (golden raisins) or raisins
115g/4oz/1 cup shelled walnuts
115g/4oz/1 cup blanched almonds
500g/1 1⁄4lb/2 cups clear honey
300ml/1⁄2 pint/1 1⁄4 cups sweet dessert wine or sherry
finely grated rind of 1 unwaxed lemon
finely grated rind of 1 unwaxed orange
1 First make the sweetmeat. Put the figs and sultanas or raisins in a bowl with water to cover. Soak for 30 minutes. Drain the soaked fruit and transfer the mixture to a pan. Pour over fresh water to cover. Bring to simmering point and cook for 2-3 minutes to soften. Allow to cool.
2 Chop the walnuts and almonds finely in a food processor. Scrape into a bowl and set aside.
3 Drain the figs and sultanas and process them briefly in a food processor until chopped, but not puréed. With the motor running, add the honey and half the wine or sherry through the feeder tube. Process until mixed. Remove the lid from the food processor and add the grated lemon and orange rind to the mixture. Replace the lid and process until reasonably smooth.
4 Scrape the mixture into a large bowl, add the chopped nuts and mix well, adding more wine or sherry as needed. The consistency should be medium to dry.
5 Set aside 90-120ml/6-8 tbsp of the mixture and spoon the rest into a plastic container, close the lid securely and store in the refrigerator (see Cook's Tips).
6 Preheat the oven to 180°C/350°F/Gas 4. Grease 2 baking sheets. Put the butter in a bowl and beat it with a wooden spoon until creamed. Beat in the sugar, eggs or egg yolks, milk and vanilla extract, adding a little flour if the mixture shows signs of curdling.
7 Sift in the flour, baking powder and salt. Mix to a soft dough. Cover and chill for at least 1 hour.
8 Using a teaspoon, scoop up a little of the mixture. Roll into a ball and place on one of the baking sheets, then press the top to flatten it to a round. Repeat with the remaining mixture, leaving room for spreading. Spoon a little of the sweetmeat on to each round and pull up the edges to partially cover the filling.
9 Bake for 10 minutes or until golden. Leave on the baking sheets for 5 minutes, then transfer to wire racks and sprinkle with caster sugar. Leave to cool.
COOK'S TIPS • If your food processor does not have a powerful motor, chop the nuts roughly with a knife before processing them. • The sweetmeat will keep in the refrigerator for up to 1 year, provided about 5ml/1 tsp dessert wine or sherry is stirred in once a month to keep the mixture moist and lightly fermented.
The publisher is offering three copies of this book to EYB Members in the US, CA and UK. One of the entry options is to answer the following question in the comments section of this blog post.
Which recipe in the index would you try first?
Please note that you must be logged into the Rafflecopter contest before posting or your entry won't be counted. For more information on this process, please see our step-by-step help post. Be sure to check your spam filters to receive our email notifications. Prizes can take up to 6 weeks to arrive from the publishers. If you are not already a Member, you can join at no cost. The contest ends at midnight on April 23rd, 2018.