A Seat at the Table
March 12, 2018 by Jenny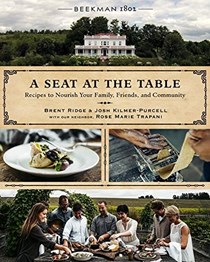 The Beekman 1802 brand has had me longing to live on a farm, make my own goat cheese and collect eggs in a Beekman Shopping Egg Basket since they came to be. Until I can make that dream a reality, I am content to live vicariously through their cookbooks and an occasional purchase from their shop. I want the egg basket but I need to get a few chickens first which begs the question what came first the chicken or the egg basket?
Brent Ridge and Josh Kilmer-Purcell, the founders of Beekman 1802, refer to their customers, friends and fans as neighbors. They co-wrote their latest cookbook Beekman 1802: A Seat at the Table: Recipes to Nourish Your Family, Friends, and Community with their real life neighbor, Rose Marie Trapani as an invitation to neighbors everywhere to pull up a chair and join together around the table.

The book opens up with Robert Fulghum's lovely quote "And it is still true, no matter how old you are–when you go out into the world it is best to hold hands and stick together." Here, the authors encourage us to join hands, stick together and wander through these pages to gather inspiration from the photographs and seasonal recipes.
Recipes vary from Salvation chocolate mousse cake to Crab cakes with homemade tartar sauce with a plethora of approachable dishes in between. Life on the farm wouldn't be complete without a few homesteading recipes such as Ricotta from scratch and Homemade tomato paste. Elegant dishes such as Pan-seared swordfish with ginger, soy, and chives and Mushroom risotto are shared along side a rustic Italian cookie, the One perfect mouthful taralle cookies. The influence of Rose Marie's Italian heritage and Brent and Josh's life on their New York farm create a perfect, beautiful balance here. When I first received this book, I made the Linguine with lemon sauce and the Potato frittata which were both delightful. Now as I page through the book again, I want to make all the recipes and I want to make them all, now.
Special thanks to HMH for sharing the recipe for the Squash manicotti with our members today and for providing three copies of this book in our contest below.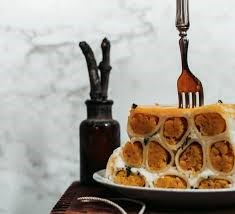 Squash Manicotti
Add this recipe to your Bookshelf (click the blue +Bookshelf button).
Makes 6 to 8 servings
To make an awe-inspiring presentation of this recipe, we used a nonstick bread loaf pan and stacked the stuffed manicotti. Once baked, we turned the pan upside down, allowing the loaf to slide out. This presentation is as pleasing to the eye as it is to the palate. The butternut squash "noodles" in this dish only require a portion of the squash neck. Save the rest in the refrigerator for other dishes such as muffins, as an addition to soup, or to roast.
1 large (2 to 2½ pounds) butternut squash
Olive oil spray
Filling
2 tablespoons butter
1/8 teaspoon nutmeg
½ teaspoon salt
¼ teaspoon white pepper
1 cup freshly grated Parmigiano cheese
1 egg yolk
1 cup finely crushed amaretti cookies or almond macaroons,
1 pound manicotti or paccheri (large tubular pasta)
Béchamel sauce
3 cups goat or cow's milk
4 tablespoons unsalted butter
1 teaspoon salt
¼ teaspoon white pepper
¼ teaspoon nutmeg
¼ cup all-purpose flour
1 cup shredded mozzarella
½ cup grated Beekman 1802 Blaak goat cheese (mozzarella can be substituted)
¼ cup grated Parmigiano cheese
Preheat oven to 350ºF.
Pierce the skin of the squash and microwave for 1 minute to make it easier to cut. Cut the butternut squash at the base of the neck; you will use the bulb to make your filling and the neck to make the "noodles." Cut both the neck and bulb portions into halves vertically and remove any seeds.
Spray the squash bulb halves with olive oil spray and place on a large baking sheet, flesh side down. Roast 40 minutes, until flesh is fork-tender.
Meanwhile, prepare the squash "noodles" with the squash neck. Peel the neck and thinly slice it into wide, lasagna-like strips. A mandolin will make slicing the squash much easier, but you can also use a knife. Line two standard size baking pans with aluminum foil. Spray the pans with olive oil spray and lay the squash "noodles" in the pans. Spray the noodles and bake alongside the squash for the filling for the last 10 minutes, until the squash noodles are pliable.
Remove the squash bulb and noodles from the oven. Now make the filling. When the squash bulb is cool enough to handle, peel and dice. Weigh 1½ pounds (approximately 4 cups of squash) and transfer to a food processor. Add butter, nutmeg, salt, and white pepper. Pulse on and off until mixture is smooth, 15 to 20 seconds, scraping down sides of bowl as needed. Reserve ½ cup for the sauce and set aside. Transfer the rest of the mixture to a bowl, and stir in cheese, egg yolk, and cookie crumbs. Let filling sit until no longer warm-15 to 25 minutes. Spoon filling into a reseal-able plastic bag. Refrigerate while you cook the pasta and make the béchamel sauce.
Next, cook the pasta. In a large pot of boiling salted water, cook the pasta until al dente-about 8 minutes. Drain.
Now make the béchamel sauce. In a small saucepan, heat the milk over low heat until warm. In a separate medium, heavy-bottomed saucepan, melt butter over low heat. Add salt, white pepper, and nutmeg. Add the flour, raise the heat to medium and cook, stirring constantly, until smooth, pale golden, and nutty. Gradually add the warmed milk, stirring constantly. Simmer the sauce until it is lightly thickened and coats the back of the spoon-about 5 minutes. Set aside.
Now you're ready to assemble the manicotti. Preheat the oven to 375°F. Cut a corner off the bag with the squash filling and pipe filling into the pasta tubes. Grease a loaf pan, line with parchment paper, and spoon a thin layer of béchamel onto the bottom and arrange filled pasta tubes in a row one layer deep. Sprinkle with some of the mozzarella and Blaak cheeses, then add another thin layer of béchamel. Follow with another layer of filled pasta tubes. Repeat layering until you have filled the loaf pan. You should have some béchamel sauce remaining, which you will use to plate the manicotti.
Once you have filled the pan, top with a final layer of squash "noodles." Spray with olive oil spray. Cover with aluminum foil. Bake for 45 minutes. Let rest 15 minutes, then run a rubber spatula gently around the pan to loosen. Turn upside down onto a platter and gently remove paper. Cut into slices.
Add the ½ cup reserved squash purée to remaining béchamel sauce and mix well. Heat the sauce for plating. Ladle some sauce into each pasta bowl, place a slice of manicotti on it, and serve with grated Parmigiano cheese.
NOTE: To simplify this recipe you may use pre-packaged peeled cubed butternut squash that you roast and puree or frozen butternut squash purée available at most supermarkets. You can also forego the elaborate stacking process and stuff larger manicotti with the squash mixture. If choosing to do this, spoon a layer of sauce on the bottom of a baking dish and place cooked and stuffed manicotti in a single layer over the sauce. Spread béchamel-squash sauce over the manicotti and sprinkle grated cheese over the pasta, then bake until hot and bubbly.
Squash Manicotti excerpted from BEEKMAN 1802: A SEAT AT THE TABLE © by Brent Ridge & Josh Kilmer-Purcell with Rose Marie Trapani. Reproduced by permission of Houghton Mifflin Harcourt. All rights reserved.
The publisher is offering three copies of this book to EYB Members in the US. One of the entry options is to answer the following question in the comments section of this blog post.
Which recipe in the index would you try first?
Please note that you must be logged into the Rafflecopter contest before posting or your entry won't be counted. For more information on this process, please see our step-by-step help post. Be sure to check your spam filters to receive our email notifications. Prizes can take up to 6 weeks to arrive from the publishers. If you are not already a Member, you can join at no cost. The contest ends at midnight on April 22nd, 2018.