February's Summary of the Eat Your Books Cookbook Club
February 21, 2018 by Jenny
February has us cooking up recipes from The Home Cook: Recipes to Know by Heart by Alex Guarnaschelli, Nigel Slater (online), How To Be a Domestic Goddess: Baking and the Art of Comfort Food by Nigella Lawson, and Jamie at Home: Cook Your Way to the Good Life by Jamie Oliver in the Eat Your Books Cookbook Club. And, desserts are still be churned out in our second group working through Ottolenghi's Sweet (please see our errata sheet for the Americanized version of this book and information on the reprint).
The photos below are just a few of the beautiful shots our members have been sharing; visit the groups for more inspiration. Do not forget to upload your photos and add your notes to your bookshelf at Eat Your Books. Instructions on uploading your photos and links to other helpful articles can be found here.
Last week, I shared the results of our members' voting and announced the April through July selections and all club posts are tagged #EYBCookbookClub if you are looking for a particular post.
The Home Cook: Recipes to Know by Heart by Alex Guarnaschelli.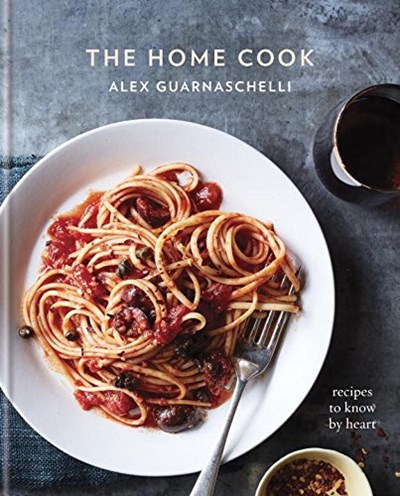 Judy K and I tried the Orecchiette with bacon cream. We loved this dish. Others in the group have made this dish as well.
Pamela L made the Chicken tarragon and states that it was very juicy but warns not to skimp on the seasoning – as it needs salt and pepper.
Nan K made the Creamiest of the cream broccoli soup: "It was a perfect day for warm soup and a great way to use up a big bag of broccoli from the garden. The soup was rich and satisfying. It was very flavorful and the charred broccoli, garlic, pepper and creamy cheese flavors blended very well together. None overpowered the other. It's one of those recipes that tastes better after each spoonful."
Kerrey D made the Warm leeks Nicoise. She says, "Looked beautiful, I loved all the colors. I didn't use the confectioners sugar when roasting the tomatoes- it seemed unnecessary, which is a bit of a pattern for this book. The dressing was more of a tapenade, and was delicious. She didn't specify to chiffonade the basil but I did. The leeks were my least favorite part of the dish. If I repeat it, I will just make blistered tomatoes with tapenade."
Lisa S Warm Blueberry Ginger Turnovers. "I used raspberries as we prefer them, and they played well with the ginger. I believe the recipe should read, cut the dough into eight 6-inch rounds, not the 3-inch in the book, but the thought of tiny turnovers appealed to me. I got four 6-inch and twelve 3-inch rounds. The dough was lovely to work with but I did have some break as I folded them. I sprinkled them with turbinado sugar before baking, and they baked up beautifully. The dough is very tender, buttery and flaky, and these are a perfect anytime treat."
Joan O Dark chocolate brownies. "This was delicious. Makes enough to share in 9×13 pan."
Jessica M made the American pancakes from Nigella Lawson's How to be a Domestic Goddess for her father's birthday stating that they were not bad, though not as fluffy as I'd hoped.
Sweet by Yotam Ottolenghi and Helen Goh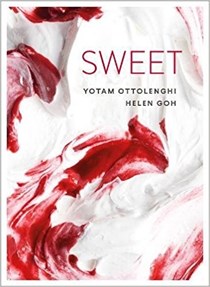 The desserts are still flowing in our Sweet group. Sharing a few highlights today:
Elodee Middle Eastern millionaire's shortbread. "Normally I'm such a fan of millionaire's shortbread but besides the technical problem of my halva layer not adhering to the shortbread very well, it's just way too sweet for me. I cut the narrow bars in half for smaller pieces thereby making 32."
Nabeela Aijaz states she styled the heck out of the Rose water semolina cake. "I was too impatient while making the candied rose petals. Instead of lightly brushing each petal with the egg white, I generously dumped them in egg white before heavy handedly sprinkling sugar on them. They turned into meringues instead of candied rose petals. So decided to go with plan B and just sprinkle fresh rose petals."
Marjolaine S made the Pistachio Rouleau with white chocolate cream. "I added some green pistachio essence to the dough, and vanilla to the cream for a bit more pronounced taste."