Chinese Soul Food – Hsiao-Ching Chou
February 20, 2018 by Jenny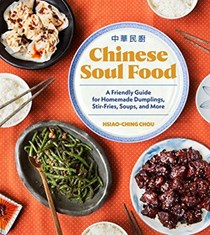 For years, with envy, I have studied photos on social media of friends attending dumpling workshops with Hsiao-Ching Chou in Seattle. I wanted to be there learning to pleat pillows of deliciousness into perfection. Traveling to Seattle for a dumpling class was out of the realm of possibility for me, so I resorted to wishing Hsiao-Ching would write a cookbook. Sometimes wishes come true. Chinese Soul Food: A Friendly Guide for Homemade Dumplings, Stir-Fries, Soups, and More was published a few weeks ago.
This title is everything I thought it would be and more. I love that that it focuses on food that the author makes for her family and not overly complicated or pretentious dishes. Nearly every recipe here is tagged to be made including the Orange beef, Stir-fried fresh rice noodles, and Red-braised pork belly pot stickers. A week back, I made the General Tso's that we are sharing here today, and it was wonderful and far better than any I have had from take-out.
This weekend Darcie covered the Denver Post piece on this title along with the news of the special app that the author is testing. In addition, this April one of our main selections in the Eat Your Books Cookbook Club is Chinese Soul Food, it will be a delicious month. Hsiao-Ching is a member of our group and will be available to answer questions should they arise. Join the group and cook this book with us.
Special thanks to Sasquatch Books for sharing the recipe below and for providing five copies of this book in our contest open to US members; Eat Your Books will choose one additional winner from members outside the US. Scroll to the bottom of this post to enter!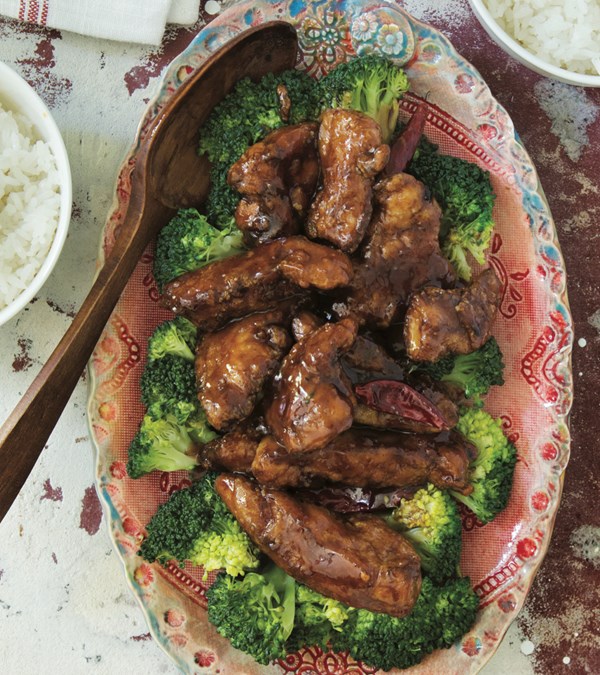 General Tso's chicken
Add this recipe to your Bookshelf (click the blue +Bookshelf button).
I always say that there's nothing inherently wrong with crispy chicken cutlets in a thick, spicy, sticky-sweet, and salty sauce, but General Tso's chicken isn't Chinese. (There is a documentary about this topic called The Search for General Tso.) It does have the spirit of Chinese cooking, in that it combines textures and balances flavors, which is why it works. While it may not be authentic to Chinese cuisine, this dish is delicious. Because customers demanded General Tso's chicken, we had to figure out how to make it. My father, who loved strawberry jam, decided on a whim to add it to the sauce. We also served a mild version of this dish called Strawberry Chicken. Customers loved it.
Makes 4 servings
¼ cup soy sauce
1 stalk green onions, finely chopped
1 tablespoon sugar
2 cloves garlic, finely minced
1 ½ pounds boneless chicken thighs
Vegetable oil, for frying
About 2 cups cornstarch
For the sauce:
¼ cup plus 3 tablespoons water, divided
3 tablespoons cornstarch
1 tablespoon vegetable oil
1 teaspoon red pepper flakes
¼ cup soy sauce
3 tablespoons white vinegar
2 tablespoons strawberry jam
1 tablespoon sugar
1. In a large bowl, put the soy sauce, onions, sugar, and garlic, and stir to combine. Set aside.
2. Cut the chicken into pieces about 2 inches long and 1 inch wide. Add the chicken to the soy sauce marinade and stir to coat. Cover or transfer to a ziplock bag and marinate for at least 30 minutes or up to overnight.
3. Line a plate with several layers of paper towels. Set aside.
4. Place about 1½ inches of vegetable oil in a medium Dutch oven over medium-high heat. Heat the oil until it registers 350 degrees F on an instant-read thermometer. Dredge the marinated chicken pieces in the cornstarch. Fry the chicken in batches, stirring carefully to ensure even frying, for 3 to 5 minutes, or until golden brown. Transfer the chicken to the prepared paper towel-lined plate. Set aside.
5. To make the sauce, in a small bowl, combine 3 tablespoons of the water with the cornstarch. Set aside.
6. In a medium saucepan over medium heat, heat the oil and pepper flakes. Add the soy sauce, vinegar, jam, sugar, and the remaining ¼ cup water, and stir to combine. Bring to a simmer, stirring to dissolve the jam and sugar. Gradually whisk in the cornstarch slurry to thicken the sauce. You may not need all of the slurry. Let the sauce simmer for about 1 minute, or until the sauce darkens and starts to glisten. Remove the pan from the heat.
7. Add the chicken pieces to the sauce, and toss to combine. Serve with rice.
©2018 by Hsiao-Ching Chou. All rights reserved. Excerpted from Chinese Soul Food by permission of Sasquatch Books.
The publisher is offering five copies of this book to EYB Members in the US and EYB will choose one additional winner from members outside the US. One of the entry options is to answer the following question in the comments section of this blog post.
Which recipe in the index would you try first?
Please note that you must be logged into the Rafflecopter contest before posting or your entry won't be counted. For more information on this process, please see our step-by-step help post. Be sure to check your spam filters to receive our email notifications. Prizes can take up to 6 weeks to arrive from the publishers. If you are not already a Member, you can join at no cost. The contest ends at midnight on March 28th, 2018.