Portland Cooks by Danielle Centoni
January 28, 2018 by Jenny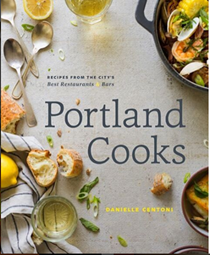 Portland Cooks: Recipes from the City's Best Restaurants and Bars by Danielle Centoni shares 80 recipes from 40 of Stumptown's (Portland, Oregon) most popular restaurants and bars. I am a huge fan of Figure 1 Publishing's Cooks and Eats series which includes: Montreal Cooks, Ottawa Cooks, Calgary Cooks, Winnipeg Cooks, Edmonton Cooks, Toronto Cooks, Toronto Eats and now Portland Cooks joins the pack. This series of cookbooks are divinely done with recipes that capture the pulse of each respective city. They will never leave my collection and we have another edition, Seattle Cooks will be coming out this September!

In Portland Cooks, Figure 1 crosses over into the US for the first time. From the most modest and unassuming cafes to neighborhood joints to late-night cocktail bars, this book celebrates the pioneers, game-changers, upstarts, and torch-bearers who help put Portland on the culinary map. The recipes were designed with the home cook in mind but also provide a glimpse of what goes into each dish or cocktail. The profiles of the chefs and restaurants are spectacular.
From Chilled tofu with scallions, cantaloupe, and hot bean paste; Foie Gras biscuits to cocktails to wash it all down and sweets to cap off a meal, this book paints a portrait of what makes Portland's cuisine so sought-after. I am a sucker for bánh mì and the resulting dish from the recipe for the Pork meatball bánh mì from Lardo is to die for. Not only is this title an incredible cookbook but makes a wonderful guide to some of the best chefs and restaurants in Portland. We had to cancel our vacation last year but we hope to get to Seattle and Portland this summer and many of the restaurants highlighted in this book are on my list – especially The Solo Club, Lardo, Olympia Provisions and The Country Cat (the latter two have great cookbooks and Lardo is on my cookbook dreams list).
Special thanks to Figure1 for sharing Cana Flug's (from The Solo Club) Burmese chicken salad with us today. This is another recipe I tried a few months back and it is full of flavor, textures and pleased everyone in our family. This is not your mama's chicken salad. Please be sure to head down to the giveaway at the bottom of this article and enter for a chance to win a copy of this title as Figure 1 is giving two copies away one to a US member and another to a Canadian member. Meanwhile, make this salad – it will impress.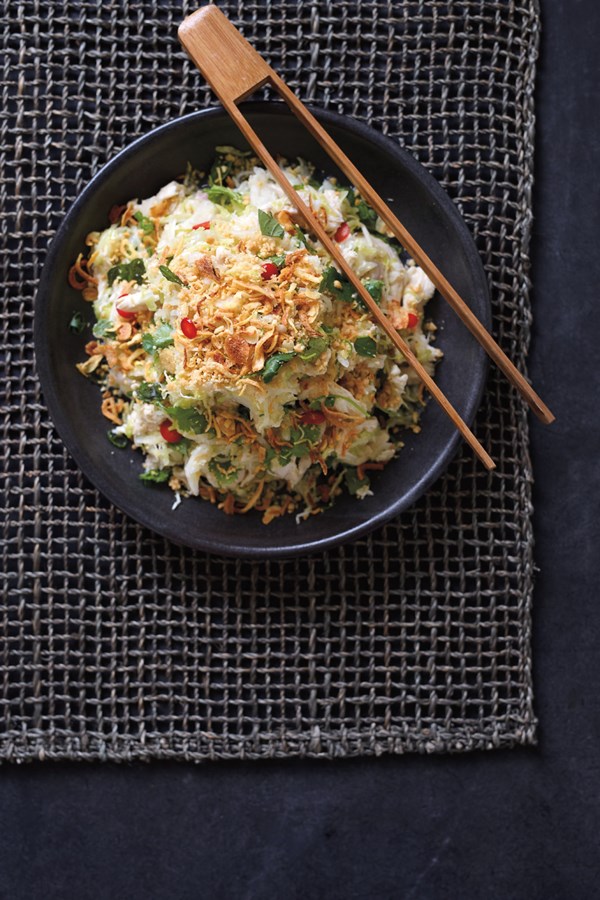 Burmese chicken salad
Cana Flug, The Solo Club
Add this recipe to your Bookshelf (click the blue +Bookshelf button).

Serves 4
Every bite of this vibrant salad bursts with bright, herbaceous flavors. In fact, you might never want to make the usual mayonnaise-based chicken salad ever again. The oil from the fried shallots is used in the dressing, but you'll have some left over. Do as the Burmese do and save the flavorful oil to use in other dishes, like stir-fries, or drizzle it as a finishing oil. Or you can cheat and buy a tub of fried shallots at the Asian market.
Fried shallots and shallot oil ingredients
1/2 cup canola oil
3 large shallots, thinly sliced
Poaching ingredients
1 lb boneless, skinless chicken breasts
1 clove garlic, smashed
1 carrot, cut into chunks
1 bay leaf
1 tsp whole black peppercorns
1 cup white wine
Salad ingredients
1 large shallot, thinly sliced
Juice of 2 limes
1 Tbsp fish sauce (The Solo Club uses Red Boat brand)
1/2 tsp kosher salt
1/2 to 1 Thai red chile, seeded and finely chopped
1/2 cup coarsely chopped fresh mint leaves
1/2 cup coarsely chopped fresh cilantro
1/4 cup coarsely chopped fresh Thai basil
1/3 cup finely chopped roasted peanuts
Fried shallots and shallot oil method
Heat canola oil in a saucepan over medium heat. Add the shallots and fry for 10 minutes, until crisp and browned. Remove with a slotted spoon and transfer to paper towels to drain the excess oil. Season with salt.
Strain the oil through a fine-mesh strainer to remove any particles, and set both the fried shallots and the shallot oil aside.
Poaching method
Set chicken in an even layer in the bottom of a large saucepan. Add the garlic, carrot, bay leaf, peppercorns, and white wine. Add enough cold water to cover by 1 inch. Bring to a simmer over medium-high heat, reduce heat to medium-low, cover, and cook for 10 to 15 minutes, or until cooked through and temperature reads 160°F on a meat thermometer. Remove from heat and allow to cool in the liquid before cutting or tearing into bite-size chunks.
Salad method
Place sliced shallots in a bowl and cover with cold water. Allow to soak for 10 minutes (this makes them fresh and crunchy with a less stringent flavor).
In a large bowl, whisk together lime juice, fish sauce, salt, 2 tablespoons of the reserved shallot oil, and chopped chile. Add cooked chicken and soaked shallots, tossing to coat. Allow to stand for 10 minutes. Taste and add more shallot oil or lime juice if desired. Add mint, cilantro, Thai basil, peanuts, and fried shallots. Toss to combine. Divide among plates and serve.
The publisher is offering two copies of this book to EYB Members in the US and Canada. One of the entry options is to answer the following question in the comments section of this blog post.
Which recipe in the index would you try first?
Please note that you must be logged into the Rafflecopter contest before posting or your entry won't be counted. For more information on this process, please see our step-by-step help post. Be sure to check your spam filters to receive our email notifications. Prizes can take up to 6 weeks to arrive from the publishers. If you are not already a Member, you can join at no cost. The contest ends at midnight on March 8th, 2018.