Three Book Giveaway from Oxmoor House
January 25, 2018 by Jenny
How is that resolve to cook healthier meals in 2018 holding up? I know I could make better choices for my family and myself. Thankfully, Oxmoor House has three beautiful books designed to help us get back on track, one meal at a time.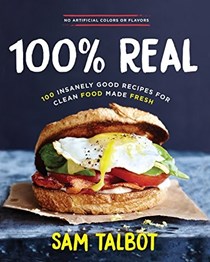 First we have 100% Real: 100 Insanely Good Recipes for Clean Food Made Fresh by Sam Talbot which delivers 100 whole-food recipes and down-to-earth advice about clean eating proving that real food is an enjoyable choice you can make every day. The Top Chef alumni's nourishing dishes are overflowing with natural flavor and free of processed ingredients, questionable additives, sweeteners, or preservatives.
The photographs in this book are beautiful, the recipes are tempting, and Sam's tips for keeping it real are smart and easy to follow:
Eat plants and green for real.
Cook at home at least three times a week.
Don't eat fabricated or super processed foods.
Focus on the Fat, Fiber and Protein Super Trio.
Find the fun in food.

Most recipes are gluten-free and mostly dairy and processed sugar free. Sam has also injected global flavors and cuisines into the recipes which is always something I look for in a cookbook. You can read more about 100% Real in my review from last year which also shares a recipe for Sweet potato hash brown open-face sandwich with ham and cranberry-dijon Brussels slaw. Today, Oxmoor House is sharing the recipe for World's fluffiest waffles because I loved them so much when I made them over the holidays.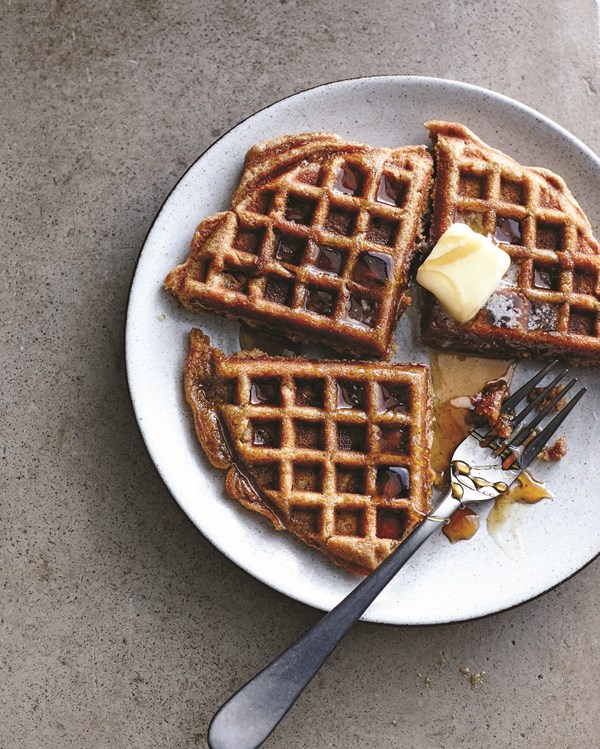 World's fluffiest waffles
Add this recipe to your Bookshelf (click the blue +Bookshelf button).
Hands-on: 15 minutes 
Total: 15 minutes Serves 6   

These waffles offer a pillow-soft texture that just doesn't happen with traditional white flour. Try it and you'll see what I mean.
1 cup (about 2 ounces) white rice flour
½ cup (about 1.62 ounces) chickpea flour
½ cup (about 2.13 ounces) tapioca flour
2 tablespoons coconut flour
½ cup chopped pecans
6 tablespoons coconut sugar
1 tablespoon ground cinnamon
1½ teaspoons baking powder
½ teaspoon sea salt
1 cup unsweetened hemp milk or almond milk
2 tablespoons applesauce
2 teaspoons orange zest
1 teaspoon pure vanilla extract
2 large eggs, separated
½ cup melted coconut oil, plus more for brushing waffle iron
Salted butter, softened
Pure maple syrup
1. Whisk together the flours, pecans, sugar, cinnamon, baking powder, and salt in a large bowl.
2. Whisk together the hemp milk, applesauce, orange zest, vanilla, egg yolks, and 1/2 cup of the melted coconut oil in a separate bowl.
3. Beat the egg whites with an electric mixer at high speed until soft peaks form, about 2 minutes.
4. Pour the milk mixture into the flour mixture, and gently stir until just incorporated. (It's okay if there are a few lumps.) Fold in the egg whites.
5. Pour about 1/2 cup of the batter for each waffle onto a preheated waffle iron brushed with melted coconut oil. Cook until the waffles are golden, about 2 1/2 minutes. Transfer to a rimmed baking sheet, and keep warm in a 200°F oven. Top with softened butter and maple syrup.
Excerpted from 100% Real by Sam Talbot. Copyright © 2017 Oxmoor House. Reprinted with permission from Time Inc. Books, a division of Time Inc. New York, NY. All rights reserved.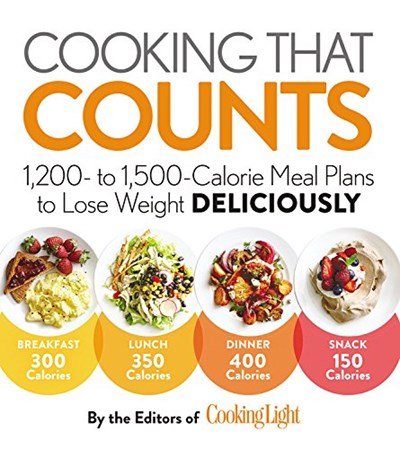 Cooking that Counts: 1,200 to 1,500-Calorie Meal Plans to Lose Weight Deliciously by the Editors of Cooking Light delivers 150 recipes in sustainable 1,200-1,500 calorie-controlled meal plans packed with tasty food in an easy-to-use format. Unlike other weight-loss plans that rely on processed meals and preportioned snacks, the Cooking Light solution emphasizes delicious meals prepared with whole, natural foods and teaches proper portion sizes to ensure you lose weight and keep it off, for life.
Many cooks trust the recipes from Cooking Light and I have yet to make a recipe from this trusted brand that we didn't enjoy. We are in the process of indexing this title for our members. Until then, a few recipe examples include Roast beef and blue cheese panzanella, Tarragon chicken sandwiches, and Ground chicken wraps with chili sauce. These types of recipes make eating light totally delicious.
Everyday Vegetarian: A Delicious Guide for Creating More Than 150 Meatless Dishes by The Editors of Cooking Light Magazine isn't just for vegetarians. It's for anyone who wants to add more fruits, vegetables, and whole grains to their meals and omit meat-without sacrificing flavor-even if it's just once or twice a week.

Beyond the health benefits, you'll find plenty of bold flavors and rich textures in appealing dishes.
Inside the book, you'll find: Over 150 flavorful recipes, including a full-color photograph of every dish; Complete nutritional information for every recipe; Vegan recipes are identified; A guide to building an everyday vegetarian kitchen, including details about versatile, flavor-building ingredients that are ideal to keep on hand.
We are working on indexing this title as well but a few recipes that look great to me include White bean pot pie with whole-wheat crust, Black bean cakes with ginger-cilantro cream, and a Creamy broccoli cheese soup. My picky husband is excited for me to make the Black bean cakes – now that is a miracle.
Oxmoor House is generously offering three sets of these titles that are geared to making 2018 – the year of better choices. Enter our contest below open to our members in the US.
The publisher is offering three sets of these books to EYB Members in the US. One of the entry options is to answer the following question in the comments section of this blog post.
Which book would you dive into first?
Please note that you must be logged into the Rafflecopter contest before posting or your entry won't be counted. For more information on this process, please see our step-by-step help post. Be sure to check your spam filters to receive our email notifications. Prizes can take up to 6 weeks to arrive from the publishers. If you are not already a Member, you can join at no cost. The contest ends at midnight on March 4th, 2018.