The Cookie that is Taking Over the World, Or At Least Mine
January 24, 2018 by Jenny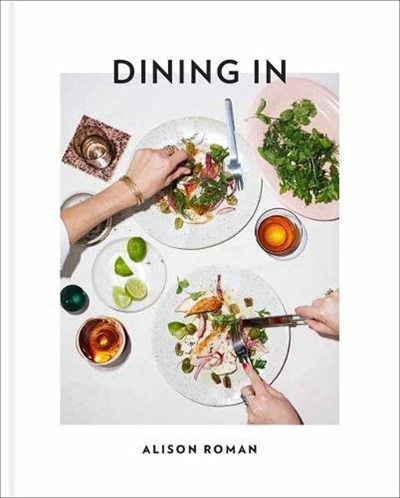 When I first laid eyes on Dining In: Highly Cookable Recipes by Alison Roman, I knew it was special. In October's monthly cookbook roundup, I wrote: "This title shares 125 recipes that are tempting enough to attract seasoned cooks but easy enough for the novice. Roman is known for her keeper recipes and simple approach as well as for her fun, effortless style. 100 gorgeous photographs make this book pop along with recipes that include Crispy kimchi and cheddar omelette, Vinegar-braised chicken with farro and watercress and Turmeric-roasted carrots with seeds and labne. While all the recipes cry out to be made, one is screaming to me "Salted butter and chocolate chunk shortbread, or why would I make another chocolate chip cookie ever again?" I hear you, recipe, and I'm yours."
That last line has come back to haunt me. To date, I've made these cookies three times. On Sunday, when I made them again I was rushing, Andrew (my son) was having an Andrew moment, I was juggling the January cookbook roundup along with many other duties and I carelessly threw a whole bag of unchopped chocolate chips into the mixer. A whole bag – 12 ounces – the recipe calls for six ounces and instructs you to chop those ounces finely. I am not about to waste cookie fixings so I doubled the recipe and followed the instructions as I had before. (Doubling the recipe required my removing the chocolate-overloaded batter and starting over and then combining the two batters but it was worth it. Sometimes that is just how the cookie crumbles.)
For anyone who hasn't made these cookies – that's a lot of cookies – and not just your ordinary cookie – a big old mess of freaking awesome cookies. I was worried that the chips being whole would lend me a few problems when it came time to cut them. However, what happened instead was a windfall of greatness, cookie greatness. Read on.
As the chocolate wasn't chopped finely, cutting the coins of deliciousness was especially tricky on the end pieces of the log. Those slices fell apart. Fear not, cookie lovers – I gathered those crumbled mishaps, covered them in the demerara sugar and baked my sheet of errors for 10 minutes. If I do say so myself, they are almost better than the buttery whole cookies – almost. We will use them to snack on, top ice cream, add to fudge (after freezing) or any number of cookie fantasies.
I love Dining In and have marked many recipes to make if I can get away from this addictive cookie recipe. The book also made my best of 2017 list. I've reviewed and cooked from enough books to know a good cookbook when I see one. Alison's narrative is worth the price of the book alone. However, I'm making two dishes from Dining In this week and cannot wait. If they are half as good as the cookies, life will be good.
Update: A few other places you will find posts about this COOKIE: the uber talented and gracious Nancie McDermott made them and wrote about them today; Brian Hart Hoffman, the genius editor of Bake from Scratch made them today (preorder his newist book); and we all know Smitten Kitchen loves them. I'm sure there are hundreds of additional stories if you care to google.
Warning: These cookies are highly addictive. Eat Your Books, Allison Roman and Clarkson Potter are not responsible for any weight gain, loss of work hours from lapsing into a cookie coma or other damages. We recommend making them for a crowd but hiding some crumbles for yourself.
Special thanks to Allison and Clarkson Potter for sharing the recipe with our members.
Salted butter and chocolate chunk shortbread, or why would I make another chocolate chip cookie ever again?
Add this recipe to your Bookshelf (click the blue +Bookshelf button).

Makes 24 cookies
I've always found chocolate chip cookies to be deeply flawed (to know this about me explains a lot). Too sweet, too soft, or with too much chocolate, there's a lot of room for improvement, if you ask me. But no one asked me, and rather than do a complete overhaul on the most iconic cookie known to man, I took all my favorite parts and invented something else entirely.
1 cup plus 2 tablespoons (2¼ sticks) salted butter (see Note), cut into
½-inch pieces
½ cup granulated sugar
¼ cup light brown sugar
1 teaspoon vanilla extract
2¼ cups all-purpose flour
6 ounces semi- or bittersweet dark chocolate, chopped (but not too fine, you want chunks, not thin shards of chocolate)
1 large egg, beaten
Demerara sugar, for rolling
Flaky sea salt, such as Jacobsen, for sprinkling
NOTE: If you find it tragically annoying to buy salted butter just for this recipe, you can use unsalted butter and add ¾ teaspoon kosher salt to the flour.
DO AHEAD: The cookie dough can be made ahead and stored, tightly wrapped in plastic, up to 1 week in the refrigerator, or 1 month in the freezer. Cookies can be baked and stored in plastic wrap or an airtight container for 5 days.
Made with lots of salted butter (it has a slightly different flavor and a deeper saltiness than using just salt-I prefer unsalted butter everywhere else but here), the dough has just enough flour to hold it together and the right amount of light brown sugar to suggest a chocolate chip cookie. The chocolate is cut into chunks to prevent chip congregation, and once the dough is formed into a cylindrical log, the whole thing gets rolled in Demerara sugar for the crispiest-ever edges. Less chocolate chip cookie, more brown sugar shortbread with chocolate chunks- they just might be the cookie you've been looking for. 1 Line a rimmed baking sheet (two, if you've got 'em) with parchment paper. 2 Using an electric mixer and a medium bowl or a stand mixer fitted with the paddle attachment, beat the butter, both sugars, and vanilla on medium-high till it's super light and fluffy, 3 to 5 minutes.
Using a spatula, scrape down the sides of the bowl and, with the mixer on low, slowly add the flour, followed by the chocolate chunks, and beat just to blend. 3 Divide the dough in half, placing each half on a large piece of plastic wrap. Fold the plastic over so that it covers the dough to protect your hands from getting all sticky. Using your hands (just like you're playing with clay), form the dough into a log shape; rolling it on the counter will help you smooth it out, but don't worry about getting it totally perfect. You can also do this using parchment paper, if you prefer, but I find using plastic wrap easier when it comes to shaping the log. Each half should form two logs 2 to 2¼ inches in diameter. Chill until totally firm, about 2 hours. 4 Preheat the oven to 350°F. 5 Brush the outside of the logs with the beaten egg and roll them in the Demerara sugar (this is for those really delicious crispy edges). 6 Slice each log into ½-inch-thick rounds, place them on the prepared baking sheet(s) about 1 inch apart (they won't spread much), and sprinkle with flaky salt. Bake until the edges are just beginning to brown, 12 to 15 minutes. Let cool slightly before eating them all.
Reprinted from Dining In. Copyright © 2017 by Alison Roman. Photographs copyright ©2017 by Michael Graydon and Nikole Herriott. Published by Clarkson Potter/Publishers, an imprint of Penguin Random House, LLC.
Photographs in this post by Jenny Hartin.