Smitten Kitchen Every Day by Deb Perelman
January 10, 2018 by Jenny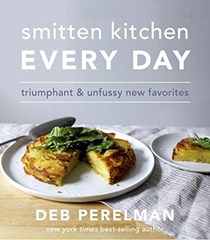 Smitten Kitchen Every Day: Triumphant and Unfussy New Favorites, Deb Perelman's long anticipated follow up to her New York Times best selling, The Smitten Kitchen Cookbook, delivers more than 100 new, easy-to-cook, impossible-to-resist recipes. Deb's blog is indexed for our members (one click and you can add 1,150 searchable recipes to your bookshelf).

It is often said that sequels are never as good as the original, but the same can't be said about cookbooks and especially is true about this one. We fans had to wait five years for this beauty but it was definitely worth it.
Smitten Kitchen Every Day is our main January pick in the Eat Your Books Cookbook Club. I've made the Spaghetti pangrattato for last Saturday's dinner and it was out of this world tasty. I doubled the crispy breadcrumbs and used them for a chicken dish earlier this week. Members have made the Miso maple ribs with roasted scallions, Charred corn succotash, Crispy tofu and broccoli with sesame-peanut pesto and many other recipes all with raves. I mention those three dishes because I cannot wait to make them myself. I also bought Yukon Gold potatoes to make her Cacio e pepe potatoes anna – I can't wait! Check out the club to see many other photos and notes about the recipes in this book.
Deb does it again with simple but flavor packed dishes, vibrant photographs and a wealth of tips, variations and notes on recipes that any level cook can tackle and appreciate. Special thanks to Knopf for sharing the following recipe with our members and to Knopf, Appetite by Random House and Square Peg UK for providing copies of this book in our contest below open to the US, UK and Canada.
Bacony baked pintos with the works
Add this recipe to your Bookshelf(click the blue +Bookshelf button).
makes 6 servings
I totally get why the prospect of beans for dinner is a hard sell. Even if they weren't the source of endless jokes, they'd still have to live down their culinary reputation as something that takes "forever" to cook, and then, when they're done, they still need to be made into something else like soup or a stew or a mash to line tacos or a sweet and smoky side to barbecue. But I think a world in which we have a trick or two for turning a few cans or a bag of dried beans (still only $2, even in Manhattan) into a solid and satisfying dinner would be a better place, and this recipe is mine: pink, anonymous-seeming beans, baked with spices and served with all the fixings worth eating, eaten with our hands.
This meal is fun. The bacon assuages any meat-free-meal skeptics, but anyone who doesn't eat meat can recognize its superfluousness here; it imparts a sweet smoky flavor, but there are so many tastes that if you were to skip it, you wouldn't know it was gone. The fixings make it busy: a little kicky relish, juicy tomatoes, buttery avocado, a dollop of sour cream, extra lime and hot sauce for those who cannot get enough, and a great heap of oven-baked tortilla chips. You don't need to share a table with an opinionated 7-year-old to know that dinners that are scooped up with chips are 100 percent more fun than those that are not.
beans
1 pound (455 grams) dried pinto beans (pink beans) or four 15-ounce cans cooked pinto beans
¼ pound (115 grams) bacon, chopped
1 medium yellow onion, chopped
3 garlic cloves, peeled and minced
2 tablespoons (35 grams) tomato paste
2 teaspoons ground cumin
½ teaspoon ground coriander
2 teaspoons chili powder (the spice blend)
½ teaspoon cayenne, or shakes of your favorite hot sauce or chipotle purée to taste
2 teaspoons coarse sea or kosher salt (for lightly salted broth; use more for unsalted broth, and less for salted or canned beans)
4 cups (945 ml) vegetable broth (for dried beans) plus 1 cup (235 ml) water (if beans weren't presoaked), or 1 ½ cups (355 ml) vegetable broth (for precooked/ canned beans)
fixings
Soft corn tortillas for tortilla chips (estimate 2 tortillas per person)
Fine salt, to taste
½ medium-large white onion, minced
1 jalapeño, seeded and minced
2 tablespoons finely chopped fresh cilantro
1 tablespoon (15 ml) olive oil
Juice of ½ lime, plus more lime wedges
1 large avocado, diced or sliced
1 cup chopped fresh tomatoes
Sour cream, Mexican crema, or plain yogurt
Hot sauce
soak dried beans

Do you have to soak beans before you cook them? No, nope. But it will save a lot of cooking time, making this more of a 1-hour weeknight meal. So, if you can plan ahead, soak the pintos in an ample amount of water at room temperature for 24 hours. Don't have 24 hours? I soaked mine for 3. Using canned beans? Skip this step entirely.
prepare your beans

Heat the oven to 375 degrees. Put the bacon in a large ovenproof pot or Dutch oven or a deep sauté pan, and place over medium heat. Cook, stirring, until the bacon is brown and crisp and the fat has rendered out, 5 to 7 minutes. Scoop the bacon bits onto paper towels to drain, spooning off all but 2 tablespoons bacon fat. Add the onion to the pan and cook (still over medium) until soft and lightly golden at the edges, 3 to 4 minutes. Add the garlic and cook for 1 minute more. Add the tomato paste, spices, and cayenne or chipotle, and cook for 1 minute. Add the salt and the canned or drained soaked beans.

Then:
• For precooked or canned beans, add 1 ½ cups broth.
• For soaked dried beans, add 4 cups broth. ·
• For unsoaked dried beans, add 4 cups broth and 1 cup water to start.
Bring the mixture to a boil and cook for 1 full minute. Place a lid on the pot and transfer it carefully to the oven.
bake your beans

Please keep in mind that cooking beans isn't a perfect science, and the amount of liquid absorbed if the beans are presoaked, the age and freshness of the beans, and even the softness of beans from a can are all going to affect how much cooking time and liquid are needed. But these estimates are fairly solid in my experience.
• Already cooked or canned beans: Bake for 15 minutes.
• Soaked dried beans: Bake for 45 minutes (estimate for 24 hours or longer soaking) to 75 minutes (estimate for 2 to 3 hours soaking).
• Dried beans that have not been soaked: Bake for 1 hour 30 minutes, but after 50 minutes, start checking every 10 to 15 minutes to see if more liquid or cooking time will be needed.
The beans are done when they're firm-tender and moist, with most of the liquid absorbed.
about 30 minutes before the beans are done, bake the chips Brush the tortillas lightly with oil. Stack them and cut into 8 wedges. Spread the wedges in one snug layer on a large baking sheet or two (because the beans are baking, you may need to do this in two batches). Season lightly with fine salt. Bake for 10 minutes, check for color, and then add more baking time as needed until they're golden and crisp. Let them cool.
make the relish

Combine the onion, jalapeño, and cilantro with the olive oil and lime juice. Season with salt to taste. This is easily tweaked with more of any of the three ingredients to your taste.
to serve

Beans are served right in their cooking pan. Chips and each fixing go in their own bowls. Everyone assembles their bowls to their taste, and everyone wins.
Excerpted from Smitten Kitchen Every Day: Triumphant and Unfussy New Favorites. Copyright © 2017 by Deb Perelman. All rights reserved. No part of this excerpt may be reproduced or reprinted without permission from the publisher.
The publishers are offering three copies of this book to EYB Members in the US, two copies to our members in the UK and two additional copies to our members in Canada. One of the entry options is to answer the following question in the comments section of this blog post.
Which recipe in the index would you try first?
Please note that you must be logged into the Rafflecopter contest before posting or your entry won't be counted. For more information on this process, please see our step-by-step help post. Be sure to check your spam filters to receive our email notifications. Prizes can take up to 6 weeks to arrive from the publishers. If you are not already a Member, you can join at no cost. The contest ends at midnight on February 17th, 2018.