Tasty Naughty Healthy Nice – Susan Jane White
December 29, 2017 by Jenny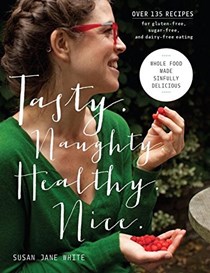 Susan Jane White is pure fun. How can I make that statement when I've never met the woman? If you take into consideration the names of her cookbooks (The Virtuous Tart: Sinful but Saintly Recipes for Sweets, Treats, and Snacks and Tasty. Naughty. Healthy. Nice.: Whole Food Made Sinfully Delicious), her cheeky narrative in those books, and the joy she radiates in her author photo – it is a no brainer.
We featured Susan's first book, The Virtuous Tart, earlier this year and today I am thrilled to bring you a promotion on Tasty. Naughty. Healthy. Nice which shares over 135 recipes for wheat-free, sugar-free, and dairy-free eating.

With recipes that range from a 90-second barley miso soup to Wasabi pea carbonara, or a Rye-banana bread with Homemade chocolate hazelnut spread to Roasted garlic and wild nettle soup, there is something here for everyone. Whether you need to incorporate changes in your diet for allergy or health reasons, or just want to add more whole foods into your repertoire, this is the cookbook for you. Susan's knowledge and expertise all delivered with a dose of humor along with beautiful photographs and good-for-you, yet tasty, recipes make this title a keeper.
Special thanks to Roost Books for sharing the Pumpkin falafel recipe with our members and for providing five copies of this title in our contest below open to US and Canada members.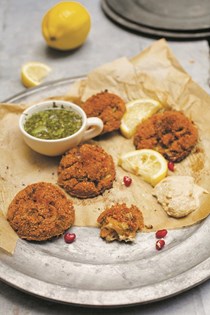 Pumpkin falafel
Add this recipe to your Bookshelf (click the blue +Bookshelf button).
It's a shame Halloween has monopolized the pumpkin. They're far too fabulous to be dismissed for eleven months of the year.
This vegetable's buttery flesh is stuffed with goodness. There's potassium for hangovers, vitamins A and C to slay superbugs (think Uma Thurman in Kill Bill), and extra carotenoids for those who can't afford to keep up their Botox installments. That's a lot of ammunition for a supposedly ghoulish vegetable.
On the antioxidant radar, pumpkins are almost up there with blueberries and spinach. We like antioxidants because they help prevent the bad LDL cholesterol in our bloodstream from oxidizing. Once oxidation occurs, we're told the likelihood of cholesterol depositing onto blood vessel walls significantly increases. Not sure I like the sound of that.
Heart surgeon Dr. Oz Mehmet has even devised a recipe for pumpkin brownies to entice his clients into eating more of this useful vegetable. According to Dr. Oz, pumpkins are probably one of the best foods we ain't eatin'.
Here's my recipe, based on Allegra McEvedy's (one of my favorite chefs). Deep-frying falafel may taste delish, but isn't recommended for our waistlines or arteries. Shame. More alarmingly, deep-frying food can make your mouth feel like a camel's armpit. Luckily, Allegra designed hers to be baked.
1 small field pumpkin, acorn squash, or red kurl squash, cut in pieces and roasted (500 g)
Just over 1 cup (125 g) chickpea flour (aka gram flour) or chestnut flour
2 garlic cloves, crushed
Zest and juice of 1/2 lemon
2-3 tablespoons extra virgin coconut or olive oil
2 tablespoons chopped spring onions
2 teaspoons ground cumin
Black sesame seeds, to garnish
Makes 8-12 falafel
Preheat the oven to 340°F (170°C).
This recipe isn't a science. You're aiming for the falafel to be one-quarter chickpea or chestnut flour. It's really that simple, so use whatever amount of pumpkin you have and adjust the recipe as appropriate.
Roasting pumpkin is a cinch too-no peeling necessary. Just make sure to avoid the monstrous Cinderella ones. Start by cautiously hacking the side of the pumpkin. Chop this flesh into matchbox-size pieces and continue to work your way around the pumpkin. The hardest part is that first slice. Tumble the pieces into a roasting tray with a good splash of coconut or olive oil. Cover with foil. Roast for 45-60 minutes, until sweet and tender. Pumpkin is better overcooked rather than undercooked.
Remove the tray of pumpkin and let the pieces cool completely before handling. If you've roasted more than you need, count yourself lucky. Whiz any leftover pieces with coconut milk, sautéed onions, and a pinch of curry powder to make soup. Or freeze a batch for your next falafel craving.
Raise the oven temperature to 400°F (200°C). Line a baking tray with parchment paper or grease with a lick of olive oil.
Using clean hands, mash together all the falafel ingre¬dients except the black sesame seeds. Put the falafel mix in the freezer for 15-30 minutes to firm up. Mould the chilled mixture into falafels and place on the lined baking tray. I find an ice cream scoop is the best way to shape falafel. If you use teaspoons and patience, you'll double the portions and halve the baking time. Sprinkle with black sesame seeds and cook in the oven for 20-45 minutes, depending on their size.
Try serving alongside thick natural or coconut yogurt, smooth hummus, Maple Mustard Lentils (page 158), or a big bowl of peas. The messier, the better.
From Tasty. Naughty. Healthy. Nice. by Susan Jane White, © 2016 by Susan Jane White. Reprinted by arrangement with Roost Books, an imprint of Shambhala Publications, Inc. Boulder, CO.
The publisher is offering five copies of this book to EYB Members in the US and Canada. One of the entry options is to answer the following question in the comments section of this blog post.
Which recipe in the index would you try first?
Please note that you must be logged into the Rafflecopter contest before posting or your entry won't be counted. For more information on this process, please see our step-by-step help post. Be sure to check your spam filters to receive our email notifications. Prizes can take up to 6 weeks to arrive from the publishers. If you are not already a Member, you can join at no cost. The contest ends at midnight on February 7th, 2018.