Elizabeth Street Cafe – Review, recipe and giveaway
November 4, 2017 by Jenny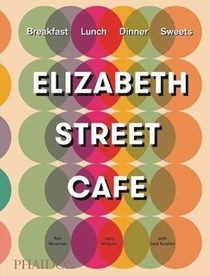 Elizabeth Street Cafe by Tom Moorman and Larry McGuire with Julia Turshen shares recipes from the French-inspired Vietnamese restaurant located in the cultural hub of Austin, Texas. This must visit cafe is recommended by everyone from locals to Bon Appetit to The New York Times.
Elizabeth Street Cafe opened in December 2011 and boasts sunny dining rooms and a shady garden patio. They serve fresh breakfast, lunch and dinner as well as takeout. This hotspot is known for great croissants & Stumptown coffee, bánh mì served on house baked baguettes, fresh spring rolls, Kronenberg on tap, steaming bowls of pho, spicy curries, house cocktail & fruity boozy punch, fun kids menu, and tropical macarons. I think a trip to Austin is in order and soon.
This book has the same cool vibe as the restaurant delivering Nutella and banana crêpes with candied hazelnuts, Alejandro's rice sticks with steak, crab, and spicy shrimp paste, Everything-bagel croissants, and Vanilla macarons with vanilla bean buttercream along with roughly a dozen variations. Until I get my hands on
Bread is Gold
, I'm going to declare
Elizabeth Street Cafe
my all time favorite Phaidon title and one that I will be cooking from frequently.

Special thanks to Phaidon for sharing the recipe for Spicy lamb dan dan noodles with our members and for offering three copies of this stunner to our members in the US, UK, Canada and Australia.
Please remember Eat Your Book members receive 30% off Phaidon titles using the link provided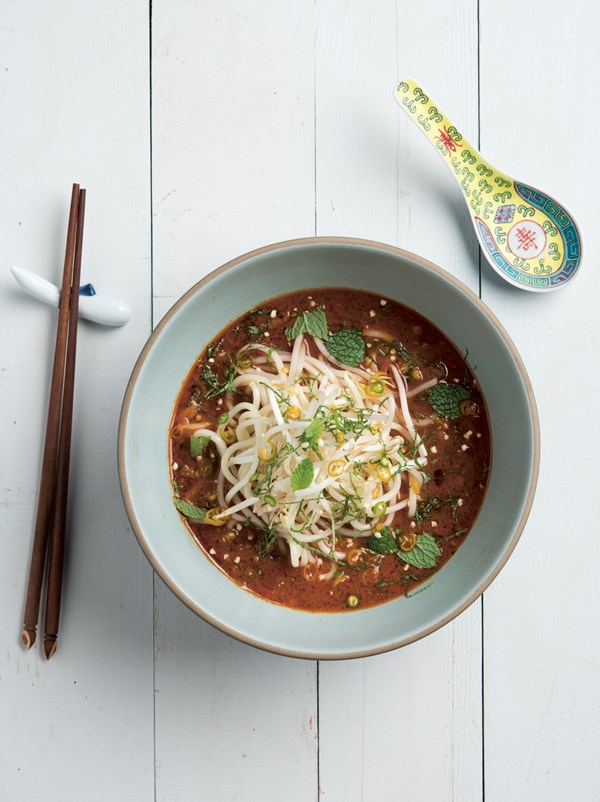 Spicy lamb Dan Dan Noodles with Thai chile
Add this recipe to your Bookshelf (click the blue +Bookshelf button).
Serves: 4
This is basically an Asian version of spaghetti Bolognese. Substitute fresh chow mein noodles (also called steamed egg or Hong Kong-style noodles) in place of homemade ones. A generous dose of mint at the end is a nod to lamb with mint jelly, a welcome bit of brightness and a counterpoint to the heat. This recipe is contingent on good chile oil as the base of the sauce-we recommend our ESC Fragrant Chile Oil (page 206)-or use a high-quality store-bought one.
INGREDIENTS
For The Noodle Dough:
• 2 cups (240 g) all-purpose (plain) flour, plus extra for your work surface
• 2 eggs
• 1 teaspoon toasted sesame oil
• ½ teaspoon kosher (coarse) salt

For the Lamb Sauce:
• 3 tablespoons ESC Fragrant Chile Oil (page 206) or high-quality store-bought
• 12 oz (340 g) ground lamb
• 8 scallions (spring onions), ends trimmed, thinly sliced and white and green parts separated
• 1 garlic clove, minced
• 1 tablespoon minced fresh ginger
• 2 tablespoons finely chopped pickled mustard greens
• ½ cup (120 g) tomato paste (pureée)
• 1 tablespoon sambal oelek chile paste
• 1 tablespoon gochujang chile paste
• 2 tablespoons Shaoxing cooking wine or dry sherry
• 2 cups (475 ml) Vietnamese Meat Stock (page 216)
• Bottom white half of a stalk of fresh lemongrass, outer layers peeled off, bruised with the back of your knife or a mallet
• 1 sprig Thai basil leaves
• Leaves from 1 sprig mint
• 2 tablespoons fish sauce
• 1 large handful cilantro (coriander) leaves, roughly chopped
To Serve:
• 2 large handfuls Thai basil leaves
• 2 large handfuls mint leaves
• 1 large handful cilantro (coriander) leaves, roughly chopped
• 1 cup (100 g) fresh mung bean sprouts
• 2 tablespoons extra-virgin olive oil
• 1 lime, cut into wedges
• Kosher (coarse) salt and black pepper
• 1 teaspoon thinly sliced fresh Thai bird chile (about 2 chiles)
INSTRUCTIONS
Make the Noodle Dough:
Mound the flour on a clean work surface. Make a crater in the center and crack the eggs directly into it along with the sesame oil, salt, and 1 tablespoon water. Use a fork to whisk the egg mixture and slowly push the flour into the egg mixture. Once a thick dough forms, knead the dough by hand. Slowly add 2 more tablespoons water until you have a firm dough ball. Cover the dough with plastic wrap (clingfilm) and refrigerate for at least 40 minutes and up to overnight. If not using within 1 day, place the dough in an airtight bag and freeze for up to 2 weeks (defrost at room temperature before continuing). Reserve the dough.
Make the Lamb Sauce:
Heat the chile oil in a large skillet over high heat until piping hot, then add the lamb and cook, stirring to break up the meat, until all the pink is cooked out, about 5 minutes.
Add the whites of the scallions, the garlic, and the ginger and cook, stirring constantly, until the mixture is fragrant, about 2 minutes. Add the mustard greens and cook just until warmed through, about 1 minute. Add the tomato paste, sambal oelek, and gochujang and cook, stirring, until the mixture is deep red, about 2 minutes. Add the cooking wine and use a wooden spoon to scrape up the bits at the bottom of the pan. Add the stock (broth) and lemongrass and bring the mixture to a boil. Reduce the heat to a simmer and add the Thai basil and mint. Let the mixture simmer, stirring, until thick like a Bolognese sauce, about 25 minutes. Discard the lemongrass, Thai basil, and mint. Stir in the fish sauce and cilantro (coriander) and keep the sauce warm over low heat.
To Serve:
Place the Thai basil, mint, cilantro, and bean sprouts in a bowl and drizzle with the olive oil. Squeeze 1 lime wedge over the herbs and toss to combine. Reserve the remaining wedges for serving. Season the salad to taste with salt and pepper and reserve.
Divide the dough into 4 pieces. Working with 1 piece at a time (cover the other pieces with plastic wrap so they don't dry out), flour the dough and use a pasta machine (or a rolling pin) to roll out the dough until it's as thick as an envelope with a letter in it. (You want your noodles to be chewy so don't make the dough too thin.) If using a pasta machine, stop at setting 4. Use a linguine cutter to slice the sheets into noodles (or roll up the sheets of pasta like a cigar and thinly slice crosswise with a knife). Toss the noodles with a bit of flour to keep them from sticking. Repeat with the remaining dough.
Bring a pot of lightly salted water to a boil and cook the noodles in the water until tender, about 1 minute. Drain the noodles in a colander and reserve.
Warm 4 shallow bowls in a 300.F (150.C/Gas Mark 2) oven for 1 minute or in the microwave for 30 seconds. Divide the sauce among the bowls, then place the noodles over the sauce. Divide the herb salad over the noodles and sprinkle with scallion greens and sliced chiles. Serve immediately with the remaining lime wedges on the side.
Note:
If you don't have Vietnamese Meat Stock (page 216) high-quality store-bought stock and add 1 teaspoon each of kosher (coarse) salt and sugar, 1 whole clove, 1 (1-inch/2.5 cm) cinnamon stick, ¼ star anise, 1 (1-inch/2.5 cm) piece roughly chopped fresh ginger, 1 (3-inch/7.5 cm) square of dried kombu, and 1 tablespoon fish sauce. Simmer the stock for about 25 minutes, then strainthrough a fine-mesh sieve (discard the solids) before proceeding with the rest of the recipe.
Adapted from ELIZABETH STREET CAFÉ by Tom Moorman and Larry McGuire with Julia Turshen (Phaidon, $39.95 US/$54.95 CAN, October 2017)
The publisher is offering three copies of this book to EYB Members in the UK, US, Canada and Australia. One of the entry options is to answer the following question in the comments section of this blog post.
Which recipe in the index would you try first?
Please note that you must be logged into the Rafflecopter contest before posting or your entry won't be counted. For more information on this process, please see our step-by-step help post. Be sure to check your spam filters to receive our email notifications. Prizes can take up to 6 weeks to arrive from the publishers. If you are not already a Member, you can join at no cost. The contest ends at midnight on December 11th, 2017.