Chef John Besh steps down amidst controversy
October 23, 2017 by Darcie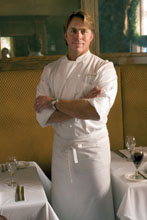 On Saturday the New Orleans Times-Picayune published a shocking account of sexual harassment allegations against lauded New Orleans chef and restaurateur John Besh. Two days after the story broke, Besh resigned as head of Besh Restaurant Group (BRG), the company he founded. BRG executive Shannon White will assume the duties of chief executive officer. Besh has not said what he will do with his ownership stake in the company.
Twenty-five women told The Times-Picayune their stories, which included vulgar comments made by male coworkers, unwanted sexual advances, and claims of retaliation. The women's accounts pointed to a culture of harassment "where several male co-workers and bosses touched female employees without consent, made suggestive comments about their appearance and – in a few cases – tried to leverage positions of authority for sex."
Another celebrity chef connected to Besh's restaurant empire, Alon Shaya, says he was fired after coming forward in support of the women. "I do feel like I was fired for talking … and for standing up," he said. Shaya was in the midst of a contentious split with Besh. In September, the chefs made a surprise announcement that their James Beard Award-winning partnership was coming to an end. At the time, there was no suggestion that the split had anything to do with claims of harassment.
Shaya claims that he frequently asked Besh and BRG managing partner Octavio Mantilla to set up a human resources department to handle personnel matters including sexual harassment claims. Until October 11, BRG had no such department, making it a challenge for workers to report harassment or for management to appropriately respond to it.
In addition to his restaurant empire, Besh was a bestselling author with five cookbooks under his belt. Shaya's first cookbook, Shaya: An Odyssey of Food, My Journey Back to Israel, is named after his eponymous restaurant. In July, Eater reported that the book's anticpated release date is March, 2018. Whether this controversy will hinder or help the book's sales remains to be seen.