Friday Flashback – Southern Italian Family Cooking Carmela Hayes Sereno
October 13, 2017 by Jenny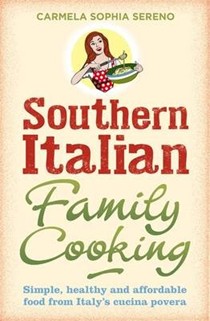 Last month, I had the pleasure of reviewing and cooking from Carmela Sophia Sereno's cookbook, A Passion for Pasta which is truly a keeper – beautiful, inspiring and approachable. Check out my review and enter our promotion to win a copy along with some wonderful pasta making tools.
Today's Friday Flashback focuses on Carmela's her first title, Southern Italian Family Cooking: Simple, Healthy and Affordable Food from Italy's Cucina Povera. While it may appear to be a timid little paperback, it is filled with delicious family recipes including Fennel biscuits, Marrow parmigiana with Italian sausage sauce, and Auntie Anna's amaretto and dark chocolate cake. Rest assured all of the Southern Italian classics are covered as well. While Southern Italian doesn't have the visual beauty that A Passion for Pasta has, its content and Carmela's passion for food makes it just as valuable.
Carmela is a friend and I've noticed in some of her photographs a gorgeous cookbook collection. I'm one of those people who will pause the television, rewind and pause again, if I see a cookbook collection or an interesting piece of kitchen equipment. So naturally, I asked Carmela if we could feature her collection here. Thank you, Carmela, for providing me a copy of Southern Italian and taking the time to share your library with us.
Which cookbook was your first?
The first cookbook that made me take notice was Nigella Lawsons 'How to Eat'.
How many cookbooks do you estimate you have in your collection?
I own approximately 800 cookbooks and my collection will continue to grow. Now, however, I am a little more selective as to what I choose to buy and add to my library.
Which authors are your favorites? Which cookbook is a favorite?
My favourite authors are Anna del Conte, Valentina Harris, Tessa Kiros and Nigella Lawson, in truth I have a list of favourites but Anna is my number one. A favourite book is an impossible task. I love Anna del Conte's memoir Risotto with Nettles but I adore any book from my chosen authors.
Are there plans for another title from you?
Yes, book three is currently being penned and I am inspired to continue writing about my passion of Italian cookery and food but book three has a hint of seasonality through it.