Friday Flashback – A Well Seasoned Kitchen
October 6, 2017 by Jenny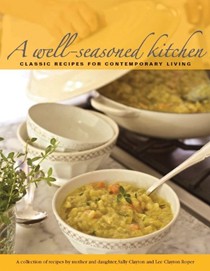 A Well-Seasoned Kitchen: Classic Recipes for Contemporary Living by Sally Clayton and Lee Clayton Roper was written because Lee wanted to find a way to preserve her mother Sally's recipes. The cookbook kicked off with Sally's participation but sadly, Sally passed away before the book was finished. Lee finished this beautiful tribute to her mother's memory on her own but her mother's presence resonates off the pages.

This title provides you with everything you need to throw a fabulous dinner party or a wonderful dinner for your family – from elegant appetizers and drinks to sweet finishes. The appetizers start us off with such dishes as Cheddar chutney tarts and Melted gruyere and bacon dip and the book ends up with desserts as most celebrations should – from simple to spectacular – Chocolate coconut pecan bars to Eggnog and white chocolate pots de creme.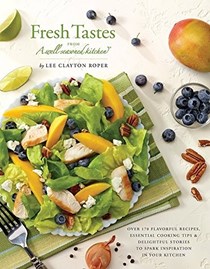 For Lee's second book, Fresh Tastes From a Well-Seasoned Kitchen, I was honored to have provided a blurb for this title which has 170 recipes loaded with flavor as well as personal stories to help ignite inspiration in your own kitchen. The recipes, again, are perfect for weeknight dinners or a sit down dinner party. Gorgeous photographs pop off the page and the tips Lee shares, as well as make ahead advice, elevate this book and make it a welcomed addition to your cookbook library.
Lee has graciously offered to share a recipe from Fresh Tastes today – her Pear Kuchen – is a perfect showpiece for your dessert table over the holidays or just for Sunday dinner. This recipe is an example of how the author shares tips to help us achieve success with the recipes in this book along with some helpful process photos to guide us.
We will be indexing Lee's books to provide you all with a giveaway so be sure to check back and this weekend I will be featuring Lee's personal cookbook collection in a #cookbookstackup post.

PEAR KUCHEN
Serves 8
When mom and dad were first married, they lived in a fifth floor walk-up in the Boston
area. Mom would tell stories about a lovely German woman who lived on the fourth floor, a wonderful cook who helped her when she was first learning her way around the kitchen. Mom was just 23 when she and dad married – living miles away from their families, she couldn't easily turn to her own mom for help (the way I did). Since kuchen is the German word for cake, I think Mom's recipe just might have come from that lovely woman who taught mom so much in her early cooking days.
1 1/2 cups all-purpose flour, divided
1/2 cup unsalted butter, chilled and cut into 6 pieces
1/3 cup plus 3 tablespoons whipping cream, divided
3 tablespoons light brown sugar, divided
1/2 teaspoon ground ginger
1/4 teaspoon ground nutmeg
1/4 teaspoon plus pinch salt, divided
3/4 cup granulated sugar
3 egg yolks
1 teaspoon fresh lemon juice
1 teaspoon vanilla extract or vanilla bean paste
2 to 3 large firm, ripe pears (D'Anjou or Bartlett), peeled, cored and cut into 1/2-inch slices*
Whipped cream, melted dark chocolate for garnish
*This recipe works best with pears that are firm but not rock hard. They should be ripe enough to have flavor, but not so ripe that they turn to mush when baked.
Preheat oven to 375 degrees. Butter a 9-inch spring form pan and line bottom with parchment paper.
In a food processor fitted with the steel blade, combine 1 1/4 cups flour, butter, 3 tablespoons whipping cream, 1 tablespoon light brown sugar, ginger, nutmeg and 1/4 teaspoon salt. Process just until mixture resembles coarse crumbs (do not over mix). Set aside 1/2 cup; press remainder of the crumb mixture onto bottom and around 1 inch up the sides of the prepared pan. Bake for 15 minutes. Remove from oven and let cool for around 10 to 15 minutes.
Reduce oven temperature to 350 degrees.
In a food processor, combine the granulated sugar, remaining 1/3 cup whipping cream, remaining 1/4 cup flour, egg yolks, lemon juice, vanilla and pinch salt. Process for 30 seconds and pour into baked crust.
Arrange pear slices on top in a circular pattern; the point of each slice toward the center. Fit slices tightly together, overlapping them. Combine remaining 2 tablespoons brown sugar with the reserved crumb mixture and sprinkle over top of the pears. Bake 40 to 50 minutes or until golden brown on top and set (I lightly press down on the top to see if it's firmed up).
Let stand at room temperature for 10 minutes before removing the sides. Serve warm or at room temperature with freshly whipped cream and/or melted dark chocolate.
MAKE AHEAD: Crust can be prepared and baked up to 24 hours in advance. Cover crust and reserved crumbs and store at room temperature. Bring both to room temperature before using.
Tip on buying and storing fresh pears (and peaches): Make sure to purchase pears that are firm and let them ripen at room temperature. Look for pears that are not bruised, shriveled or discolored. This way, the only person poking them to see if they are ripe is you, minimizing bruising. Refrigerating pears will reduce their flavor.