Friday Flashback – Nanban – Tim Anderson
September 1, 2017 by Jenny
Nanban: Japanese Soul Food by Tim Anderson is a wonderful book that I covered here at Eat Your Books back in June of 2016. My full review covered Tim's background, the book's content and also shared two recipes that I had tested. I remember making those dishes and also recall how much we enjoyed them.

This is how good they were – it was a Sunday afternoon when I prepped the dishes, my son had gone to a friend's home and my husband and I had a Japanese feast alone that night. I'm not sure why this memory is so vivid – was it the deliciousness of the food or the fact that we were childless for a few hours? I think it was a combination of both.
Again, the recipes in Nanban are organized into seven sections: fundamentals, small dishes, large dishes, grilled items, ramen, desserts and drinks. Measurements are set out in weight and volume – but Anderson encourages us to play with the exact quantities in some instances as he hopes we will use our own palate to determine whether the seasoning in a dish needs adjustment (this to me is a true sign of a great book – when the author dares us to trust our instincts). Full page photos accompany many of the recipes and those dishes are approachable and diverse. I am reminded looking back at my prior post that I need to make those chicken patties again.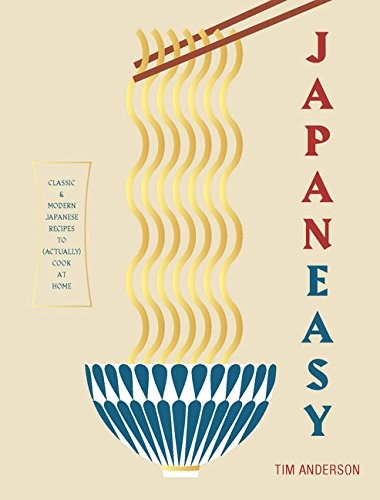 The reason I chose this book as this week's Friday Flashback is two fold: it's an amazing book and Tim has another book coming out this month, JapanEasy: Classic and Modern Japanese Recipes to (Actually) Cook at Home. In his new title, Anderson shares everything we need to know to make authentic Japanese food at home which, in turn, eliminates all the reasons ("excuses") that we come up with for not doing so.
I'm awaiting my hard copy but have reviewed the content of this new title digitally and it is just as wonderful as his first offering, The photos are killer, the instructions spot on and the recipes and diagrams will have us all whipping our gyoza (including making our own wrappers) in no time.
Fried Prawns with Shichimi Mayo, Japanese Fried Chicken, the Best Miso Soup, and Crab Cream Croquettes are a few examples of what you will find here. Also included are Sushi, Sukiyaki, Hot Pots and more with tips, tricks and Anderson's expertise to guide us. We are indexing this new title and will be bringing you a full promotion later this month.
You need Anderson's books in your library. Trust me.