Friday Flashback – Sirocco by Sabrina Ghayour
August 25, 2017 by Jenny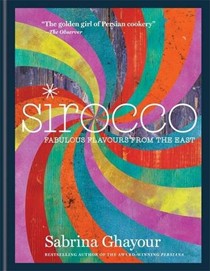 I remember cracking open the pages of Sirocco: Fabulous Flavours from the East last year and reading these words "Sirocco: a hot, dry wind blowing from east to west-sometimes described as warm, spicy and sultry" – I was spellbound. The vivid description of the word sirocco made me long to know more. Sabrina Ghayour's first book – Persiana: Recipes from the Middle East & Beyond was in my collection but I had been so busy at that time with our move from New York to Colorado that I hadn't had a chance to explore it.
Reading Sirocco and cooking from it for a review I was working on was a joy. The jewel-toned vibrant dishes, the stories sprinkled throughout and the overall feel of the book had me hungering for more of the Middle East's culture, cuisine and people. The sweet spice-roasted nuts, crushed new potatoes with garlic, dill, spring onions & peas, and orange, thyme and spiced chicken wings were outstanding.
The Observer calls Sabrina "the golden girl of Persian cookery" and that she is. I was thrilled to learn that the author was working on a new title Feasts which will be released on September 7th in the UK (US in October). Feasts promises a delicious array of Middle-Eastern dishes from breakfasts to banquets, from simple to sumptuous. With menus and dozens of recipes for celebrations and occasions with family and friends, it can help make every event a Persian feast. Recipes include whipped ricotta toasts, savoury pork & fennel baklava, tamarind sticky ribs, roasted cod loins with wild thyme, spiced rhubarb cake with cinnamon cream and white chocolate, cardamom & macadamia squares.
Check out Sabrina's work – you will be happy you did.