Indian Cookbooks – A World of Spice
July 30, 2017 by Jenny
Often in The Cookbook Junkies, members ask "what is your favorite fill-in-the-blank (Indian, Mexican, Thai) cookbook." I've been collecting the responses and will be doing a series of posts sharing the results.
Today's post features Indian cookbooks which definitely are favorites in my collection. The warm, earthly spices used in Indian dishes can bring a punch to our menus.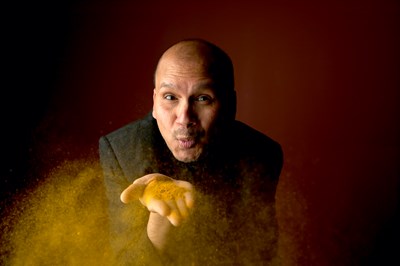 Raghavan Iyer is a trusted name in food circles and his title 660 Curries: Plus Biryanis, Breads, Pilafs, Raitas, and More always comes up multiple times in these types of threads in the group. Raghavan has authored a number of titles that are all in my collection – and his latest Smashed, Mashed, Boiled, and Baked…and Fried, Too!: A Celebration of Potatoes in 75 Irresistible Recipes was covered in my review which shared his recipe for Kung Pao Potatoes – incredibly delicious.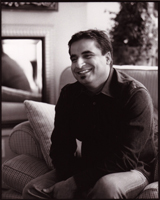 Suvir Saran is another favorite with three cookbooks: Indian Home Cooking, American Masala and Masala Farm. I found Suvir on Top Chef and have been in love ever since. He is the Executive Chef/Owner of Dévi, where he shares the authentic flavors of Indian home cooking in his Michelin star New York City restaurant. I've made a number of dishes from his cookbooks all with stellar results.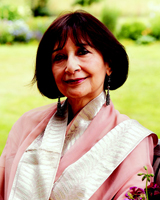 Madhur Jaffrey is a trusted name in Indian cooking – I have a number of her many books in my collection. Now regarded by many as the world authority on Indian food, Madhur Jaffrey was born in Delhi and is an award-winning actress (her daughter is an actress as well; her recent roles include Sleepy Hollow and Timeless) as well as a bestselling author. Her first book, An Invitation to Indian Cookery, was published in 1973 and since then she has written over 15 cookbooks, now considered classics in their field, including Madhur Jaffrey's Ultimate Curry Bible and Madhur Jaffrey's World Vegetarian. She has appeared in over 20 films, including Merchant Ivory's Heat and Dust and Cotton Mary. In 2006 she published her memoir of childhood, Climbing the Mango Trees.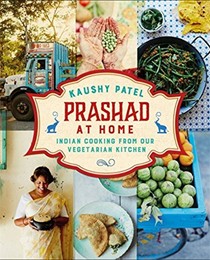 Prashad Cookbook: Indian Vegetarian Cooking and Prashad at Home: Indian Cooking from Our Vegetarian Kitchen by Kaushy Patel are two favorites of mine. Prashad at Home I reviewed last year here at Eat Your Books. Both titles are very approachable and will allow you to experiment with flavors and spices. without being overwhelmed.
The Indian Accent Restaurant Cookbook by Manish Mehrotra is a stunning book that my friend, Marc, sent me a while back and it is glorious. The Indian Accent restaurant opened in 2009 with an inventive Indian menu at The Manor, New Delhi and the cookbook is based on the restaurant's path-breaking contemporary Indian menu by award-winning chef Manish Mehrotra. With photographs by Rohit Chawla, among India's foremost food photographers, the cookbook has a selection of recipes to excite the adventurous while satisfying traditional palates. The New York location of this restaurant opened last year to critical acclaim.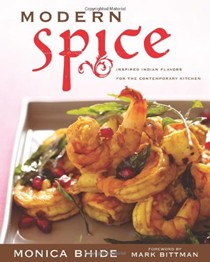 Monica Bhide's books are keepers whether they are cookbooks or her works of fiction. I've profiled Monica and her books previously and direct you to that post for more information about this talented writer and cookbook author.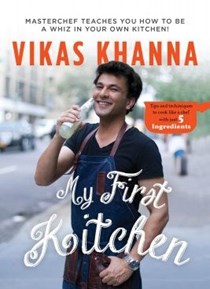 Vikas Khanna's books are simply gorgeous as well and I have most of them (and want them all). They are full of stunning photographs, delectable recipes and
will survive any future cookbook purges. Vikas is a Michelin-star chef, amongst other accomplishments – in addition to being a humanitarian – and it doesn't hurt that he is incredibly handsome. (which has little bearing on my love of his cookbooks).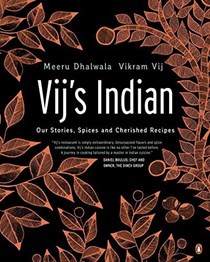 Vikram Vij's books are all in my collection and recently I reviewed his latest cookbook for Eat Your Books. The Canadian chef is well respected and I hope to eat in his restaurant – it's on my bucket list with Suvir's, Vikas' and Indian Accent.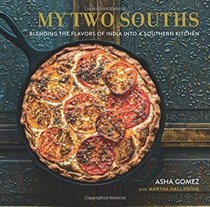 A stunner of a book last year's My Two Souths: Blending the Flavors of India into a Southern Kitchen by Asha Gomez is a beautiful balance of Indian flavors colliding with Southern favorites. You can check out more about My Two Souths in my promotion post.

Five Morsels of Love by Archana Pidathala is a book that caught me by surprise with its touching story of the author's love for her grandmother and the unfinished cookbook ammama had left behind. "Her incredible culinary art and a lifetime of cooking had been captured in a rather modest looking Telugu cookbook", Archana was not a cook herself but vowed to finish this labor of love and what an amazing job she did.  Vibrant photographs of the dishes that dance from the pages accompany each recipe. Sweet Potatoes in a Jaggery-Infused Tamarind Sauce, Stir-fried Plantain in a Spiced Lentil Powder, Raw Mango Rice and Meatball Biryani tempt us to break out of our comfort zones and create these dishes warmed with spice and the love of Archana and her grandmother.
The Indecisive Chicken by Prajna Desai shares the stories and recipes of eight Dharavi cooks. The book's title comes from one of the contributors who did not cook chicken because her husband thought it was a "silly bird" and eating it would make one stupid. The title grabbed my attention, the story grabbed my heart and opened my eyes. This book was brought to life as a result of a culinary seminar offered by Prajna Desai, who is by trade an art historian. Desai did not want to impart her knowledge in this seminar, she wanted her attendees to be the teachers. Eight Dharavi women who attended each session are featured in this book. The Indecisive Chicken delivers a look into the everyday world of Indian working class families – what they cook and what they eat. This bi-lingual book which is written both in English and Hindi is packed with photos of both the beautiful women behind the stories as well as photos of the dishes and preparation photos. These are recipes not found in Indian restaurants – these are recipes shared from the heart of Dharavi – the home kitchen. Recipes for Phara (channa, urad, and rice flour dumplings – a photo of these delectable bites is shared in the NPR story above), Bakheer (sugarcane rice),  Besan Bhauri (stuffed puri) and Dhapate (healthy parathas) are examples of what you will find in this one-of-a-kind book.
Other titles that have come up in our favorite Indian book posts
include:
Lastly, I am so excited for The Juhu Beach Club Cookbook: Indian Spice, Oakland Soul by Preeti Mistry which is coming out in October.
Please leave a comment here with your picks for those titles that make your best Indian cookbooks list.