Author Profile – Monica Bhide
November 21, 2016 by Jenny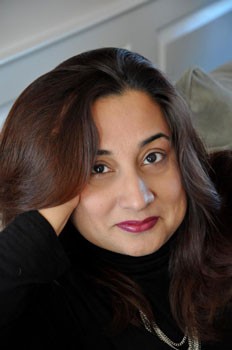 Monica Bhide is an award winning, bestselling fiction and internationally renowned cookbook author. She is known for sharing food, culture, mystery, and love in her writing. Having roots and experience in many places, Bhide inspires readers everywhere with present day stories which transcend cultural, chronological, geographical, economical, and religious borders.
Bhide's short story collection, The Devil in Us, topped the list on Kindle as a bestseller in its category of Literary Short Fiction. Her memoir, A Life of Spice, was picked by Eat Your Books as one of the top five food memoirs of 2015. Padma Lakshmi picked Bhide's Modern Spice, as one of the "Best Books Ever" for Newsweek in 2009. Her list of accolades is long and well-earned.
I thought I would share a little about Monica's books and in the future do a series of Author Profiles. Let me know in the comments if there are any authors you would like to see profiled. Monica's fiction writing involves food themes and some titles include recipes as well. These titles would be the perfect gift for the food lovers in your life. Her cookbooks are wonderful and Modern Spice is definitely one of my favorites and would make a perfect gift with a selection of warm Indian spices. Hint to my family and friends – my copy is getting worn.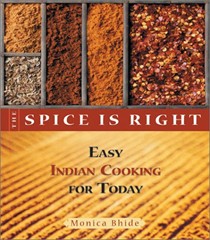 The Spice is Right: Easy Indian Cooking for Today was published in 2001 and is a down-to-earth Indian cookbook for the time-squeezed, health-conscious home cook. The book highlights more than 150 simple, healthful versions of traditional Indian dishes as well as Western dishes with an Indian twist. The book is organized into menus, with takes the guesswork out of planning an Indian meal. I made the Shrimp in Coconut Milk Curry years ago when my husband was out of town (he is anti-seafood of any type) and it was incredible. I think I need to send him out of town again.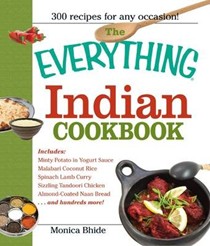 The Everything Indian Cookbook: 300 Tantalizing Recipes–From Sizzling Tandoori Chicken to Fiery Lamb Vindaloo contains 300 recipes and is a part of the "Everything" series. I do not have this title and I don't know why – time to remedy that. Recipes include Indian-Style Coleslaw, Rice Pudding, and Indian Corn Flatbread and guides readers through preparing delicious Indian cuisine right in their own homes. From basic Indian flavors and spices to Indian cooking methods and meals, this offers a diverse set of recipes perfect for both vegetarians and meat-eaters.
Modern Spice: Inspired Indian Flavors for the Contemporary Kitchen is my favorite cookbook written by Monica. It is beautiful that takes traditional dishes and updates them for modern American lifestyles and tastes. The recipes are not diffcult but are complex in flavor. I believe I have made almost all the chicken recipes in this title: the Indian Chicken Wings, Tamarind Chicken and Chicken with Mint and Ginger Rub are my favorites. Everyone needs Modern Spice in their collection.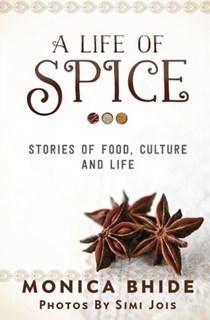 A Life of Spice delivers Monica's relatable writing style that pulls you in and keeps you with her. Sprinkled in the stories are helpful essays on a variety of spices – sage, turmeric, fennel seeds and more. Monica is a gifted writer and her work is engaging and delicious! After all, Eat Your Books picked this title as one of the best food memoirs of 2015.
The Devil in Us is a collection of intriguing short stories that share a common thread – a moment in life that may change them forever. Train wrecks, addiction and other gripping tales that will haunt you long after you have finished the book. A great stocking stuffer for the reader in your life.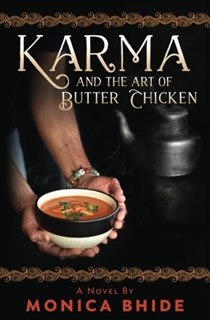 Karma and the Art of Butter Chicken is Monica's newest work of fiction. I have it downloaded and am just beginning it. Eshaan, the main character, wants to feed and nourish the hungry so they do not end up like his mother who suffered an untimely death. He runs into many barriers along his journey but finds a sliver of hope: a local TV cooking competition that could be the answer to his prayers. I need to find time to devour this book because it reminds me a bit of The Hundred Food Journey.
I hope you enjoyed this profile of Monica Bhide's work and I look forward to hearing your thoughts as well and suggestions for future features. If you would like to purchase any of these titles for yourself or as gifts – using the Buy Book button helps to aid in our indexing efforts for Eat Your Books and we greatly appreciate your support.
A friendly reminder – a little less than three days to get your cooking and baking questions into Rick Rodgers.