July 2017 Cookbook Roundup
July 25, 2017 by Jenny
As usual, I have waded through piles (albeit it smaller piles this month) of glorious cookbooks, selecting and reviewing all the best new releases from the US, Canada, UK, Ireland, Australia, New Zealand and other countries. This month again is light but that doesn't mean there aren't fantastic books to tempt us.

If you are planning to purchase any of these books for yourself or as gifts, please use the Buy Book link as we will receive a small affiliate fee that will allow us to index more books. You don't even need to buy the book you clicked from, we get affiliate revenue for anything you buy from Amazon over the next 24 hours after clicking the link. You will find the Buy Book link (pale blue box to the right of +Bookshelf) when you click on the book titles highlighted in this post (or any post) – your support is very much appreciated.

And just a few reminders: our World Calendar of Cookbook Events shares author signings, classes, bookstore events and more. We also have many great giveaways open – be sure to enter and check your email folders (spam and junk) for winning notifications. We will have promotions planned for many of these titles so check back regularly.

Lastly, in the publishing market books are being released in the UK, Canada, Australia and New Zealand that are also available in the US – so you may wish to browse through the entire roundup. The Buy Book button will show you the options available for online booksellers including Book Depository which offers free shipping worldwide.
This month offers a glorious selection of books from the UK – I am a fan girl of UK titles (who am I kidding? I'm a fan girl of all cookbooks) but the UK books always bring something special to the table for me – perhaps because I love London so much. We have some restaurant cookbooks that are truly spectacular this month as well as a book from Candice Brown (Great British Bake Off contestant and no spoilers because the show is airing now in the US) which I am obsessing over. I made the Peanut Butter Marshmallow Blondies from that title this weekend and my family was very pleased. Preserving books are making an appearance again this month as well as a nice selection of international titles to woo us. Let's get started!
USA
The Joys of Jewish Preserving: Modern Recipes with Traditional Roots, for Jams, Pickles, Fruit Butters, and More–for Holidays and Every Day by Emily Paster is the author's second title. Her first book Food Swap was such a beautiful surprise with helpful information for swapping and the best salted caramel sauce ever. There are 75 recipes in her new title from fruit jams and preserves, to pickles and other savory preserves, and recipes to use the preserves you make in other dishes. Emily has a number of events planned which we have highlighted on our calendar.
Bianco: Pizza, Pasta, and Other Food I Like by Chris Bianco brings us a full-color, fully illustrated cookbook illuminating the fundamentals of pizza making, from the basics of flour and water to the philosophy behind Bianco's cooking. The book features recipes for his signature pies as well as strategies and techniques for translating chef's methods to the home kitchen.
The Desserts of New York: (And How to Eat Them All) by Yasmin Newman is another title I am anxious to get my hands on. New York – oh how I miss you. This book is a travel journal featuring the desserts of New York City with 44 recipes from all the hottest sweet spots from number one voted old school Jewish chocolate babka to the infamous cronut – she covers them all. The book is being released in Australia and the UK as well.
Ball Canning Back to Basics: A Foolproof Guide to Canning Jams, Jellies, Pickles, and More by Ball Test Kitchen focuses on the building block techniques and classic recipes that every canner should know. The book begins with in-depth information on the equipment you need, preparing your fruits and vegetables, and food safety guidance. Each canning and preserving method is thoroughly explained with step-by-step photographs and beginner-friendly tutorials highlighting key steps. Packed with 100 foolproof recipes for the modern pantry, a wealth of variation ideas for low-sugar and flavor change-ups, and time-tested tips.
Peppers of the Americas: The Remarkable Capsicums That Forever Changed Flavor by Maricel E. Presilla is a stunning visual reference to peppers showcasing nearly 200 varieties (with physical descriptions, tasting notes, uses for cooks, and beautiful botanical portraits for each). Following the cook's gallery of varieties, more than 40 on-trend Latin recipes for spice blends, salsas, sauces, salads, vegetables, soups, and main dishes highlight the big flavors and taste-enhancing capabilities of peppers.
Short Stack Vol 28: Cucumbers by Dawn Perry is the latest addition to the Short Stack series. Get to know this summertime staple in new and exciting ways, from inspired salads to simple and delicious cooked centerpieces (yes, you can cook a cucumber!). This edition will turn you into a cuke connoisseur through recipes like Soy & Wasabi-Glazed Cucumbers with Crab & Lemon and Cucumber-Honeydew Paletas.
Deepa's Secrets: Mouthwatering, Slow-Carb New Indian Recipes by Deepa Thomas is part cookbook and memoir. Deepa's Secrets introduces breakthrough slow carb and gut-healing recipes that are simple and nutrient-packed, without sacrificing its rich South Asian flavors. On a mission to demystify and make healthy an "exotic" cuisine, Deepa shares shortcuts and techniques that will make "New Indian" everyday fare.
Graze: Inspiration for Small Plates and Meandering Meals by Suzanne Lenzer is full of tips to help you prepare healthy, wholesome, and appetizing food without spending hours in the kitchen. Lenzer is a food stylist and often this is how she entertains by making small plates or tapas where one can go from plate to plate trying a little of everything.
What She Ate: Six Remarkable Women and the Food That Tells Their Stories by Laura Shapiro takes on six famous women through the lens of food and cooking – what they ate and how their attitudes toward food offer surprising new insights into their lives. It's a lively and unpredictable array of women; what they have in common with one another (and us) is a powerful relationship with food. They include Dorothy Wordsworth, whose food story transforms our picture of the life she shared with her famous poet brother; Rosa Lewis, the Edwardian-era Cockney caterer who cooked her way up the social ladder; Eleanor Roosevelt, First Lady and rigorous protector of the worst cook in White House history; Eva Braun, Hitler's mistress, who challenges our warm associations of food, family, and table; Barbara Pym, whose witty books upend a host of stereotypes about postwar British cuisine; and Helen Gurley Brown, the editor of Cosmopolitan, whose commitment to "having it all" meant having almost nothing on the plate except a supersized portion of diet gelatin.
The Vibrant Table: Whole Recipes from a Food Stylist's Kitchen by Clara Luboff features a collection of over 80 original, wholesome and nutritionally balanced recipes that are a reflection of author's time spent living in South America, Australia and Asia. Straightforward and packed with flavor, Clara's recipes turn everyday cooking into an easy task and are a boon for time-starved home-cooks. Her unique food styling tips and entertaining menus will also appeal to avid foodies and party hosts.
Fair Foods: The Most Popular and Offbeat Recipes from America's County Fairs by George Geary is an illustrated cookbook featuring 120 of the recipes of the most popular and offbeat food served at state and county fairs across the USA.
Fabulously French Cooking: 70 Simple, Classic, and Chic Recipes for Every Occasion by Cathleen Clarity shares twelve fabulous menus and seventy refined dishes to help you conjure the taste of France in your home kitchen. Here, you will find French foods for every occasion as well as instructions and professional advice on prepping, cooking, and flawlessly (and easily!) entertaining year-round.
The Complete Make-Ahead Cookbook: From Appetizers to Desserts–500 Recipes You Can Make in Advance by America's Test Kitchen helps you to take back your kitchen with a collection of 500 foolproof recipes for everything you would ever want to make ahead of time.
FOOD & WINE Best Weeknight Meals by The Editors of Food & Wine shares more than 100 practical, delicious, get-it-on-the-table-now hacks and recipes are featured in this new special edition from the pages of everyone's favorite cooking magazine.
The Smart Dinner: Clever and Versatile Ways to Use What You've Got on Hand by Betty Crocker provides more than 125 recipes, with tips and techniques for creating dinners everyone will love and that make the most of on-hand ingredients. With genius tips for cooking with fresh, wholesome fixings, the book empowers home cooks to become more resourceful, accomplished, and eco-friendly.
Egg on the Menu by Luc Hoornaert is the second book in the On the Menu Series. Chicken on the Menu came first and is an incredibly beautiful book. I am anxious to get my hands on this title. Luc Hoornaert has collected 60 recipes from his travels around the world. What are the classics? How do other cultures use egg in the kitchen? How do top chefs make dishes based on eggs?
Other titles released this month include:
CANADA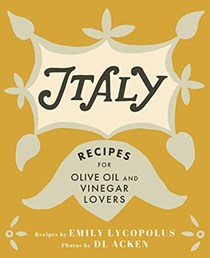 Italy: Recipes for Olive Oil and Vinegar Lovers by Emily Lycopolus includes recipes for appetizers, soup and salad, pasta, mains, and sweets, and also offers five full menus for planning a pitch-perfect dinner party. You'll find all your favourite classic rustic Italian dishes here, including bruschetta, panzanella salad, cioppino, polenta, fresh pasta, meatballs, biscotti, panna cotta, and many more–all accompanied by stunning photography.
U.K.
Two Kitchens: Family Recipes from Sicily and Rome by Rachel Roddy, the award-winning Guardian Cook columnist and winner of the Andre Simon and Guild of Food Writers' awards, delivers a glorious book highlighting the food that comes from her two kitchens in Sicily and Rome. Rachel's first title Five Quarters is on my bookshelf and I cannot wait to have this title join it. I had the privilege of reviewing the electronic version and it is spectacular – Rachel's beautiful writing, stunning photographs and scrumptious recipes makes this title a must have. Because we index every recipe from the Guardian Cook, you can add any of Rachel's 135 recipes from there to your Bookshelf. That's like a whole free cookbook!
Sabor: Flavours from a Spanish Kitchen by Nieves Barragan Mohacho shares the food that the Basque-born chef likes to cook when she's off duty; the food that she grew up eating and the food that she still makes for friends and family. The recipes range from hearty dishes such as braised Iberian pork ribs and chorizo and potato stew, to lighter fare such as seafood skewers, clams in salsa verde and stuffed piquillo peppers, and a wealth of other recipes, from grilled hispi cabbage to baked cauliflower with salted almonds, chilli and shallots. This is the chef's second book – her first, Barrafina named after the world famous tapas bar where she was chef, is a must-have as well.
Veneto: Recipes from an Italian Country Kitchen by Valeria Necchio shares the food and flavors at the heart of the Veneto region in North Eastern Italy. Veneto includes lovingly written recipes that capture the spirit of this beautiful and often unexplored region, and Valeria's memories of the people and places that make the Veneto so special. The title will come to the US in December.
Trullo: The Cookbook by Tim Siadatan is being released simultaneously in the US and UK in July. London restaurant Trullo, and its baby sister, Padella, are taking the food world by storm with modern Italian recipes with a British twist. Siadatan, who was the youngest head chef ever to work at Jamie Oliver's Fifteen, takes the best of Italian cooking and combines it with British produce to create innovative original dishes.
Chai Chaat & Chutney: a street food journey through India by Chetna Makan. Chetna is back with another title – this time focusing on street food. She is the author of one of my favorite books The Cardamom Trail which I had previously reviewed in May of 2016. Chai Chaat & Chutney will be released in the US in September. For this new title, the author traveled to all four corners of India – Mumbai, Kolkata, Delhi and Chennai – sampling the extreme varieties of street food available. Each area has subtle differences in ingredients and techniques, making the cuisine completely unique and full of character. From her journey, she has taken inspiration and created delicious recipes that are simple to cook at home.
Comfort : Delicious Bakes and Family Treats by Candice Brown delivers the recipes Candice learned to bake from her nan and mum, recipes close to her heart, that should be served up as a big generous slice – and preferably on a vintage plate if you have one. Candice's recipes are easy to make, no nonsense and hearty. I had to order this book because (remember fan girl) and it is so wonderful. I had it only one day and made the Peanut Butter Marshmallow Blondies which disappeared in minutes.
Nadiya's British Food Adventure : Over 120 Delicious and Diverse Recipes to Celebrate the Land we Call Home by Nadiya Hussain features mouth-wateringly delicious recipes from her BBC programme. Famed for her fantastic cookery skills and adventurous flavour choices, she sets off on a journey around the country to meet some of the finest growers, producers and pioneers. Her travels were the inspiration for the British Bake-Off winner to create over 120 easy and enticing new recipes that mix the local ingredients she encountered with her very favourite flavours: a nod to her Bangladeshi roots.
Crave: Brilliantly Indulgent Recipes by Martha Collison is the second book from Sunday Times bestselling author and Great British Bake Off contestant (Twist was her first). Using brilliant food science and delicious flavour combinations, she provides go-to recipes incorporating 8 of those things we so often hanker for: citrus, fruit, nut, spice, chocolate, caramel, cheese – and alcohol! There are 'Instant' recipes such as Lemon Cheesecake Pots – your super quick treats to be rustled up in next to no time. There are 'Soon' recipes that are ready to snaffle in under an hour, like Chilli Chocolate Churros. And you'll find 'Worth the Wait' recipes, too. Think Olive & Preserved Lemon Focaccia and Caramelised White Chocolate Cake – a collection of bakes where patience yields intense flavours and sumptuous textures. This book is coming to the US in June of 2018.
The National Trust Book of Scones: 50 Delicious Recipes and Some Curious Crumbs of History by Sarah Clelland gathers 50 scone recipes from National Trust experts around the country, and is a quirky guide to 50 National Trust places to delight and entertain you while you bake or eat those blissful treats. Includes dual measures.
15 Minute Vegan: Fast, Modern Vegan Cooking by Katy Beskow uses ingredients that are available in supermarkets to deliver recipes that are as easy as can be – from shopping to cooking to serving. Starting with advice on the equipment you need to make cooking go faster, plus essential pantry ingredients, chapters cover Breakfast, Light Bites, Mains, Essentials and Sweet Stuff. Katy also offers straightforward recipes and tips about preparation, freezing and storing.
Milly's Real Food: 100+ easy and delicious recipes to comfort, restore and put a smile on your face by Nicola 'Milly' Millbank is all about going back to basics and creating tasty classics from scratch with a modern twist, making food a pleasure; both the ritual of cooking and the joy of eating. Recipes that embrace sustainable and accessible ingredients, easy methods and a refreshingly fad-free approach to home cooking.
Miguel Barclay's Fast & Fresh One Pound Meals by Miguel Barclay is the must-have second book by the bestselling One Pound Meals' author. Over 80 delicious super-simple recipes that will save you both time and money.

Ella's Kitchen: The Easy Family Cookbook by Ella's Kitchen is packed with more than 100 easy-to-make and delicious family recipes that bring everyone together to share in life's food adventures. In chapters organized by mealtime, each recipe has been carefully developed to ensure that it's perfectly balanced and lip-smackingly tasty for little ones and grown-ups alike.
Eat Well For Less: Family Feasts on a Budget by Jo Scarratt-Jones delivers everything from quick and healthy breakfasts to delicious snacks, simple but hearty dinners to indulgent puddings, all 80 recipes are easy to follow and use only widely available ingredients.
Dinner Deconstructed by Annabel Staff features 35 recipes as you've never seen them before, broken down into their individual ingredients and photographed in stylish still-life arrangements.
The Street Food Secret: The World's Most Exciting Fast Food in Your Own Kitchen by Kenny McGovern celebrates classic dishes enjoyed every day by generations of people the world over, as well as more modern fusion food creations, this book is packed full of exiting recipes ideal for sharing with friends and family.
A Passion for Pasta
by Carmela Sophia Sereno takes a delicious trip down Italy, from top to toe, led by the author also known as the pasta queen. With stunning photographs throughout, Carmela guides you through making speciality pasta dishes from each Italian region.
Australia
Yemek by Isabel Lezmi, Lisa Rienermann and Veronika Helvacioglu shares authentic recipes, from mezze to desserts, which are surprisingly simple to re-create in any home kitchen and call on the iconic fresh ingredients and spices, all easy to source, that define Turkish cooking. This title was originally released in the German language in 2015 and at last is being published in English in Australia and the UK. It will be available in December for US members.
Healthy Made Easy: More than 140 Fast and Delicious Recipes to Make you Look and Feel Your Best by Luke Hines features over 100 recipes, this time with a focus on simple and quick dishes for those short on time but who still strive to eat well. Luke makes eating healthily as easy as possible for people, regardless of how much time they have or how much experience they have in the kitchen.
Elsa's Wholesome Life: Eat Less from a Box and More from the Earth by Ellie Bullen writer of the hugely popular blog Elsa's Wholesome Life is a veritable explosion of colour, sunshine, coastal living and delicious plant-based recipes. Her first cookbook features more than 100 of her go-to dishes, from nutritious granolas and powerhouse smoothies to flavour-packed salads and soups, hearty curries and burgers, and drop-dead delicious sweets. A qualified dietitian and nutritionist, Ellie explains everything you need to know about adopting a plant-based diet, including how to: – get enough iron, vitamin B12 and calcium – achieve the right balance of carbs, proteins and good fats – shop smarter and get more organised in the kitchen – enjoy a lifestyle that is better for you and the environment Ellie's food is fresh, flavoursome, nutrient-dense and – above all – fun.
Chefs Eat Toasties Too: A Pro's Guide for Reinventing Your Sandwich Game by Darren Purchese is a celebration of that most enduring of comfort foods, the toasted sandwich – but taken to new heights. While crafting elaborate dessert and pastry confections by day, by night Darren secretly perfects the art of the toasted sandwich. In this book, he reveals 50 of his masterful creations: from the perfect Maple Bacon, Pear & Camembert on Sourdough, to his Pulled Pork, Fennel Slaw & Chilli Mayo Sliders on Brioche Buns. He has also developed sweet recipes for the ultimate in comforting indulgence, such as Dark Chocolate, Olive Oil & Salt on Olive Bread, Apple, Vanilla & Lemon Parcels and Salted Caramel on Sourdough. For those wishing to take their toasties to truly cheffy heights, there are even recipes to make the condiments from scratch, including pear dressing, pickled onions & chutney, chilli caramelised onions, vanilla cherries and rose raspberries. Chefs Eat Toasties Too caters for all manner of cooking methods: from grill, to pan, to sandwich press, to oven.
NEW ZEALAND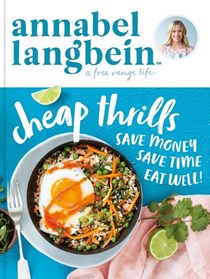 Annabel Langbein Cheap Thrills: Save Money Save Time Eat Well by Annabel Langbein will guide the beginner baker and busy homemaker through an irresistible array of baked treats – biscuits, slices, cakes, muffins and more. This brilliant book will ensure everyone, no matter what their age or cooking ability, achieves baking success – every time! Simple one-pot mixes and no-bake treats will cater to the novice (or nervous) baker, while no-fail cakes and simple to prepare slices are guaranteed to become favorites with busy homemakers searching for interesting new ways to fill the tins.