Tom Kerridge's Dopamine Diet
July 23, 2017 by Jenny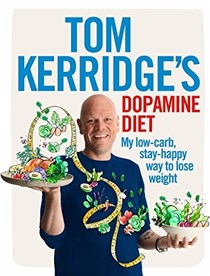 Tom Kerridge's Dopamine Diet: My Low-Carb, Stay-Happy Way to Lose Weight by Tom Kerridge fits into an unusual category of books for me. Yes, it is technically a diet cookbook but one that is full of recipes that are comforting and totally appeal to me.

Kerridge lost eleven stone in three years – that's over 150 pounds using his Dopamine Diet approach – low carb, high protein foods that naturally release dopamine and endorphins – feel good pleasurable sensations. Hence, the dishes in this book make you feel rewarded and less likely to turn to junk food or poor choices.
Kerridge's use of spices and herb help boost flavor and keep us satisfied and not feeling deprived or "being on a diet" in the four letter word sense. With recipes like Lamb ragu, courgette spaghetti, feta and mint, Pork kebabs and spicy cauliflower couscous, Crispy vinegar pork with cauliflower puree, and Barbecue-style brisket with red cabbage salad how can you go wrong? And better yet, desserts – Tiramisu, Crème brûlée and chocolate mousse with sesame almond biscuits – are shared. Not being able to join in at dessert time is usually one pitfall that trips folks up who are trying to watch their weight or get back on track – Kerridge takes care of that with a chapter full of desserts.
Special thanks to Absolute and the author for sharing a flavor packed soup with us today – I'm one of those weird folks that loves soup in the summer – try it now or save it for cooler temperatures. Be sure to head over to our contest page to enter our giveaway open to US and UK members.
Curried cauliflower soup

I've eaten a lot of cauliflower on my low-carb diet and I've grown to love it. When it's cooked and puréed like this, it takes on such a rich, creamy texture that it feels quite indulgent, particularly when combined with the coconut and cream cheese. It takes on spices beautifully, too.
Serves: 4
Carb count: 22g per person
50g dried onion flakes
2 tbsp vegetable oil
50g butter
1 onion, diced
2 garlic cloves, grated
1½ tbsp curry powder
1 chicken or vegetable stock cube
1 large cauliflower (about 800g), broken into florets
200ml coconut cream
200g cream cheese
4 tbsp chopped coriander, tender stems and all
2 hot green chillies, sliced, seeds and all
Finely grated zest of 1 lime
Sea salt and cayenne pepper
1. Preheat the oven to 180°C/Fan 160°C/Gas 4. Scatter the onion flakes on a baking tray, trickle on the oil, give it a stir and season with salt. Bake for 5 minutes, or until the onion flakes are golden brown. Set aside to cool.
2. In a large saucepan, melt the butter over a medium-low heat. Add the onion and garlic and sweat gently, stirring from time to time, for 10-15 minutes until soft. Sprinkle on the curry powder and cook, stirring, for 2-3 minutes.
3. Now pour in 1 litre water and crumble in the stock cube. Bring to the boil and add the cauliflower florets. Turn the heat down to a simmer and cook for 5-10 minutes, until the cauliflower is soft.
4. Stir in the coconut cream and cream cheese until fully combined. Bring back to the boil then take the pan off the heat.
5. Blitz with a stick blender, or in a jug blender or food processor. If you've time, pass the soup through a sieve into a clean pan at this point – this will give the soup an unbelievably silky and delicious texture. Warm gently and season to taste with salt and cayenne pepper.
6. Ladle the soup into warmed bowls and scatter over the toasted onion flakes, coriander, chilli and lime zest.
Add this recipe to your Bookshelf (click the blue +Bookshelf button).