Friday Flashback – Wintersweet
July 22, 2017 by Jenny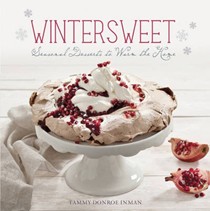 This week's Friday Flashback has slid into Saturday with Wintersweet: Seasonal Desserts to Warm the Home by Tammy Donroe Inman. Of course, most of the world is in the midst of sultry heat waves but I'm a cart before the horse type of gal – winter is coming! Winter is my favorite time of year followed by Fall – you can keep Summer and Spring – leave me with the crisp, windy days and snow covered mountains.

Here in Denver, I am dreaming of winter and the baking weather that comes with it. You would think Tammy was a winter gal too but alas she is not – she finds refuge in baking in the warmth of her kitchen while suffering through New England winters.

Beautiful photographs of stunning desserts and sweets fill this book that is definitely worthy of a second look for those who may have missed it during it's release in 2013. This cookbook has had a great workout in my kitchen. I've made the Salted Dark Chocolate Tart with Pistachios, Chocolate Mousse Pie, Peanut Butter Blondies, Orange Ricotta Cheesecake, Apple Cider Donuts and Almond Cake. All of these recipes turned out perfectly.
Picking out this book for a flashback piece reminds me of the recipes I have marked yet to make – Coconut and Macadamia Nut Shortbread, Pecan Praline Bark, Maple Walnut Babka and Lemon Poppy Seed Cookies are just a few of those tagged.
There is one large bookcase in my home that contains my favorite titles – (we are packing up for a move – that bookcase will be packed at the last moment) and Wintersweet will never leave that bookcase. Truthfully, a great deal of pieces for Friday Flashback will come from that bookcase.
Give Wintersweet a look and try a few of the recipes that are linked online – hopefully it will become one of your favorites.