Salt, Fat, Acid, Heat by Samin Nosrat
June 21, 2017 by Jenny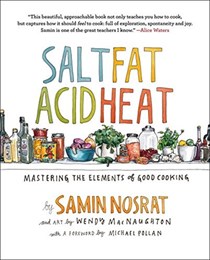 Salt, Fat, Acid, Heat: Mastering the Elements of Good Cooking
by Samin Nosrat is a master class in cooking that condenses decades of professional experience into just four simple elements – salt, fat, acid and heat.
The author learned to cook at Chez Panisse and has been hailed as "the next Julia Child" from NPR's All Things Considered and her mentor Alice Waters has declared that Samin is "America's next great cooking teacher".
Samin's first sentence of her introduction – "Anyone can cook anything and make it delicious." – sets the tone for this book. There is something magical about this book – it's content, the incredible illustrations and the wealth of knowledge – all combined will transform us all into kitchen wizards.
This indispensable tome delivers 100 essential recipes – and dozens of variations – to take the author's lessons and put them into use to make bright, balanced vinaigrettes, perfectly caramelized roast vegetables, tender braised meats, and light, flaky pastry doughs. All of this information is packaged with 150 illustrations and infographics that will help us understand the world of flavor.
I have always been a good cook and now I believe I am a great cook because I remotely understand the balance of salt, fat, acid and heat – it took me a while to get there by myself and now I am sharpening that knowledge.
Salt, Fat, Acid and Heat
is on par with the greatness of
The Food Lab
and will become the teaching cookbook for this generation. I'm predicting you will hear this title repeatedly come to the surface during cookbook award season.
Samin has events scheduled check
our calendar
to see if she will be in your area. Special thanks to the Simon & Schuster for sharing two recipes with our members. Be sure to head over to our
contest page to enter our giveaway
for this must-have title.
Caesar Dressing
Makes about 1 ½ cups
4 salt-packed anchovies (or 8 filets), soaked and fileted
¾ cup stiff Basic Mayonnaise (page 375) (below)
1 garlic clove, finely grated or pounded with a pinch of salt
3 to 4 tablespoons lemon juice
1 teaspoon white wine vinegar
3-ounce chunk of Parmesan, finely grated (about 1 cup), plus more for serving
¾ teaspoon Worcestershire sauce
Freshly ground black pepper
Salt
Coarsely chop the anchovies and then pound them into a fine paste in a mortar and pestle. The more you break them down, the better the dressing will be.
In a medium bowl, stir together the anchovies, mayonnaise, garlic, lemon juice, vinegar, Parmesan, Worcestershire sauce, and pepper. Taste with a leaf of lettuce, then add salt and adjust acid as needed. Or, practicing what you learned about Layering Salt, add a little bit of each salty ingredient to the mayonnaise, bit by bit. Adjust the acid, then taste and adjust the salty ingredients until you reach the ideal balance of Salt, Fat, and Acid. Has putting a lesson you read in a book into practice ever been this delicious? I doubt it.
To make the salad, use your hands to toss the greens and Torn Croutons with an abundant amount of dressing in a large bowl to coat evenly. Garnish with Parmesan and freshly ground black pepper and serve immediately.
Refrigerate leftover dressing, covered, for up to 3 days.
Ideal for romaine and Little Gem lettuce, chicories, raw or blanched Kale, shaved Brussels sprouts, Belgian endive.
Mayonnaise
There might not be a sauce more polarizing than mayonnaise, but I fall firmly in the camp of the devoted. And, as a teacher, I don't think there's a better way to illustrate the power of a little kitchen science than by making, breaking, and fixing a mayonnaise with my students. It's like a little miracle, every time. Refer back to the walkthrough on page 86 for a refresher on all of the nuances of making and fixing a mayonnaise.
When making mayonnaise as the base for a sauce, such as Tartar or Caesar Dressing, leave it unsalted and make it as stiff as possible to account for all the other ingredients you'll be adding that will season and thin it out. On the other hand, to season a plain mayonnaise for spreading, dissolve the salt in a few tablespoons of water or whatever form of acid you plan to add, whether it's lemon juice or vinegar. If you add salt without dissolving it first, you'll have to wait a while for the mayonnaise to completely absorb it before you get an accurate idea of how it tastes. If you choose this route, add salt gradually, stopping to taste and adjust along the way.
To lend a Mediterranean flavor to Aïoli, Herb Mayonnaise, or Rouille you plan to serve with Italian, French, or Spanish food, use olive oil. To make an American-style base to use in Classic Sandwich Mayo or Tartar Sauce, use a neutral-tasting oil such as grapeseed or expeller-pressed canola.
Basic Mayonnaise
Makes about ¾ cup
1 egg yolk at room temperature
3/4 cup oil (refer to page 374 to help you decide what type of oil to use)
Place the egg yolk in a deep, medium metal or ceramic bowl. Dampen a tea towel and roll it up into a long log, then form it into a ring on the counter. Place the bowl inside the ring-this will hold the bowl in place while you whisk. (And if whisking by hand is simply out of the question, feel free to use a blender, stand mixer, or food processor.)
Use a ladle or bottle with a nozzle to drip in the oil a drop at a time, while whisking the oil into the yolk. Go. Really. Slowly. And don't stop whisking. Once you've added about half of the oil, you can start adding a little more oil at once. If the mayonnaise thickens so much that it's impossible to whisk, add a teaspoon or so water-or whichever acid you're planning on adding later on-to help thin it out.
If the mayonnaise breaks, refer to page 86 for tips on how to fix it.
Cover and refrigerate leftovers for up to 3 days.
Recipe reprinted from Salt, Fat, Acid, Heat with permission of Simon & Schuster and the author. Illustrations by Wendy MacNaughton.
Add these recipes to your Bookshelf (click the blue +Bookshelf button) – Caesar dressing, Basic mayonnaise