Simple Green Suppers – Susie Middleton
May 28, 2017 by Jenny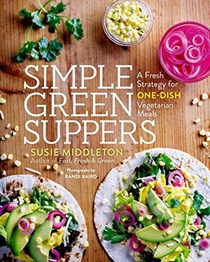 Simple Green Suppers: A Fresh Strategy for One-Dish Vegetarian Meals by Susie Middleton demonstrates how easy it is to add more seasonal vegetables to your menus by pairing them with staple ingredients such as noodles, grains, beans, greens, toast, tortillas, eggs, and broth. With 125 recipes for flavorful and veggie-forward dishes, tips on keeping a flexible and well-stocked pantry, and make-ahead and streamlining strategies this is the book that will guarantee that more vegetables will make their way to your plates in the most delicious manner.

With Susie's expertise, vegetarian suppers are vibrant, full of flavor and substantial. Cookbooks that focus on a more plant based fare have become more attractive to me – due in part to the amazing chefs who are putting out crave-worthy recipes. Spring Farmers' Market Stir-Fry (baby Japanese turnips, radishes, and soba), Stir-fried Greens, Mushrooms and Udon Noodles with Spicy Ponzu Sauce, and Baby Potato, Greens, Garlic and Chickpea Hash are just a few examples of the recipes in this beautiful book.

Susie is the author of three other cookbooks that are also ndexed for our members – all with the same quality of delicious, good-for-you food. She states that Simple Green Suppers is about cooking – "about the sensual pleasure and physical satisfaction you get from cooking, from feeding yourself and others well." The bonus is that the dishes in this book can be on the table in under 45 minutes and many in under 30 with make-ahead suggestions to help cut even more of that time off during busy weeknights.

Special thanks to Roost Books for sharing the following delicious recipes with us today. Be sure to head over to our contest page to enter our giveaway featuring five copies of this title open to US and Canada members.
Warm Ciabatta Toasts with Lemony Chickpea Hummus and Sautéed Veggies


Ciabatta-crisp on the outside, airy and chewy on the inside-is my favorite bread (as you might have already guessed), and I always keep a sliced loaf in the freezer. Then, on a cool night, I can make one of these savory toasts, with my Lemony Chickpea Hummus, a topping of sautéed veggies, and a garnish or two. (There are lots of combos-the choice is yours.) You might not think of pairing hummus with cooked vegetables and warm toast, but hummus is actually delicious as a cool-weather condiment. Try these toasts with a combination of brussels sprouts, shallots, and pine nuts, with a topping of kale and roasted chickpeas, or with any of the combinations suggested here. (Warm hummus is also delicious with melted butter-yes!-especially brown butter, so I've included instructions for making a super-quick batch of "brown-butter nuts" to top the veggies with.) These toasts are also great with Quick-Roasted Cherry Tomatoes. Any way you make them, these toasts are a compact and satisfying supper. Double or triple the recipe as you like.
Makes 2 toasts

2 slices of ciabatta (¾ to 1 inch thick and 6 to 7 inches long, cut at a sharp angle)
1 to 2 teaspoons extra-virgin olive oil, plus more for brushing
Kosher salt or sea salt
⅓ to ½ cup Lemony Chickpea Hummus (recipe follows)
1 teaspoon to 1 tablespoon unsalted butter (optional)
1 cup very thinly sliced veggies (choose one or two of the following: kale or collards, brussels sprouts, broccoli raab (tender tops only), broccoli or cauliflower, carrots, peppers, shallots, onions, mushrooms, baby spinach or chard leaves, or whole shishito peppers (see Note)
1 tablespoon pine nuts or sliced almonds (optional)
¼ teaspoon freshly grated lemon or lime zest (optional)
2 tablespoons Roasted Chickpeas (optional)
Pea shoots, fresh Italian parsley leaves, or baby greens (optional)

1. Move an oven rack to the top position, 4 to 5 inches from the broiler element, and preheat the oven broiler to high. Brush the ciabatta slices generously with oil on both sides and sprinkle with salt. Arrange on a baking sheet. Broil until the tops are golden brown, about 2 minutes. Flip the slices over and toast the other side until golden, 1 to 2 minutes more.

2. If the hummus is chilled, gently warm it: You can warm it on the stovetop in a small covered saucepan over very low heat, uncovering frequently to stir. Alternatively, you can microwave it on high for a few seconds.

3. In a small nonstick skillet, heat 2 teaspoons of oil (or 1 teaspoon of oil and 1 teaspoon of butter, if desired) over medium heat. Add the veggies and a pinch of salt and increase the heat to medium-high. Cook, tossing frequently, until the veggies are limp and browned around the edges, 2 to 6 minutes, depending on the type(s) of vegetable. (Thinly sliced hearty greens need only 1 or 2 minutes to glisten and wilt.) Remove the pan from the heat.

4. If you like, you can use the skillet to make "brown-butter nuts" at this point: Transfer the veggies to a plate, then heat 2 teaspoons of unsalted butter in the skillet over medium-low heat. Add the pine nuts and cook until lightly browned, 4 to 5 minutes. Remove the pan from the heat.

5. Spread 3 to 4 tablespoons of hummus on each piece of toast. Top with the sautéed veggies and spoon the brown-butter nuts over (if using) and/or sprinkle with the roasted chickpeas. Scatter the lemon or lime zest over all, and garnish lightly with the pea shoots (if using). Serve right away.

Note: The combinations for this dish are endless. Here are some of my favorites:
Lemony Hummus with Sautéed Kale, Brown-Butter Pine Nuts, and Lemon Zest
Lemony Hummus with Brussels Sprouts, Shallots, and Almonds
Lemony Hummus with Sautéed Shishito Peppers, Lime Zest, and Parsley
Lemony Hummus with Broccoli Raab, Onions, and Roasted Chickpeas
Lemony Hummus with Cauliflower, Chard, and Chickpeas

Lemony Chickpea Hummus


Hummus has a lovely texture and flavor when made from freshly cooked chickpeas but it is also perfectly delicious when made from canned chickpeas. If you do cook the chickpeas yourself, save a little of the cooking water to make the hummus. I find that a little extra water added at the end of pureeing gives hummus a particularly light and fluffy texture. My friend Eliza (who tested every recipe in this book) created this hummus with a generous measure of lemon and a bit of cumin (you'll love it!).

Makes 2¼ cups

2 cups cooked chickpeas or canned chickpeas, drained and rinsed
¼ cup tahini (see Note)
⅓ cup freshly squeezed lemon juice, plus more to taste
¼ cup plus 2 tablespoons chickpea cooking liquid or warm water
2 tablespoons extra-virgin olive oil, plus more for drizzling
1½ teaspoons minced fresh garlic
1 teaspoon kosher salt
¼ teaspoon ground cumin
Cayenne
Coarsely chopped fresh cilantro or parsley (optional)

1. Put the chickpeas, tahini, ⅓ cup of lemon juice, ¼ cup of the cooking liquid or water, and 2 tablespoons of the olive oil into the bowl of a food processor and process until well combined. (It will still be a little rough.)

2. Scrape down the sides of the food processor and add the garlic, salt, cumin, and a small pinch of cayenne and process again until smooth. Taste for lemon and salt, and add more if needed. Add the remaining 2 tablespoons of cooking liquid and process until light and fluffy. (Add a little more liquid or water if needed.)

3. To serve, scrape the hummus into a bowl, sprinkle with a pinch of cayenne, and drizzle with olive oil (about 1 to 2 tablespoons). Garnish with cilantro if desired. If making hummus ahead for toast or other use, scrape the hummus into a refrigerator container and drizzle with olive oil to cover. Cover and keep for up to 1 week in the fridge.

Note: If you are opening up a new can of tahini and the solids are very hard to mix with the liquid, scrape everything out into a food processor or blender and process until well combined and smooth.
From Simple Green Suppers by Susie Middleton© 2017 by Susie Middleton. Photographs © 2017 by Randi Baird. Reprinted in arrangement with Roost Books, an imprint of Shambhala Publications, Inc.
Add this recipe to your Bookshelf (click the blue +Bookshelf button)