Spice support: mahleb
May 27, 2017 by Darcie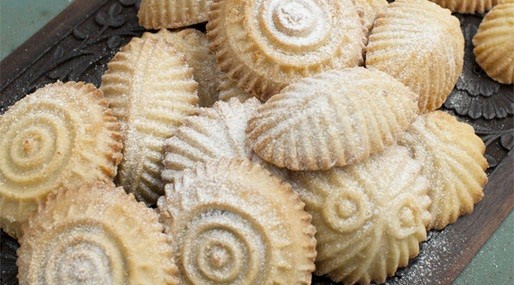 You have to wonder how people discovered some foods that take quite a bit of processing or manipulation to render the final, delicious product. That is certainly the case for mahleb (aka mahlab or mahlepi), a spice with roots in the Eastern Mediterranean. The spice is made from the seed kernel of the rock-hard pit of an extremely sour wild cherry, Prunus mahaleb, known as the St. Lucie cherry.
The seed containers look like miniature almonds, and must be split to get to the kernel, which is ground to a fine powder. The kernels are easy to grind in most spice grinders, so you will get the freshest flavor from whole mahleb. The most common use for mahleb in in baked goods like ma'mool (ma'amoul) cookies and tsoureki.
While the St. Lucie cherry is practically inedible due to its sourness, mahleb offers surprisingly subdued flavors. Serious Eats' Max Falkowitz describes mahleb as tasting "a bit like cherries, a bit like roses, and a bit like almonds. There's a hint of vanilla and something quite floral. Its aftertaste, though, is quite bitter. When cooked, everything changes. It's fruity and rich, but subtle."
In addition to flavoring traditional Easter and Ramadan celebration breads and cookies, mahleb has an affinity for chocolate and pairs well with meats like lamb. Mahleb also enhances an Egyptian treat made with sesame seeds, nut, and honey. Iran, Turkey, and Syria are the largest exporters of the spice.
Experience the intriguing flavors of mahleb with one of these recipes from the EYB Library:
Ma'mool cookies from The Lebanese Kitchen by Salma Hage (pictured top)
Yogurt mousse with cherry and pomegranate granita from Honey & Co by Sarit Packer and Itamar Srulovich
Meatballs in sour cherry sauce (Kabab karaz) from The Aleppo Cookbook by Marlene Matar
DIY Amaretto from Serious Eats
Greek tsoureki from Sift Magazine
Chocolate pots de crème with mahleb from Martha Stewart Living Magazine
Eggs poached in tomato and pepper stew from The Jewelled Kitchen by Bethany Kehdy