My Greek Family Table – Maria Benardis
May 22, 2017 by Jenny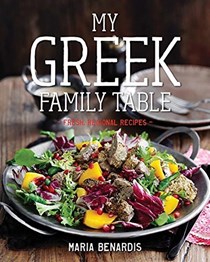 My Greek Family Table: Fresh, Regional Recipes by Maria Benardis is a re-release of the 2009 original edition.

This book shares the stories of Maria's summers cooking at her grandmother's elbow on the Greek island of Psara, and places an emphasis on eating for health and well-being. As Maria says, "This book is as much about the importance of the family and friends who share our table as it is about food."
Recipes for Chicken with Herbed Feta Crust, Deep-Fried Artichokes with Yogurt and Walnut Dip, and Lamb with Avgolemono (egg and lemon sauce) along with others will tempt you to plan a Greek feast soon. The recipes also share sidebars detailing the specific health benefits of each ingredient.
The "Sweets and other Special Things" chapter includes such recipes as Koulourakia (Greek butter cookies), Loukoumades (Greek-style doughnuts) and Greek Yogurt Cake with Ouzo and Lemon Syrup and of course Baklava. I particularly love that a number of her recipes begin with "My Aunt's….". It is so important to have family recipes that are shared and passed down. Food made from the recipes of loved ones helps us to keep those memories close. Maria has an event planned in New York on the 27th of June, more information can be found on our calendar.
Special thanks to Countryman Press for sharing the Lamb Filo Parcels recipe with our members. Be sure to head over to our contest page to enter our giveaway for five copies of this title.
Lamb Filo Parcels
Serves 4
I love filo pastry. When I am unsure of what to cook, I toss together all the ingredients I have in the fridge (in this case, leftover baked lamb) and wrap them up in filo. A few minutes later I have a meal made in heaven! These parcels are main-meal size, but you can make smaller ones in any shape for a meze.
2 tablespoons extra virgin olive oil, plus extra for brushing
1 red onion, finely chopped
2 cloves garlic, minced
1 carrot, finely chopped
2 bay leaves
1 pound cooked lamb, trimmed and finely diced
1 teaspoon chopped thyme
Sea salt and cracked pepper
1 tomato, finely chopped
3 tablespoons red wine (I use merlot)
1 cup chopped flat-leaf parsley
2 tablespoons double cream
3-4 ounces Greek feta, crumbled or grated
8 sheets filo pastry

Heat the olive oil in a skillet or frying pan over medium heat and sauté the onion, garlic, carrot, and bay leaves for a couple of minutes. Add the diced lamb, thyme, salt, and pepper and cook until lightly browned, stirring the meat to avoid clumping.

Add the tomato and wine, reduce the heat, and simmer for about 15 minutes until almost all the liquid has evaporated.

Remove from the heat and discard the bay leaves. Stir in the parsley and cream, then set aside to cool to room temperature. Once cool, mix in the feta and divide the mixture into four portions.

Preheat the oven to 300°F. Lightly oil a baking tray or line with parchment paper.

Place one sheet of filo flat on a clean work surface and brush lightly with olive oil. Place a second sheet on top and brush again. Spoon one portion of the lamb mixture onto one end of the fi lo and fold the bottom edge of pastry over the filling. Fold in the two sides and roll up to make a firm, neat parcel. Place on the baking tray seam-side down and brush with olive oil. Repeat with the remaining pastry and filling to make four parcels. (Remember to cover the filo sheets you are not using with a damp tea towel to keep them from drying out-any leftover pastry should be rewrapped tightly and refrigerated.)

Sprinkle the parcels with water and bake for 20-25 minutes or until they turn a deep golden brown.
Add this recipe to your Bookshelf (click the blue +Bookshelf button)