Notes on a Banana – Author Interview with David Leite
April 22, 2017 by Jenny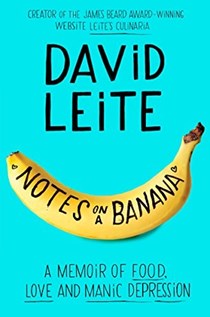 Notes on a Banana: A Memoir of Food, Love, and Manic Depression is the brilliant and long-awaited memoir from the beloved founder of the James Beard Award-winning website, Leite's Culinaria. David's website is indexed for our members – one click and almost 2,900 recipes will be added to your bookshelf.

Notes on a Banana is funny, touching and stay-up-all-night read – a story of the tumultous journey of a life well-lived. As the mother of a child with Aspergers and bi-polar, David's words resonated with me.

The author has a number of events scheduled to promote his memoir – check to see if he is in your area.
David was kind enough to answer a few questions for Eat Your Books members. Be sure to head over to our contest page to enter our giveaway for three copies of this must-read book of 2017.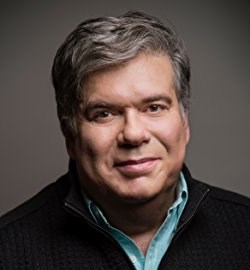 Q: First of all, bravo on such a wonderful piece of work. Tell us about the title – how did you come up with that?
A: Every morning, since I was a kid, my mother has written notes on a banana and placed it at my spot at the breakfast table. Back then, I thought it was just one of the wacky and creative things she did. I appreciated those notes: "We love you!" "God bless!" "Do well in school today!" "You're a champ!" (My mother is overly fond of exclamation points.) And it's something she still does today. On Mother's Day 2014, I posted on social media a picture of a banana she had written on that morning. It went viral. I thought, "Wait a minute, don't all your mothers write on bananas for you?" That's when I realized I had my title. It has so many different meanings for me: My mother's nickname for me is "Banana," so it refers to notes or stories about me. Plus, a banana is food and there's a lot a food writing in there.

Q: This truly has been an emotional journey for you putting into words the self-portrait of your life – what was the most rewarding experience and what was the most difficult experience during this writing process?

A: By far the most rewarding experience has been getting a perspective on my life I never would have had had I not written the book. Writing down all the good and tough things that have happened to me has allowed me to look at myself almost like a three-dimensional object. I see my life in a different way because I had to contextualize it for the reader. I couldn't rely upon the cognitive shorthand that we all use when we think about our pasts.

Undoubtedly, the hardest part of writing the book was reliving the pain. I had thought I had handily dispatched that stuff in therapy – and I had to a degree. But to sit for weeks in the discomfort of, say, writing about a panic attack, which takes all of a minute to experience in real life, was wearing and stressful. I didn't expect to be so thrown by the material of my own life.

Q: There has been an outpouring of support from your fan base. What has surprised you the most during this time – has there been any negative feedback? We sometimes get as food writers 'Stick to food" – have you experienced any of that?

A: What has surprised me is how open readers have been. Many have written and told me they could see themselves or a loved one in the prose, and that the book has given them the courage to face mental illness, or to come out as LGBTQ, or to stand up to bullies. Whatever. They felt inspired by it. So far there hasn't been any negative feedback.

Q: What are your plans with regards to writing – any Leite's Culinaria cookbooks in the works?

A: No plans for a Leite's Culinaria cookbook at the moment. To be honest, I'm unsure of the value of cookbooks based upon websites or blogs nowadays. I watch people all the time walk right by books in their library and jump on the Internet for recipes. If we did a cookbook, it would have to be something different, something that acts as an adjunct to rather than as an extension of the site.

In regards to other writing, I'm playing around with a few ideas, but these days I have barely a minute to focus!

Q: As cookbook lovers of course we want to know some of your favorite titles – can you share a few with us?

There are so many. Here are a few I'm cooking from right now:

Jenny's note: Thank you, David, for your time and perspective on the writing of your memoir. I strongly disagree with you on one point, I know hundreds of thousands of cookbook fans that would never pass up a cookbook. Food52 cookbooks are hugely popular even though most of the recipes are on the their website. There needs to be a Leite's cookbook, I'd buy it.