Book Giveaway – Notes on a Banana
April 22, 2017 by Jenny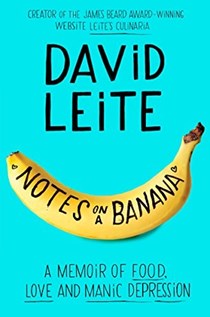 Notes on a Banana: A Memoir of Food, Love, and Manic Depression by David Leite is the brilliant and long-awaited memoir from the beloved founder of the James Beard Award-winning website Leite's Culinaria. David's website is indexed for our members – one click and almost 2,900 recipes will be added to your bookshelf.

Notes on a Banana is funny, touching and stay-up-all night read. David has a number of events scheduled to promote this title.

Be sure to head over to our author interview post for more information on David's memoir.
We are pleased to offer three copies of this title to our EYB Members in the US. One of the entry options is to answer the following question in the comments section of this blog post:

Check out the author inteview post and of books that David mentioned as those he is cooking from now – which one sounds like a book you would like to cook from.

Please note that you must be logged into the Rafflecopter contest before posting or your entry won't be counted. If you are not already a Member, you can join at no cost. The contest ends at midnight on May 26th, 2017.