Chicken in the Mango Tree by Jeffrey Alford
April 11, 2017 by Jenny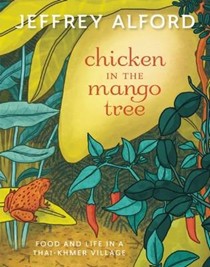 Chicken in the Mango Tree: Food and Life in a Thai-Khmer Village by Jeffrey Alford is part memoir and part cookbook which documents his journey from Toronto to Kravan, a small village in rural Thailand. He shares the journey that led him to his new life in this village that he shares with his partner, Pea, a talented forager, gardener and cook.
The stories of village and family life surround each dish and also details how the food is meant to be eaten: as an elaborate dish in a wedding ceremony, a well-deserved break from the rice harvest, or just a comforting snack at the end of a hard day.

I have always been a fan of Alford's books with his ex-wife, Naomi Duguid and the way they conveyed the experiences they shared through their travels. This story is equally as fascinating and is one that I'm sure any lover of food and travel will appreciate. I loved being transported to life in this village and particularly enjoy the recipes that Alford has shared. It is clearly evident to see why this book won a silver medal at the 2016 Taste Canada Awards Les Lauréats des Saveurs du Canada.
Special thanks to the publisher for sharing this excerpt from the book along with a recipe. Be sure to head over to our contest page to enter our giveaway for two copies of this title open to members in the US and Canada.

Cold Season

I grew up in a drafty house on top of a treeless hill in Laramie, Wyoming, where the water pipes would freeze routinely every other winter and in a bad winter snowstorm the snowdrifts reached nearly up to the eaves of our house. And then I moved to eastern Canada for 24 years, where the winters weren't quite as bad as in Wyoming, but close.

This is "cold season" in Isaan, and for some reason cold season here always catches me by surprise. Daytime highs of 85F (29C) and evening lows of 60F (16C) are not what I would classify as cold, but as I write mid-morning I am wearing socks (one of the two pairs that I own), and this morning I wore a long-sleeve shirt (one of three). In the sun today it's a normal late-December day-dry, bright and warm-but in the shade even I can feel a tiny chill: cold season!

Cold season is no joke to Pea, or to anyone else but me. Jackets come out, stocking caps, blue jeans, woolen scarves ad, granted, when riding the motorbike on the highway at 50 mph (80 kmph), a nice warm jacket feels pretty good. But the mysterious thing to me is that everyone catches a cold! Kids have runny noses. People come down with the flu. I've come to think that it's all just what we get used to, and here right now people are cold. And like everywhere else in the world, weather is a constant topic of conversation. Now mai? ("Are you cold?"), I am asked at least once a day, wearing shorts and flip-flops. When I look surprised and say no, people shudder in disbelief.

Cold season is for most people, I think, the best time of the year (not for me, because I like rainy season). The rice has been cut, threshed and is safely stored or sold. There's money from harvest, unlike most of the rest of the year, when rural people are living off credit.

Cold season is a time when people can look after chores they've been too busy to do, or simply take it easy for a while. Some farmers will put in a cash crop of awy (sugarcane) or mansaparong (manioc, or cassava). For Pea, cold season and hot season are the best times of the year to grow vegetables. In the rainy season, trees and rice grow beautifully, but for vegetables there are few that thrive. Many times the rain is just too powerful, either flooding the vegetables or just smashing them.
It's a wee bit cool these days, especially in the morning on the motorbike. Pea bundles up to make her rounds, setting up fish traps and checking others.
plants like takhrai (lemongrass), the gingers (kha and khing) and gaproa (holy basil) do well, and need little attention. But 90 percent of the work in the rainy season is in the rice fields (interesting, though, that along the embankments of soil that keep the water inside the rice paddies, Pea plants pumpkins that do very well).
The first thing Pea does after harvest is to remake her gardens, starting them all again from scratch, digging in buie (manure) from the pigs, cows and buggalo. In goes hom daeng (shallots), pak chee (coriander), kanaa (Chinese kale), pak chee lao (dill), prik kee noo (bird's eye chiles)… Cold season is vegetable season.

Pak Boong Moo
Stir-Fried Water Morning Glory with Pork


Together with pak kanaa (gai lan or "Chinese kale," see page 31), pak boong (water morning glory, lpomoea aquatica) is at the top of my list of favorite stir-fry vegetables here in Kravan. Like pak kanaa, it's a hardy leafy green that's very versatile for cooking. It makes its way into many soupy noodle dishes and simple stir-fries (as in this dish). But equal to its versatility in cooking, it literally grows everywhere. You can find pak boong in almost every watery ditch alongside the road, free for picking. As an aquatic green, it's happy growing as the top cover on Pea's fish and frog pongs (though the larger fish will eat it), growing beautifully together with water lilies and tender pak wen (water clover). But it grows equally well in dry earth, as long as it is well watered. Pea brought a bunch home from the market, cut off the roots and cooked the leaves and stems. She them planted the roots in the garden and now we have a little patch of pak boong.

2 Tbsp (30 mL) vegetable oil
2 Tbsp (30 mL) finely cut garlic
4 oz (110 gr) pork, thinly sliced
8 oz (225 gr) pak boong
1 Tbsp (15 mL) fish sauce
1. Heat a large wok over high heat. When hot add the oil. When the oil is hot, add the garlic and fry about 30 seconds.
2. Toss in the pork and continue to stir-fry until the pork is cooking through (about 2 minutes), stirring with a spatula. Add the pak boong and fish sauce and continue to stir-fry for 2 more minutes. Transfer to a platter and serve.


SERVES TWO AS A SIDE DISH

From Chicken in the Mango Tree: Food and Life in a Thai-Khmer Village. © Jeffrey Alford. Published by Douglas & McIntyre. Reprinted with permission of the publisher.