Home Cook – Thomasina Miers
March 28, 2017 by Jenny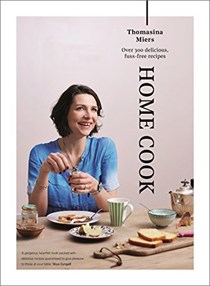 Home Cook: Over 300 Delicious Fuss-Free Recipes by Thomasina Miers is an inspiring guide for the home cook, about enjoying good food any day of the week.

Thomasina wrote this book from the viewpoint of a busy, working woman who was short on time but still wanted to feed her passion for cooking. Being a chef, past winner of MasterChef, or founder of Wahaca and Guardian Weekend cook had little influence in the recipes she chose to share in this title. She wanted Home Cook to be totally approachable for everyone with a hope toward impressing and satisfying those whom we are feeding even when time is short.

Here she has collected her most-loved recipes – dishes made for her friends and family, family classics or food inspired by her travels and favourite food-writers and chefs all while watching time constraints. Desirable plates of food that would satisfy the cook in all of us while satisfying those around our table.
Well organized from breakfast to desserts including pantry staples with lovely photographs, this book is no ordinary run-of-the-mill put-dinner-on-the-table collection of recipes. Chicken Dumplings with Sesame Avocado Rice, Potato & Anchovy Soufflé with Buttermilk & Little Gem Salad and Juniper Pork Chops with Grilled Hispi Cabbage are a few recipes that caught my attention from a title filled with eye-catching recipes. The author also shares tips for re-vamping leftovers, sauces, variations on chicken dinners and much more. This is a brilliant book which I enjoyed so much I am headed to track down her other titles.
Special thanks to Guardian Books and the author for sharing this impressive tart recipe with our members. I made this tart for dinner guests and it came together perfectly – will be cutting into it this evening. My photograph isn't as lovely as that from the book, of course.

Please head over to our contest page to enter our giveaway open to UK residents only.


Honey and Walnut Tart

Feeds eight to ten

For the pastry

130 g butter, chilled
50g caster sugar
Finely grated zest of 1 lemon
225g plain flour, plus extra to dust
Quarter teaspoon fine salt
1 egg, lightly beaten

For the filling

200g your favourite local honey
60g dark muscovado sugar
40g soft light brown sugar
100g butter
Quarter teaspoon mixed spice
Quarter teaspoon vanilla extract
Quarter teaspoon fine salt
Half teaspoon lemon juice
350g shelled walnuts, two thirds bashed into rough crumbs, the rest left in halves
2 large eggs, lightly beaten

METHOD

To make the pastry, blitz together the butter, sugar and lemon zest in a food processor.

Pulse in the flour and salt until just combined then briefly beat in the egg.
Remove the dough from the mixer and knead to bring together, working it as little as possible.

Shape into a disc and roll out onto a lightly floured surface to 5mm thick and large enough to generously fit a 23cm loose-bottomed, fluted tart tin.

Roll the pastry around the rolling pin, then lift and unroll it into the tin. Press the pastry well into the sides and corners of the tin using your knuckles. Cover loosely with clingfilm and chill in the fridge for 30 minutes.

Heat the oven to 200C/gas 6 and place a flat baking sheet in the oven to heat up.

Line the pastry with baking parchment and fill with baking beans. Slide the tart tin onto the heated baking sheet in the oven and blind bake for 20 minutes. Remove the beans, trim the pastry with a sharp knife and bake for a further 7 minutes or until golden. Remove from the oven and reduce the oven temperature to 180C/gas 4.

Meanwhile, gently heat the honey, sugars and butter in a pan until the sugar has dissolved. Remove from the heat and stir in the mixed spice, vanilla, salt, lemon juice and crumbled walnuts.

Stir in the beaten eggs until the mixture has emulsified and spoon into the baked tart case.

Top with the whole walnuts and slide back into the oven for 20-25 minutes until nut brown and set. Allow to cool before removing from the tin.

Serve in slices with softly whipped cream or ice cream.