Author spotlight on Monica Bhide
March 26, 2017 by Darcie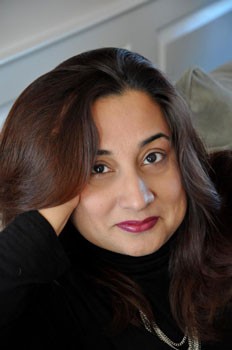 If you peek at EYB Member libraries, you are likely to find a volume or two from Monica Bhide. Jenny wrote an author profile back in November. The influential cook and author is known for sharing food, culture, love, and life with a lyrical voice and universal appeal. She has been named one of the top 10 food writers on Twitter, and has been featured in too many food magazines to mention. If you aren't following her blog, monicabhide.com, you should add it to your list of food sites to bookmark.
It was while reading the blog that we became aware that Monica is going through a difficult time right now. Her husband suffered a devastating brain bleed in January, and although his prognosis is good, Monica will need to take time away from her writing to care for him. She has reached out to her fans, many of whom asked how they could help, and said the best thing they could do is buy one of her books.
Not only would you be helping out a talented writer, you would also be helping yourself, as Monica's books are treasure troves of delicious recipes and enchanting stories. Her most popular book among EYB members is Modern Spice: Inspired Indian Flavors for the Contemporary Kitchen, which offers a fresh, no-fuss take on the vibrant flavors of Indian cuisine. The book is rated with 4 out of 5 stars.
Monica has a few other books in the Library, incuding a few novels, such as the recent Karma and the Art of Butter Chicken, which has been nominated for an award for fiction from the Library of Virginia. You can learn more about her writing style by reading an essay she wrote for our blog a few years ago on how family recipes change over time. We wish the best for Monica and her husband during this difficult time.
May 9th -update: Jennifer Farley, on behalf of Monica and her family, has set up a GoFundMe to help the Bhides during this time.