Dinner Changing the Game – Melissa Clark
March 25, 2017 by Jenny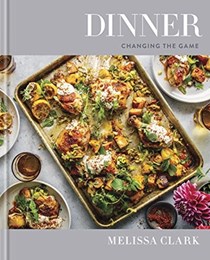 Dinner: Changing the Game by Melissa Clark delivers 200 recipes in her newest release each promising a fantastic dish that is so satisfying and flavor-forward it can stand alone – or be paired with a simple salad or fresh bread on the side.

This title is organized by main ingredient – chicken, meat, fish and seafood, eggs, pasta and noodles, tofu, vegetable dinners, grains, pizza, soups, and salads and have so many delicious options that you will never face the age-old dilemma "What's for dinner?" Melissa Clark evens out the playing field and levels up our cooking game with great recipes and tips.

Dinner Changing the Game is a comprehensive yet approachable guide that reflects the way Melissa cooks at home for her family and on those rare nights when she's alone. Beautiful photographs by the talented Eric Wolfinger bring the recipes to life.
This title is a must have for cooks who are responsible for daily meals. I particularly love the variety of recipes for chicken dishes and the many vegetarian options. I have the last of the blood orange crop on my table made the Blood Orange Chicken with Scotch Whiskey and Olives (sans the olives). This dish is what whiskey and blood oranges were made for – so incredible – my picture above.

Melissa's previous titles and her two newspaper columns, A Good Appetite and What's for Dinner are indexed for our members. Two clicks and all the recipes from both columns can be added to your bookshelf. Be sure to check out Melissa's events that are planned to promote this title.

Special thanks to Clarkson Potter and Melissa Clark for sharing the gorgeous cover recipe with our members (well maybe I'll make that instead). There is the only problem with the book – so many wonderful choices you will have a hard time deciding which recipes to break out first. Be sure to head over to our contest page to enter our giveaway for three copies of this book.

HARISSA CHICKEN
with Leeks, Potatoes, and Yogurt

One of my all-time favorites, this sheet-pan supper has it all-spicy harissa-laced roasted chicken; sweet, browned leeks; crunchy potatoes; plus a cool garnish of salted yogurt and plenty of fresh bright herbs. It's a little lighter than your average roasted chicken and potatoes dinner, and a lot more profoundly flavored.
The key here (and with all sheet-pan suppers) is to make sure the ingredients can all cook together on the same pan. This means cutting sturdy, denser things into smaller chunks that will cook at the same rate (chicken, potatoes), and adding the more delicate ingredients (here, the leeks) toward the end so they don't burn. Another important note: don't overpopulate the pan. You need to leave space between things so ingredients can brown and crisp rather than steam. If you want to double the recipe to feed six, you can, as long as you spread everything out in two pans rather than crowding them in one.

1½ pounds bone-in, skin-on chicken thighs and drumsticks
1¼ pounds Yukon Gold potatoes, peeled and cut into 1 × ½-inch chunks
3 teaspoons kosher salt
¾ teaspoon freshly ground black pepper
2 tablespoons harissa
½ teaspoon ground cumin
4½ tablespoons extra-virgin olive oil, plus more as needed
2 leeks, white and light green parts, halved lengthwise, rinsed, and thinly sliced into half-moons
½ teaspoon grated lemon zest
⅓ cup plain yogurt, preferably whole-milk (if using Greek, thin it down with a little milk to make it drizzle-able)
1 small garlic clove
1 cup mixed soft fresh herbs such as dill, parsley, mint, and/or cilantro leaves
Fresh lemon juice, as needed

TOTAL TIME: 1 HOUR + 30 MINUTES MARINATING
SERVES 3

1. Combine the chicken and potatoes in a large bowl. Season them with 2½ teaspoons of the salt and ½ teaspoon of the pepper. In a small bowl, whisk together the harissa, cumin, and 3 tablespoons of the olive oil. Pour this mixture over the chicken and potatoes, and toss to combine. Let it stand at room temperature for 30 minutes.

2. Meanwhile, in a medium bowl, combine the leeks, lemon zest, ¼ teaspoon of the salt, and the remaining 1½ tablespoons olive oil.

3. Heat the oven to 425°F.

4. Arrange the chicken and potatoes in a single layer on a large rimmed baking sheet, and roast for 20 minutes. Then toss the potatoes lightly, and scatter the leeks over the baking sheet. Roast until the chicken is cooked through and everything is golden and slightly crisped, 20 to 25 minutes longer.

5. While the chicken cooks, place the yogurt in a small bowl. Grate the garlic clove over the yogurt, and season with the remaining ¼ teaspoon salt and ¼ teaspoon pepper.

6. Spoon the yogurt over the chicken and vegetables in the baking sheet (or you can transfer everything to a platter if you want to be fancy about it). Scatter the herbs over the yogurt, drizzle some olive oil and lemon juice over the top, and serve.
Recipe shared with permission of Clarkson Potter and photo credit to Eric Wolfinger.