Smith & Daughters A Cookbook
March 18, 2017 by Jenny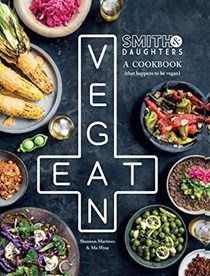 Smith & Daughters: A Cookbook (That Happens to Be Vegan) by Shannon Martinez and Mo Wyse is the debut title from the owners of the celebrated Melbourne restaurant of the same name. Mo works the front of the house and is the marketing brains behind the restaurant and Shannon is the chef.

I am not vegan, nor do I currently have a desire to convert, but if anyone can tempt me to prepare more meals using vegan ingredients it will be Shannon. The chef is not a vegan and perhaps this is why her recipes are so well received. She cooks from the standpoint of a meat-eater as she replicates the tastes and textures of meat rather than creating predictable vegan dishes. Shannon's recipes are anything but bland or predictable as her Spanish paternal family's background is reflected in many of the recipes. Corn & Jalapeño Pancakes, Tortilla Soup, Brazilian Slaw and Chargrilled Corn with Chipotle Crema & Cheese Dust are only a few of the knockout dishes.

The book is beautiful with eye catching photographs and the youthful spirit of the tattooed beauties behind it pulsating off the pages. Mo and Shannon have made being a vegan cool, delicious and appealing. I made the recipe we are sharing below for an appetizer a few weeks ago and there is only one problem they disappeared as fast as I could make them.
Special thanks to the authors and to Hardie Grant for sharing these fritters with our readers – make them – they are spectacular. Head over to our contest page to enter our giveaway to win one of three copies.
JALAPEÑO & CORN FRITTERS
Moreish as. We serve these in quantities of three or six at the restaurant. People always, ALWAYS choose six. You'll see why!

Serves 4-6

450 g (1 lb/3 cups) frozen corn kernels, defrosted
1 tablespoon no egg powder
2 1/2 tablespoons sugar
1 1/2 teaspoons baking powder
1 corn cob, kernels stripped, or an extra 75 g (2 3/4 oz / 1/2 cup) frozen corn kernels
1 jalapeño, finely diced (seeds removed for a milder taste)
3 tablespoons cornflour (cornstarch)
vegetable oil, for deep-frying
Coriander Pesto or your favourite dipping sauce
Blend the defrosted corn, no egg powder, sugar and baking powder in a blender until you have a smooth purée. Transfer the mixture to a bowl.

Add the fresh or extra frozen corn kernels to the purée along with the diced jalapeño and cornflour. Gently stir to combine, then allow the mixture to sit for at least 15 minutes.

Heat enough oil for deep-frying to 170ºC (340ºF). To check the temperature of the oil, drop in a small spoonful of the batter. If it quickly rises to the surface, then you're good to go.

To cook the fritters, use one soup spoon to scoop up the batter, then use another soup spoon to gently push the mixture off the spoon and into the oil. Make sure there is enough room for them to move around a little in the oil.

The fritters will rise to the surface and begin to turn a golden brown. Flip the fritters over and cook the other side until crisp and golden all over – this should take about 2 minutes.

At the restaurant we serve these with coriander pesto, but feel free to serve them with any aioli or salsa. They're so good, they won't last long anyhow, so make sure you have some dipping sauce ready or people will eat them straight out of the fryer.
Recipes excerpted with permission from
Smith & Daughters: A Cookbook (that happens to be vegan)
by Shannon Martinez and Mo Wyse, published by Hardie Grant Books.