The Baker in Me – Daphna Rabinovitch
January 31, 2017 by Jenny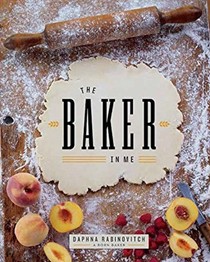 The Baker in Me
by Daphna Rabinovitch is a collection of over 250 delights for the baker in all of us. Daphna, a trained pastry chef, is a home baker at heart. These are not recipes that were tested in a professional bakery – they were created in a kitchen just like our own.
The author begins with a chapter entitled Barometers of Success outlining the fundamentals of baking and how to best utilize the recipes contained within this book. For instance, she shares that the recipes were tested in a conventional radiant oven and provides tips on how to adjust recipes for other types of ovens. This sentence was one of the first signs of her greatness and her true desire for the reader to experience success. Over fifty pages are devoted to the introduction which I normally breeze by. Daphna, however, has provided such great information and advice it is as if a trusted friend is sitting at our table making those pages all the more valuable and worth the read for both novice and experienced bakers.
Photographs are scattered throughout the book and the recipes range from the basic chocolate chip cookie and a variation of brownie recipes to Lemon Meringue Pie Cups and Pavlova Cupcakes with Honey Roasted Strawberries. The author delivers primers on pastry, basics on biscuits and scones along with other techniques within each chapter.
The Baker in Me
should be on everyone's cookbook shelf – it is approachable and has enough challenging and unique recipes to keep the more experienced baker satisfied.
Whitecap and the author have graciously shared a recipe for savory scones that I requested. My friend, Judy, recently made these scones and they looked incredible – I can't wait to make these once I pick up some chives. Please be sure to head over to our contest page to enter our giveaway for a copy of The Baker in Me.


Gruyère, Prosciutto and Chive Scones
Makes 12 scones
2 1/2 cups (580 mL) all-purpose flour
1 Tbsp (15 mL) granulated sugar
1 Tbsp (15 mL) baking powder
1/2 tsp (2 mL) salt
1/2 tsp (2 mL) ground black pepper
1/2 cup (125 mL) cold unsalted butter (4 oz/125 g)
3/4 cup (180 mL) cold buttermilk
1 cold large egg
3/4 cup (180 mL) shredded Gruyère
1/2 cup (125 mL) chopped prosciutto (or cooked bacon)
1/4 cup (60 mL) chopped chives
Preheat the oven to 400°F (200°C). Line a baking sheet with parchment paper; set aside.
Combine the flour, sugar, baking powder, salt and pepper in the bowl of a food processor fitted with the metal "S" blade. Pulse twice to combine and aerate. Cut the butter into cubes and add to the food processor. Pulse until the butter is cut into pieces the size of small peas, with a few larger pieces. (Conversely, you can do the above in a large bowl, using a pastry cutter or two knives to cut in the butter until it's the size of irregular-shaped peas.) Transfer the mixture to a large bowl.
Whisk together the buttermilk and egg until thoroughly blended. Pour over the flour-butter mixture along with the cheese, prosciutto and chives. Toss with a fork until the mixture is thoroughly moistened. It may not fully come together; there may be some flour not fully incorporated- don't worry about this.
Transfer the dough to a clean work surface, including the unincorporated bits. Knead gently, about 4 or 5 times, just until the dough forms a moist, cohesive ball. Gently pat the dough down into an even rectangle that is about 8 × 5 inches (20 × 12 cm). It should be about 1 inch (2.5 cm) thick.
With a sharp knife or pastry cutter, cut the rectangle in half lengthwise. Then cut each half into 6 triangles. Transfer the scones to the prepared baking sheet.
Bake in the centre of the preheated oven until golden and baked through, 16-18 minutes. Cool the scones on the pan on a wire rack for at least 5 minutes before serving.