Cookbook Giveaway – Bowls of Plenty
January 28, 2017 by Jenny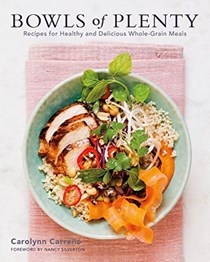 Bowls of Plenty: Recipes for Healthy and Delicious Whole-Grain Meals by Carolynn Carreño is not your typical grain book. It is chock full of international recipes, American favorites and desserts. Carolynn makes grain bowls cool, tempting and delicious. You will be bowled over (as I was by this title). (I'm here all night tip your servers.)
For more information on this title, please see our review and recipe post.
We are pleased to offer two copies of
Bowls of Plenty
to our EYB Members in the U.S. One of the entry options is to answer the following question in the comments section of this blog post:
How do you utilize more grains in your meals?
Please note that you must be logged into the Rafflecopter contest before posting or your entry won't be counted. If you are not already a Member, you can join at no cost. The contest ends at midnight on March 3rd, 2017.

Be sure to check your email spam folders for email notifications or check back on this post on the 3rd for the names of the winners.